Longfor Properties (960.HK) - Strong Contracted Sales Paves Road for Rapid Growth
Investment Summary
- Achieved very strong sales in 1H2017, completing about 84% of the annual sales target, with a YoY growth of 140%
- Active replenishment of the land in Tier 1 Cities and Tier 2 Cities, which normally have strong demand for properties
Company Overview
Strong acceleration in contracted sales in 1H2017: Longfor Properties continued its strong momentum in sales in 1H2017. Until June 2017, the accumulated contracted sales of FY2017 had a YoY growth of 140%, with a total amount of CNY92.63Bn and total sales area of 5.95Mn square metres, completing 84.2% of the FY2017 annual sales target, which is CNY110Bn. In fact, the contracted sales in FY2017 accelerated so quickly that it exceeded the full year contracted sales of FY2016, which is CNY88.14Bn, in just 6 months. In addition, in FY2017, the aggregate saleable resources worth about CNY170Bn, indicating that Longfor Properties has the ability to meet the strong demand despite the better than expected sales. Given the strong sales and the healthy financial condition of Longfor Properties, we have revised the target price of Longfor Properties to HK$20.35.
Active participant in the land market: Longfor Properties continues to be active in the land market in FY2017. Throughout the first half of FY2017, Longfor Properties obtained more than 30 new projects, and achieved milestones by expanding the coverage of the company from 26 cities in FY2016 to 31 cities in the first half of FY2017. In particular, the company successfully obtained projects in the cities of Guangdong-Hong Kong-Macau Greater Bay Area, i.e. Hong Kong and Shenzhen, allowing the company to take advantage of the national development policy as well as to increase the strategic presence in the Southern China region.

Longfor Properties continued its strategies of mainly targeting at Tier 1 Cities and Tier 2 Cities, both of which usually have strong demand for housing due to the economic development and increase in population, in its land bank replenishment. Selected new projects are as follow:

Investment property segment remains strong: Longfor Properties's investment properties are solely shopping malls assets and had a strong performance. In FY2016, the company's investment property segment had a GFA of 1,938,418 square metres. The investment property business has 3 different business lines targeting at different consumer group. Paradise Walk series, Starry Street series and MOCO series are metropolitan shopping malls, community shopping malls and high end shopping malls respectively and they regularly achieves high occupancy rate, averaging 95.1% in FY2016. The company currently has 6 investment property construction projects, all of which are shopping malls of the Paradise Walk series and are expected to commence business in either FY2017 or FY2018.

Recorded low borrowing cost of new senior note: Longfor Properties's borrowing cost continued its past decreasing trend. In FY2016, the weighted average borrowing cost of Longfor Properties was 4.92%, being the fifth consecutive year of the decreasing borrowing cost.

In July 2017, Longfor Properties took a step further in decreasing borrowing cost by issuing a US$450Mn 3.875% senior notes due in FY2022. The coupon rate of this issue is the lowest borrowing cost in the history of Longfor Properties, indicating the strength of the company's financial position.
Investment Thesis, Valuation and Risk
Our valuation model suggests a target price of HK$20.35: Longfor Properties achieved a very strong sales and completed about 84% of the annual sales target in FY2017. Moreover, Longfor Properties has been active in the land market and actively acquiring land in Tier 1 Cities and Tier 2 Cities, both of which have a strong demand for housing due to both increasing population and economic development. Therefore, a target price of HK$20.35, corresponding to a P/E and P/B of 10.17x and 1.47x respecitvely, has been assigned, with an `Accumulate` rating assigned. (Closing price as at 19 Jul 2017)

Financials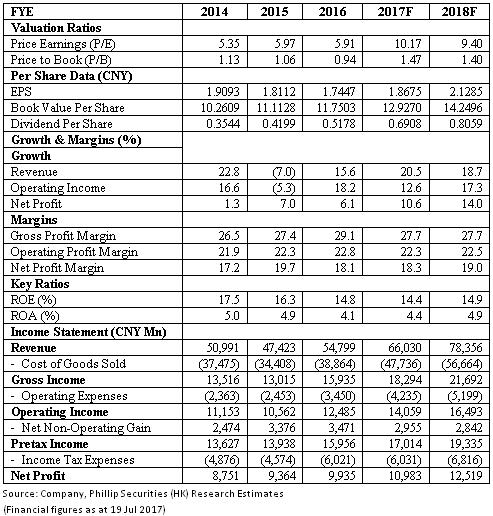 Recommendation on 21-7-2017
Recommendation
Accumulate
Price on Recommendation Date
$ 19.000
Suggested purchase price
N/A
Target Price
$ 20.350