China Merchants Bank (3968.HK) - Stable profit growth and pay attention to the future development
Company Introduction
Established in 1987 in Shenzhen, China Merchants Bank ("CMB") is China's first joint-stock commercial bank, which were listed in A+H Shares in 2002 and 2006 respectively. It's the first time CMB listed in Forture500 in 2012, and ranked No. 498 in the list . CMB was also listed No.56 among the world's Top 1,000 Banks by The Banker.
Summary
-According to CMB's 1Q2013 result, it maintained stable profit growth that accumulate net profits achieved to RMB13.021 billion, increased by 11.84% y-y, equivalent to EPS of RMB1.60 with the growth rate of 11.11%,slightly lower than our expectation;
-After the strong growth as high as 22% in 2012, the asset growth of CMB starts to slow down in 2013. As at the end of March, the Group's total assets increased only by 3.09% to RMB3.51 trillion compared with the end of 2012, with net assets of RMB214.397 billion, equivalent to the BVPS of RMB9.94, 7% higher than that of 2012;
-We pay attention to the changes of the quality of loans ,and it showed that there was the deterioration of CMB's asset quality with the consistent increase of both amount and ratio of NPLs since 3Q2012. As at the end of 1Q2013, the Group's NPL ratio increased by 0.05 ppts to 0.66% compared with the end of 2012, with the amount of RMB13.050 billion, increased by RMB1.356 billion. Meanwhile the converge ratio dropped 23.71 ppts to 328.08%;
-We also concern about CMB's financing plan. CMB has large capital pressure with the lower CAR compared with the peers. By the end of 1Q, based on new calculation method, the Tier 1 Ratio and CAR of CMB recorded to 8.6% and 11.41%, increased by 0.65 ppts and the same respectively, on the bottom of the industry;
-Additionally, CMB announced that the former president and CEO of the bank, Mr Ma Weihua would retire due to the age problem. Mr Ma gained the high reputation in the industry and served as the president of the bank for 14 years. Under his leadership, CMB developed retail businesses actively and expand E-bank business, which led CMB to become one of the largest retail banks in China from a small local bank. Therefore it will remain huge pressure to his successor, and the market is also wondering if CMB can maintain its competitive advantages continually in future.
-In all, the profit performance of CMB maintains stable, and we should concern about its asset quality and business development in future. However, we still hold confidence in CMB's competitive business model and brand influence, based on 3-stage DDM, we increase 12-m TP of CMB to HK$21.36, 27.91% higher than the latest closing price, equivalent to 10.3xP/E and P/B2.2x in 2014 respectively, and we upgrade Buy rating.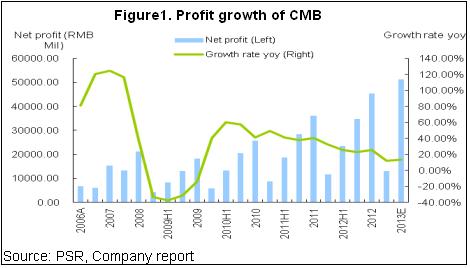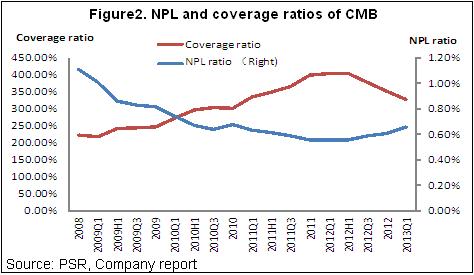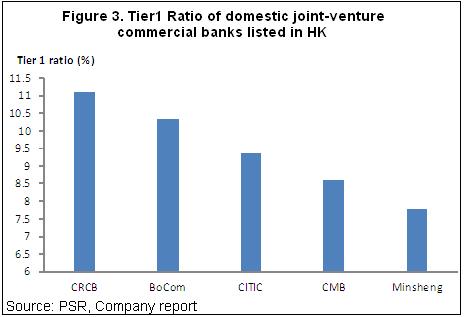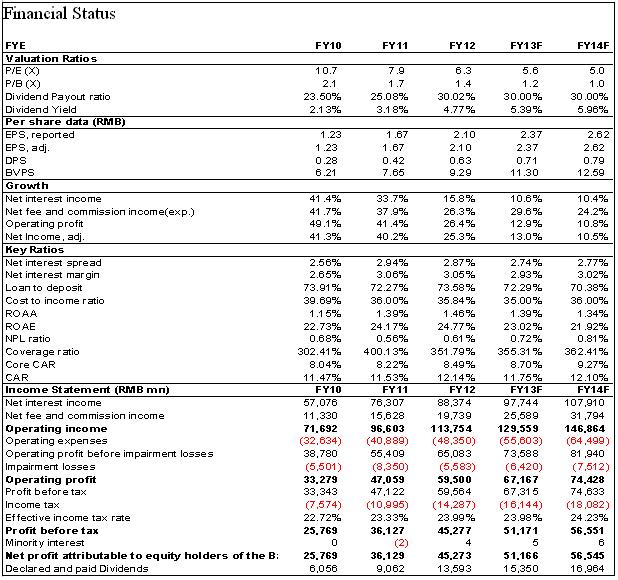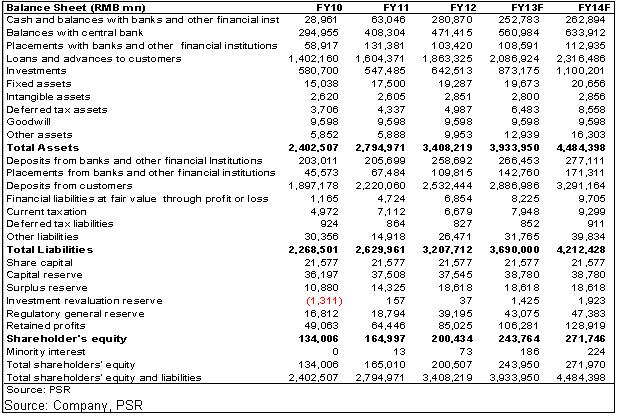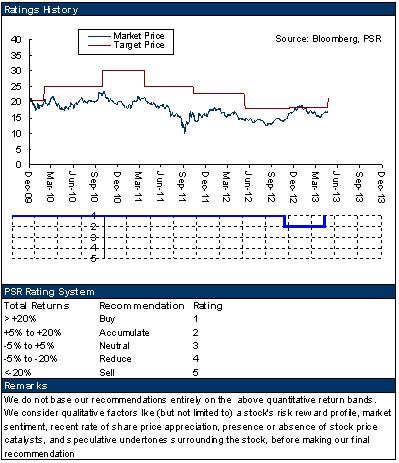 Recommendation on 23-5-2013
Recommendation
Buy
Price on Recommendation Date
$ 16.700
Suggested purchase price
N/A
Target Price
$ 21.360