Geely (175.HK) - FY16 beat expectation, maintain buy rating
Rapid Growth in Sales Results
In December, Geely Auto's total sales volume rocketed by 101% YoY to 108,230 units, up 6% mom. Among them, domestic sales volume of car soared by 102% YoY to 106,848 units, accounting for a larger proportion of 98.7% of the total sales volume, and export volume reached 1,382 units, up 70% YoY.
Several new models performed well. The sales volume of Geely Boyue reached 20,377 units (exceed 20,000), A+-class sedan model Emgrand GL 10,103 units (exceeding 10,000 again), soared by 66% yoy, and Emgrand EC7 28,539 units, representing a YoY increase of 66%. The high-end model Geely Borui recorded a sales volume of 5,609 units. Emgrand GS sold 10,222 units. The Emgrand series accounted for 60% of the total sales volume, hitting a historical high.
Geely Vision sedan sold 12,028 units, up by around 31% YoY. The sales volume of Vision SUV amounted to 10,527 units. Geely has already had six models sold more than 10,000 units. The SUV model made up more contribution to total sales volume.
In 2016, total sales volume rose by 50% YoY to 765,851 units, exceed 9% of the annual target 700,000 units. The Board set the Group's sales volume target for the year of 2017 at 1,000,000 units, representing an increase of around 31% over 2016.
New Brand LINK&CO Ready to Launch
Geely Auto released its fourth car brand ¡V LYNK & CO in Gothenburg, Sweden in October 2016, and the brand's models will be produced by the CMA platform, jointly developed by Geely and Volvo for three years. New models, positioned between Geely and Volvo, aim at China's most extensive joint-venture brand market. The first 01 concept released at the same time is a middle-class SUV, will debut in China in Q4 of 2017, followed by a sedan CS11, a crossover car CC11 and a hatchback CH11.
We believe the new brand's release marks the official launch of Geely Automobile's advancing strategy, and the follow-up brand management and operation will bring both challenges and opportunities to the company. As the positive effect of acquiring Volvo began to emerge, Geely Auto's overall strength has been elevated to a new high. Coupled with the company's push for the new energy strategy, "Blue Geely", we are optimistic about its steady growth in medium and long term sales. Considering depreciation after new capacity injects, it may take some time to consolidate for the short term.
Soared Management Holding Firms Market Confidence
According to Hong Kong Stock Exchange data, Chairman Li Shufu increased the company's holding by a total of 165.5 million shares in early December, with an average cost of around HKD8.2 per share. The growth rate of his shareholding reached a record high, from 42.98% to 44.45%, easing the market concern for several executives` holding and helping restore investor confidence.
Investment Thesis
The company's whole-year results forecast exceed our expectations, so we lift our forecast EPS for 2016/2017 to RMB0.523/0.774yuan.And therefore we raise the target price to HK$ 9.8, equivalent to 11.4x estimated P/E ratio of 2017. (Closing price as at 12 January 2017)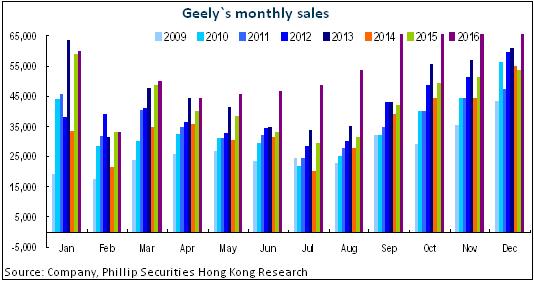 Financials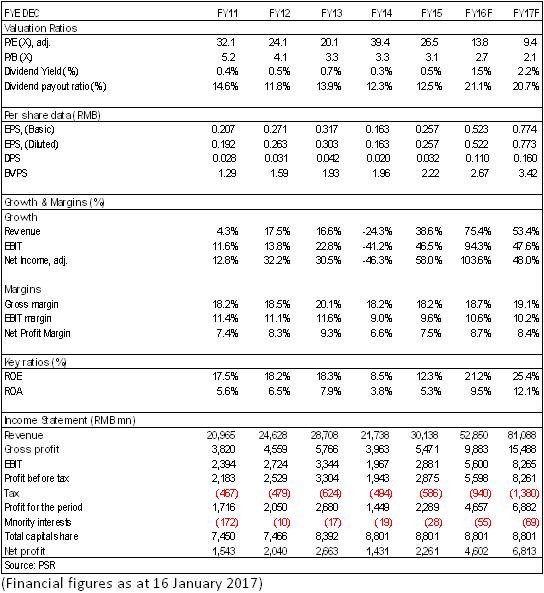 Recommendation on 16-1-2017
Recommendation
BUY
Price on Recommendation Date
$ 8.120
Suggested purchase price
N/A
Target Price
$ 9.800