Shanghai Pharma (2607.HK) - Proposed Further Acquisition of Techpool
Investment Summary
SPH announced further acquisition of Techpool with a consideration of USD144mn (RMB915mn). We highlight that long-run benefits from further acquisition and potential increase in both sales volume and ASP after BE test. We estimate EPS to be RMB1.48/1.69 in 18E/19E. Assuming target PE 14.25x (roughly par to 2-y historical PE), we maintain target price of HKD25.5. (Exchange rate= 0.823 RMB/HKD) (Closing price at 12 Jun 2018)
Business Overview
Proposed further acquisition of Techpool. SPH plans to acquire Techpool with a consideration of USD144mn (RMB915mn), implying target PE 18.6x based on Techpool 3-y average earnings. After closing the transaction, the company will increase the share from 40.8% to 67.14%, absolute control of Techpool. Techpool, a global leader inhuman urine protein bio-pharmaceuticals enterprises, set up in 1994, is engaged in R&D, production and distribution of biopharmaceuticals, focusing on critical medicine field. Techpool's two core products: (1) national second-class new drug Tianpuluoan (domestic exclusive species), applicable to acute and chronic pancreatitis and acute circulatory failure (shock), and widely used in ICUs. Tianpuluoan's coverage rate in tertiary and secondary hospitals has reached 60% in cities, covering 80% of total number of ICU beds and realizing a sales revenue of RMB1,064mn/1,098mn/81mn in FY15-17; and (2) Kailikang, the new drug of global origination, for the treatment of mild to moderate acute thrombotic cerebral infarction, reported sales revenue of RMB31mn/342mn/276mn during FY15-17.

Transaction to enrich product mix and intensify network. We appreciate Techpool's competitiveness in natural bio-protein field. Key products, like Tianpuan and Kailikang, are believed to have substantial market potential and will further diversify SPH product mix, which helps to strengthen SPH's manufacturing segment. SPH will continue to increase investment in R&D and introduction of variety license-in. With its vertical-intensive national distribution network and a mature marketing team focused on critical disease field, Techpool is expected to increase marketing promotion capability of SPH and further improve SPH's marketing system. Leveraging on SPH's platform, Techpool is expected to further improve its market penetration and share, as well as steep up the development of innovative business (like IVD equipment agents in the PRC).
Consistency test to drive hike both in volume and price. China government published policies to facilitate the replacement of original imported drug with generic drug. It indicates that qualified generic drugs should be included into public purchase lists and be paid just as original drugs. We are positive that drugs` sales volume and ASP will rise after passing consistency test. SPH now has 70 products under consistency evaluation, and the number of evaluated products is leading in across China. During 18Q1, SPH finished the evaluation of newly-added metformin hydrochloride sustained-release tablets and submits to CFDA, and finished the application of 3 varieties and has put nearly 1/2 products into the stage of clinical research. Earlier players passing the test are likely to take more market share in advance.
Financial review. Its 18Q1 revenue reached RMB36.39bn (+9.83% YoY), NP attributable to shareholders amounted to RMB1.02bn (+2.07%) and NP excluding non-recurring items totaled in RMB996mn (+6.08%). By segment, manufacturing continued high growth and retail business accelerated, while distribution business to benefit from industry integration in long term.
Valuation and Risks
Our model gives target price of HKD25.5. With assumed 2018 PE of 14.25x (roughly par to 2-y historical average) and estimated 18E/19E EPS of RMB1.48/1.69, we get target price HKD25.5. Risks include: 1) Proposed acquisition fail expectation; 2) Two-invoice system affects inventory allotment business; 3) Consistency evaluation progresses not well; 4) Policy risk. (Exchange rate= 0.823 RMB/HKD)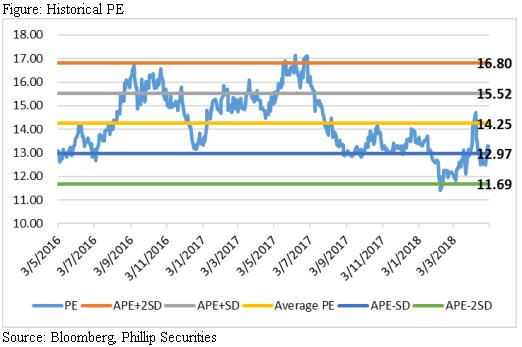 Financials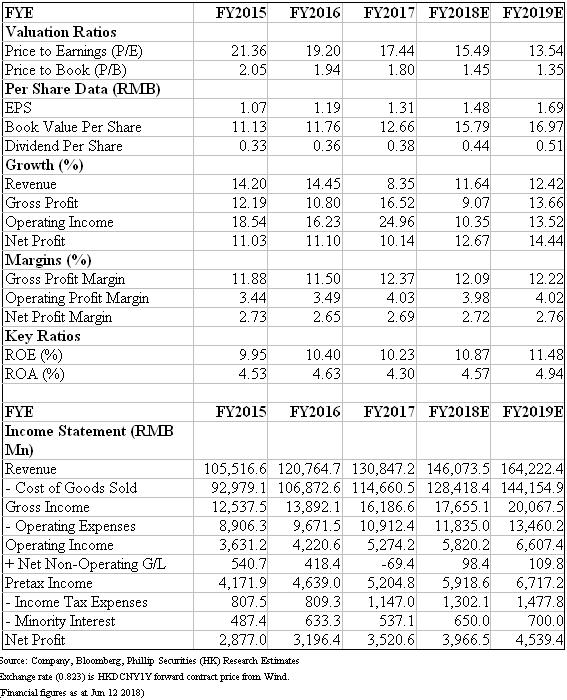 Recommendation on 15-6-2018
Recommendation
Accumulate
Price on Recommendation Date
$ 22.850
Suggested purchase price
N/A
Target Price
$ 25.500