Shanghai Pharma (2607.HK) - To Benefit from the Matthew Effect Enhanced by Policy
Investment Summary
Thanks to the nationwide implementation of the "two invoices" policy, Shanghai Pharma, an industry giant, will grow faster than industry average in distribution business with endogenous and external power. The pharmacy retail layout will also become a growth point. In addition, early preparation for the quality conformance assessment for generic drugs and the possibility of several varieties entering National Drug Reimbursement List (NDRL) in 2017 are expected to boost the growth of the pharmaceutical manufacturing business. And the SOE reform is expected to form a catalyst. We give an estimation of 16x EPS in 2017 with a target price of HKD24.5, and the rating is upgraded to "Buy". (Closing price as at 22 Feb 2017)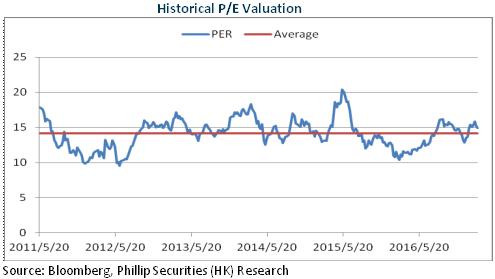 The Matthew Effect Enhanced by Nationwide Implementation of "Two Invoices" Policy
In January 2017, National Health and Family Planning Commission officially issued the "national" two invoices policy scheme and anticipated its nationwide implementation in 2018. So far only six provinces including Anhui and Sichuan have officially carried out the scheme. If the nationwide implementation is enabled, the concentration of distribution industry will experience a rapid increase. The three major drug-distribution enterprises take up a mere 38% market share currently, and anticipate a rise to more than 50% within three years.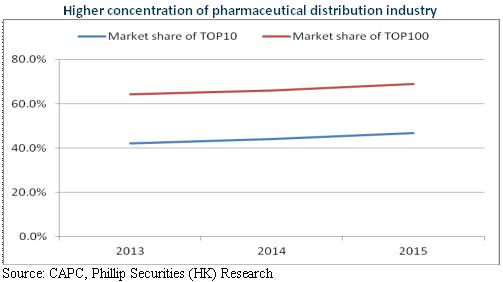 Shanghai Pharma, the third largest domestic drug-distribution dealer, now has distribution network scattered across 21 provinces. It is implementing M&A strategy for a platform in each province and for expansion to 28 provinces, of which the south-western and north-eastern regions will be the focus. In Q3 2016, the company expanded business to Yunnan and Heilongjiang. We believe the "two invoices" policy and the reform of replacing the business tax with VAT will accelerate the company's M&A, and the M&A will contribute a 3 to 4 ppts increment annually for the company. In the meantime, the profitability of distribution business is also estimated to remain stable by means of adjustment in the structure of distribution products and scale intensity.
Moreover, the drug retail distribution featuring DTP takes the lead in China and anticipates optimistic prospects. Prescription drug outflow will become the biggest growth point in retail industry, and the company's various business types, professional drug stores, drug stores jointly run with hospitals and public drug stores will help handle the business. Notably, the company boasts the country's largest DTP business with a sales volume of RMB2.5 billion in 2015 (around 30% of market share), and connections with the HIS system of more than 100 hospitals, both of which constitute its edge.
Pharmaceutical Manufacturing Business May Speed Up
The company's pharmaceutical manufacturing business has been stable, but the new industry policy is expected to speed it up. First, according to the conformance assessment policy for generic drugs, the first products that pass the assessment will gain significant edge in winning contract and market. Shanghai Pharma has prepared for the policy as early as 2013, which highlights great political sensibility and forward-looking ability of the management. So far, related work of sixty or seventy varieties has started, and the overall test is projected to be completed before the end of 2018. We believe some products are estimated to complete the assessment and capture market opportunities, thereby winning greater market share.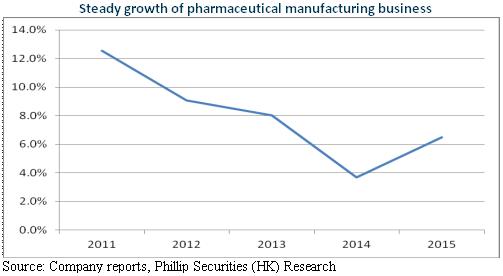 Second, key varieties such as Live Combined Bifidobacterium Lactobacillus and Enterococcus, Polysaccharide-Iron Complex and Reinforcing Kidney Tablet have been listed on the revised drug reimbursement list of eight provinces, and are expected to enter the revised NDRL of 2017 so as to bring new opportunities to the company's growth.
Risks
The national expansion of distribution business below expectations;
The SOE reform below expectations;
Sharp rise in R&D expenses.
Financials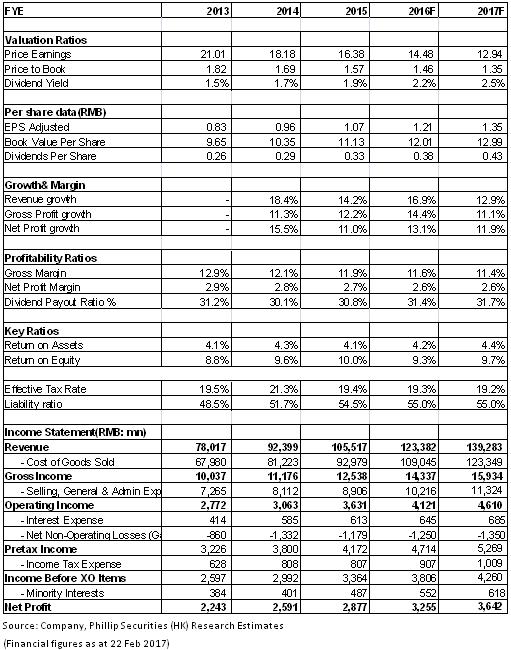 Recommendation on 24-2-2017
Recommendation
Buy
Price on Recommendation Date
$ 19.800
Suggested purchase price
N/A
Target Price
$ 24.500