BGE(603588)
Analysis¡G
Beijing GeoEnviron Engineering & Technology (BGE), one of the leading companies in soil remediation industry, specializes in three core businesses, environmental remediation, hazardous waste disposal and waste incineration, covering such key areas as industrial wastewater, medical waste and sludge, and operates via engineering contracting and investment. The issuance of "the 10-Chapter Soil Pollution Action Plan" in 2016 opened up new space for development of soil remediation. With the gradual implementation of relevant rules and regulations during the "13th Five Year Plan" period and establishment of industry standards and regulatory system, the industry will be further promoted and boom, with a-trillion market size to be released. Meanwhile, massive policy and financial support have facilitated the inflow of extensive social capital, resulting in even intensive competition. The tightened industry standards and supervision will be in favour of leading companies rich with advantageous technologies and experience. BGE enters soil remediation market from controlling heavy metal and has obvious edge in technical reserves and regulating experience. It is now a leading company in the soil remediation industry. With abundant order backlog and outstanding order-taking capability, BGE acquired soil remediation orders worth up to RMB1.3 billion in 2016, taking the lead in remediation business. Accelerated industry policy improvement and great demand for investment are expected to contribute to the above-expectation growth in soil remediation for 2017, with new orders worth RMB2.1 to 3 billion. We believe BGE is capable of fulfilling its RMB1 billion revenue target of remediation business upon the completion of newly-signed orders.
Strategy¡G
Buy-in Price: $33.89, Target Price: $36.70, Cut Loss Price: $32.50

BAIC (1958.HK) - Mixed future continued
90% Increase in Yearly Results
The 2016 revenue of BAIC Motor increased 38% yoy to RMB116.12 billion, exceeding RMB100 billion for the first time. Net profit attributable to equity holders reached RMB6.367 billion, up 91.9% yoy, mainly contributed by Beijing Benz Automotive Co., Ltd. and Beijing brands. The company's proposed final dividend per share was RMB0.29, with the dividend payout ratio of 34.5%.
Gross Margin Conversion of Self-owned Brands
Led by the hot sale of SUV, sales of Beijing Brand increased to 457,000 units, up 35.6% yoy; sales income from Beijing brands increased to RMB30.89 billion, up 73% yoy. The fact that the sales income is much higher than sales reflected the rise of average unit price, with the gross margin raised from -8% of last year to 2.8%. Distribution and administration expenses ratio decreased by 3.5 ppts and 1.7 ppts to 6.7% and 4.3%, respectively.
Beijing Benz Maintained Robust Growth Momentum
Stimulated by the strong product circle, the annual sales of Beijing Benz increased by 26.7% yoy to 317,000 units, and 28.7% yoy to RMB85.312 billion; sales income Beijing Benz increased to RMB85.312 billion, up 28.7% yoy. Thanks to the improvement of localization rate and sales structure, the gross margin of Beijing Benz increased 4.5 ppts to 29.7%; net profit margin increased by 3 ppts yoy.
Ordinary Performance of Beijing Hyundai
As a result of the more fierce competition of market segments and updating of some products, Beijing Hyundai sold 1.142 million cars, up 7.5% yoy. To be specific, the proportion of D-level and SUV increased to 50%; the increase of promotion expenses however damaged profitability, with the return on investment decreased 4.1% to RMB3.907 billion yoy.
Sales update in the First Two Months
The total sales volume of Beijing Auto reached 110,300 units in the first two months, representing an increase of 5.2% yoy. To be specific, the sales volume of Beijing Benz witnessed a yoy increase of 58% to 73,500 units; that of Beijing brands decreased 43% yoy to 34,500 units; that of Beijing Hyundai increased to 1.4 million units, up 9% yoy. We believe that besides base effect, the conversion of vehicle types is the main reason. Looking into the future, we expect that Korean vehicles and Beijing brands will face fierce competition, but Beijing Benz and new-energy EV will keep the trend of increase.
Investment Thesis
We believe that consumers are becoming more rational, and even in accordance with a conservative estimate of Korean cars this year that the contribution of 20% backward, the EPS for 2017/2018 is expected to be 0.91, 1.12 yuan, the market is too worried about the political factors influences recently. We reclaim the target price to HKD9.8 with 9.7/8.0x P/E in 2017/2018 and maintain the rating to "Buy".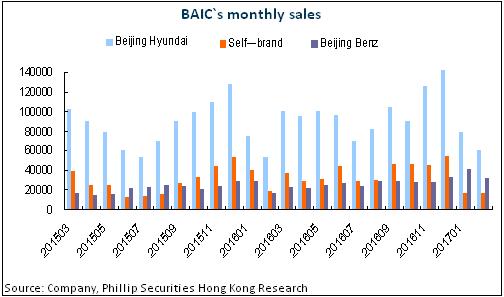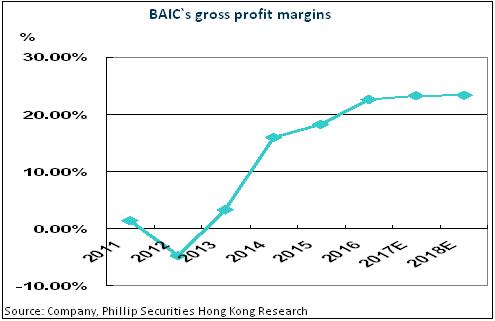 Financials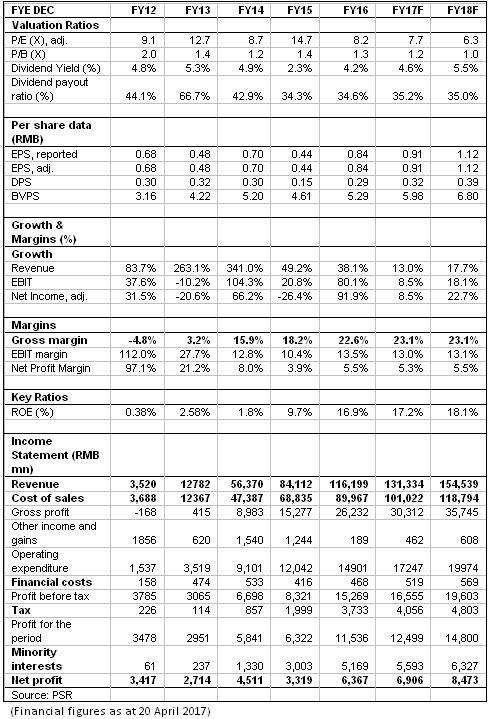 Recommendation on 24-4-2017
Recommendation
BUY
Price on Recommendation Date
$ 7.730
Suggested purchase price
N/A
Target Price
$ 9.800