Lifestyle International (1212.HK) - Worth anticipation
Company Profile
The business of Lifestyle mainly focuses on department stores operated in Hong Kong and Mainland China respectively by SOGO and JiuGuang. Two SOGO department stores of Lifestyle are SOGO Causeway Bay store and SOGO TST store, among which SOGO TST store was newly opened in December 2014. The company runs four department stores under the brand "JiuGuang" in Mainland China, located in Shanghai, Suzhou, Dalian and Shenyang respectively.
Summary
-From 2009 to 2013, the total revenue of Lifestyle rose from 3.756 billion to 5.96 billion HKD, with a compound growth rate at 12.2%, in which, the revenue in Hong Kong grew from 3.06 billion to 4.73 billion HKD, with its compound growth rate at 11.5%; and the revenue in Mainland China increased from 697 million to 1.23 billion HKD, with its compound growth rate at 25.2%.
-On the whole, Hong Kong is still a major source of income for Lifestyle. In 2013, the proportion of revenue in Hong Kong market reached 79%, while that in Mainland China was 21%, and for the business performance in H1 of 2014, the proportions of income in Hong Kong and Mainland China were 72% and 28% respectively.
-In December 2014, Lifestyle announced that the family of Thomas Lau Luen-hung and Qatar Investment Authority (QIA) bought 16.14% of the shares of Lifestyle held by Chow Tai Fook (CTF) at a price of 14.75 HKD per share. After the transaction, holdings of Lao Family Group grew to 815 million shares, with a shareholding ratio of 50.14%, and holdings of QIA as the second-largest shareholder rose to 371 million shares with its shareholding ratio of 22.78%.
-In the fourth quarter of 2014, business in Hong Kong might exceed expectations. Although "Occupying the Central " has negative influence on the retail industry in Hong Kong, many signs show that SOGO Causeway Bay store may exceed original market expectations of the growth plateauing. In addition, we also have positive expectations on SOGO TST store.
-Recently, some changes in the fundamental aspects of Lifestyle mainly include important shareholder turnover, normal operation of SOGO Causeway Bay store in the mid-late November, as well as SOGO TST store after reopening. We think that the Lifestyle is returning to normal operation from being forced to change the address of Causeway Bay store and the "Occupying the Central" event of Hong Kong.
-In our opinion, Lifestyle's brand value and management team deserve a better valuation. In the future, with a better atmosphere of commercial retail in Hong Kong and Mainland China, we believe that the valuation of Lifestyle is expected to recover. Lifestyle is allowed to "Accumulate" ratings with a 12-month target price of 16.50 HKD, equivalent to 12 times of P/E in 2015.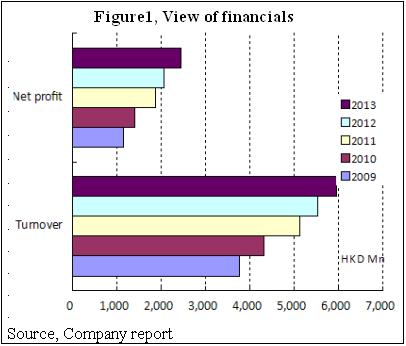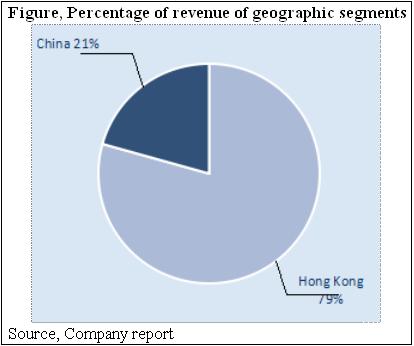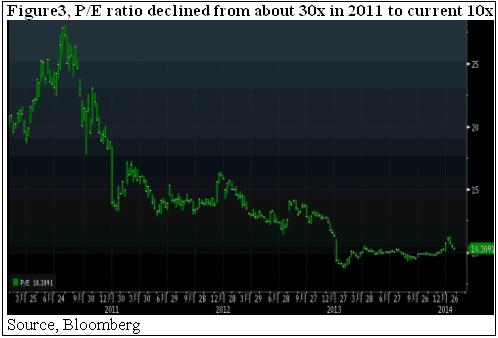 Financials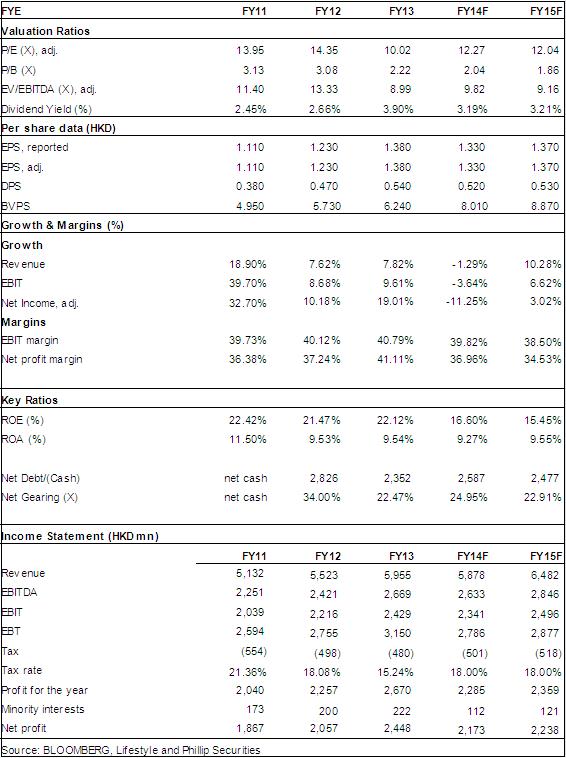 Recommendation on 29-1-2015
Recommendation
Accumulate
Price on Recommendation Date
$ 15.160
Suggested purchase price
N/A
Target Price
$ 16.500