China Merchants Bank (3968.HK) - New benchmark – employee stock ownership scheme enhances competitiveness
Summary
-According to CMB's 2014 Annual Results, it maintained stable profit growth that net profit achieved to RMB55.911 billion, up 8.1% y-y, equivalent to the EPS of RMB2.22, down 3.5% y-y due to the dilution of total share capital from Right Issues, slightly lower than our previous expectation;
-CMB's assets increased largely. As at the end of 2014, the Group's total assets increased largely by 17.81% to RMB4.7 trillion compared with the end of 2013, with net assets of RMB314.404 billion, equivalent to the BVPS of RMB12.47, increased by 18.42%;
-We continue to concern about the quality of loans. In 2014, the Group's NPL ratio increased largely by 0.28ppts to 1.11% compared with the end of 2013, higher than our expectation. Meanwhile, the converge ratio decreased by 32.58ppts to 233.42%;
-CMB has large capital pressure with the lower CAR compared with the peers, although the ratio increased stably. By the end of 2014, the Tier 1 Ratio and CAR of CMB recorded to 9.6% and 11.74%, up 0.33 and 0.60ppts respectively compared with the end of 2013. We expect CMB will still face larger financing demand in future;
-Recently, CMB announced the employee stock ownership scheme. According to the scheme, it should be derived from A Shares subscribed for the Private Placement with the total amount of less than RMB6 billion. In the next two years, the Group will continue to announce the stock ownership scheme, which shall not exceed RMB2 billion each year. Therefore, the total amount of funds of the employee stock ownership scheme shall not exceed RMB10 billion. The scheme will be very helpful for stimulating the employee's enthusiasm, and improving the work efficiency to enhance CMB's competitiveness, which provides a new benchmark for the industry. We expect there are more employee stock ownership schemes announced by the banks in future;
-In all, CMB's profit performance maintains stable, and the asset quality and the CAR will be main operating risks in future. However, due to the development of the market environment, we still hold confidence in CMB's competitive business model and brand influence, according to CMB's stable dividend payout record, and based on 3-stage DDM, we increase its 12-m TP to HK$30.00, 27.9% higher than the latest closing price, equivalent to 9.8xP/E and P/B1.5x in 2016E respectively, and maintain Buy rating. (Closing price as at 15 April 2015)
Stable profit growth and employee stock ownership scheme enhances competitiveness
By the end of 2014, the Group's net profit amounted to RMB55.911 billion, up 8.1% y-y, equivalent to the EPS of RMB2.22, down 3.5% y-y due to the dilution of total share capital from Right Issues.
According to incomes, net interest income grew 13.2% y-y approximately to RMB112 billion, and net commission fee increased strongly by 53.2% y-y to RMB44.696 billion, higher than our previous estimation. However, the Group's net profit growth was lower than expectation because of the large growth of expenses, especially for the impairment losses, up 210% y-y approximately to RMB31.681 billion. Considering the consistent deterioration of asset quality, we expect CMB's impairment losses will maintain the high growth in the next two years, which will affect the Group's profit performance obviously, and the profit would maintain the low single-digit growth.
According to assets, CMB's assets increased largely. In 2014, the Group's total assets increased largely by 17.81% to RMB4.7 trillion compared with the end of 2013, with net assets of RMB314.404 billion, equivalent to the BVPS of RMB12.47, increased by 18.42%.
However, the quality of loans continued to go down. In 2014, the Group's NPL ratio increased largely by 0.28ppts to 1.11% compared with the end of 2013, higher than our expectation. Meanwhile, the converge ratio decreased by 32.58ppts to 233.42%. We expect both the amount and ratio of CMB's NPLs will increase continually in 1Q2015.
Meanwhile, CMB has large capital pressure with the lower CAR compared with the peers, although the ratio increased stably. By the end of 2014, the Tier 1 Ratio and CAR of CMB recorded to 9.6% and 11.74%, up 0.33 and 0.60ppts respectively compared with the end of 2013. We expect CMB will still face larger financing demand in future.
Recently, CMB announced the employee stock ownership scheme. According to the scheme, it should be derived from A Shares subscribed for the Private Placement with the total amount of less than RMB6 billion. In the next two years, the Group will continue to announce the stock ownership scheme, which shall not exceed RMB2 billion each year. Therefore, the total amount of funds of the employee stock ownership scheme shall not exceed RMB10 billion. The scheme will be very helpful for stimulating the employee's enthusiasm, and improving the work efficiency to enhance CMB's competitiveness, which provides a new benchmark for the industry. We expect there are more employee stock ownership schemes announced by the banks in future.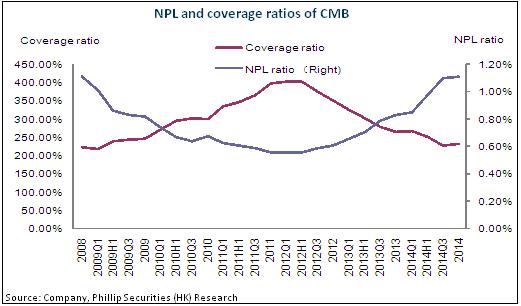 Risk
The deterioration of the asset quality due to the large growth of the NPLs;
Lower-than-expected growth of interest incomes and intermediate business incomes;
Share price decreases sharply in the short term.
FINANCIALS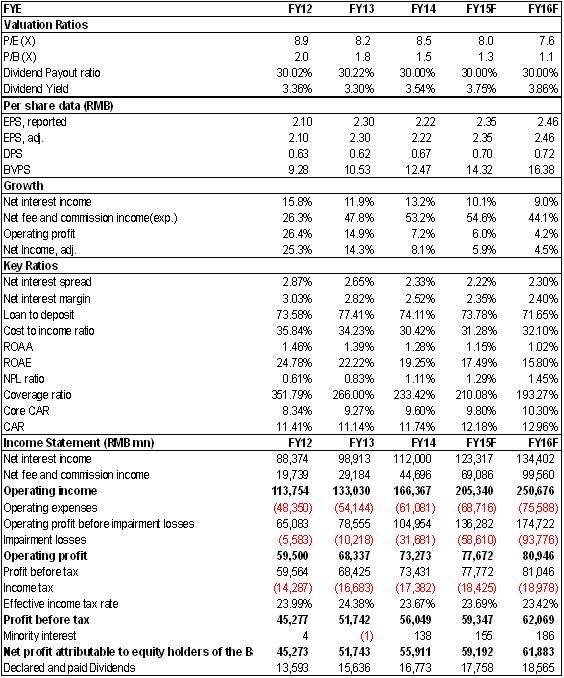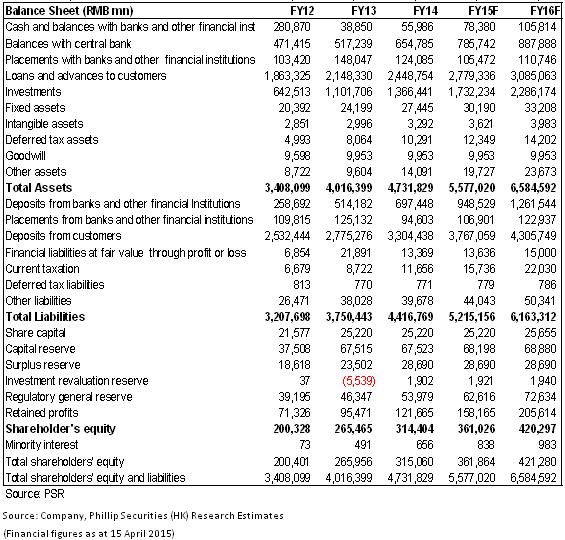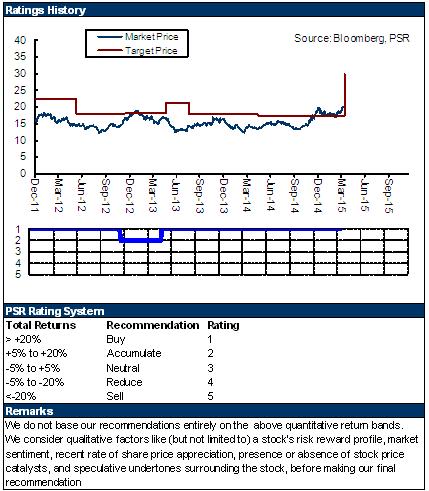 Recommendation on 17-4-2015
Recommendation
Buy
Price on Recommendation Date
$ 23.450
Suggested purchase price
N/A
Target Price
$ 30.000