Agriculture Bank of China (1288.HK) - Profit Growth Slowed Down and the Valuation Becomes Attractive
Summary
-Based on the 2015H1 earnings result reported by Agriculture Bank of China (ABC or the Group), ABC maintained a decrease trend of profit growth. As of June 2015, net profit attributable to shareholders increased slightly by 0.27% to RMB104.325 billion;
-The asset size of ABC maintained its high growth trend. As of 2015H1, total assets of the Group grew 9.30% from 2014 to RMB517.46 trillion. During the period, shareholders` net assets reached RMB1.12 trillion, equivalent to the BVPS of RMB3.20;
-The asset quality of the bank remains our major concern. As of June 2015, NPL ratio of the Group jumped by 0.29ppts from 2014 to 1.83%. However, NPL allowance coverage ratio dropped by 47.53ppts to 238.99%;
-The capital adequacy ratio (CAR) of ABC has delivered stable growth, as of June, the core Tier-1 CAR and CAR rose by 0.21ppts and 0.56ppts from 2014 to 9.30% and 10.02% respectively;
-Overall, ABC's profit growth slowed down, and its asset quality will continue to go down as well. We expect it will last in the next few years. However, considering the large operating network and the valuation of the share price becomes attractive after the sharp decrease recently, we believe now it is a good time to buy, increase our target price to HK$4.00. It is higher than the latest closing price by 29% and equivalent to a prospective 2016 P/E of 5.7x and P/B of 0.9x respectively. We upgrade to a "BUY" rating. (Closing price as at Morning, 7 Oct 2015)
Profit Growth Went Down with Continuous Deterioration in Asset Quality
As of June 2015, net profit attributable to shareholders increased slightly by 0.27% to RMB104.325 billion. Regarding its operating income, ABC's net interest income grew only by 4.8% yoy to RMB219.493 billion while net fee and commission income decreased slighty by 0.43% yoy to RMB47.643 billion. ABC's intermediate business is weaker than other state-owned banks. However, its net gains on investment securities increased significantly by 31 times to RMB800 million benefited from the bull market in 1H, but we expect such incomes would go down obviously in 2H.
On the other hand, looking into the assets, C The asset size of ABC maintained its high growth trend. As of 2015H1, total assets of the Group grew 9.30% from 2014 to RMB517.46 trillion. During the period, shareholders` net assets reached RMB1.12 trillion, equivalent to the BVPS of RMB3.20.
The loan quality of the bank continued to go down, in line with our expectation. As of June 2015, NPL ratio of the Group jumped by 0.29ppts from 2014 to 1.83%. However, NPL allowance coverage ratio dropped by 47.53ppts to 238.99%. We expect that both NPL volume and ratio of CMB will continue to rise in the upcoming years. The NPL ratio might be over 2% this year, representing the poorer asset quality.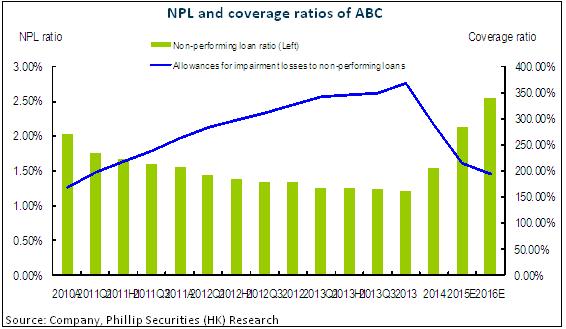 Risk
Surge in NPL volume, worse than expected deterioration in asset quality;
Slower than expected growth in Interest and non-interest income;
Sharp share price correction amid volatile market in the short run.
FINANCIALS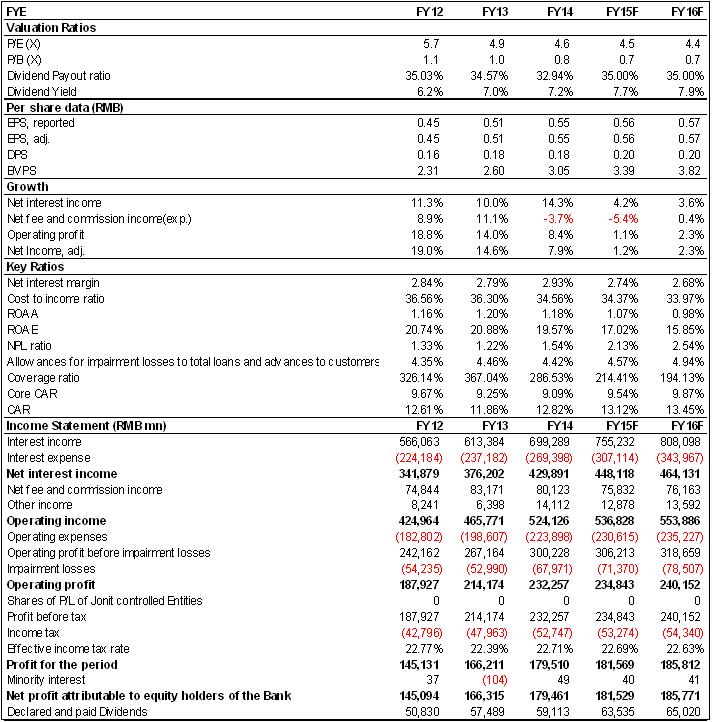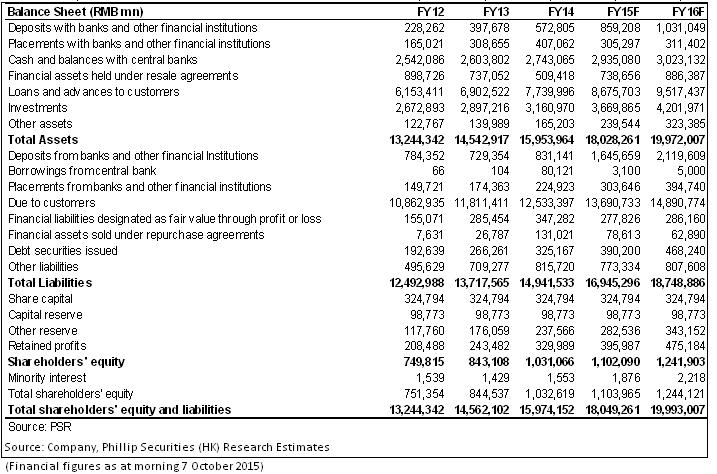 Recommendation on 9-10-2015
Recommendation
Buy
Price on Recommendation Date
$ 3.090
Suggested purchase price
N/A
Target Price
$ 4.000