Xinhua Winshare (811.HK) - Excellent Operating Results and Robust Finance
Steadily Increasing Profit
Xinhua Winshare is mainly engaged in publishing and distribution of publication and relative products in mainland China. In 2015, the company recorded sales revenue of RMB5.583 billion, and the profit for the year of RMB620 million, up 5.76% and 0.55% Y-o-Y, respectively.
In terms of profitability, the consolidated gross profit margin was 38.1%, representing a slight decrease as compared with 38.4% in FY2014. The proportion of selling and distribution expenses and administrative expenses in revenues increased by 0.12% to 25.15%, mainly due to the increase in labor costs, the increase in logistics and the relevant expenses as a result of the growth of sales revenue and the increase in expenses caused by newly-added subsidiaries. EPS was RMB0.57. The dividends won`t be declared until it is listed on A Shares.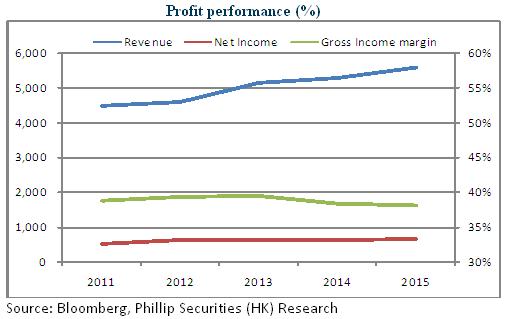 Financial Soundness
The company operates three main business segments, including publication, distribution and other business. The revenue of publication segment increased by 7.5%, and the gross profit margin jumped by 2.3% to 31.8%, to which the greatest contribution came from educating products that was up by 17.5%. The revenue of distribution segment rose by 10%, in which, the scale of Internet sales developed enormously and soared by 72.1% Y-o-Y, accounting for 16.8% of the total revenue.
In 2015, the current ratio of the company remained at 1.3. Inventory turnover days dropped by about 6 days. Cash and deposits were RMB1.902 billion, representing about HKD2.01 per share. Available-for-sale investments reached RMB2.98 billion. The debt to assets ratio decreased by 1.5% to 33.1%. The figures showed that the company improved its efficiency in operations and the overall financial status was safe comparatively.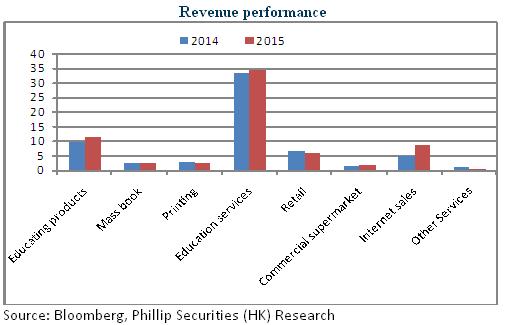 Development of New Businesses to Accelerate Transformation
Xinhua Winshare is the sole publisher of primary and secondary school textbooks in Sichuan Province, with almost monopolistic resources in regional offline channels. At present, the company is exerting itself in strategic transformation and building itself into a comprehensive cultural media group offering modern service in all industrial chains. On one hand, it will take advantage of its capital to enhance M&A and cooperation, expand the business area, strengthen the major publication and distribution businesses and increase the marketing share. On the other hand, the company put much effort in developing digital publication and e-commerce, and implementing the "double-channel" strategy of combining the offline channels with the online platform. At present, Online-Winshare, in which Xinhua Winshare holds 75% of equity, is the 4th largest online bookstore in China. With the synergetic development of traditional major businesses and emerging businesses, and the driver of physical and online operations, its profitability and sustainable developing ability will be strengthened a lot.
The listing of the company on A shares is advancing steadily. The proceeds will be mainly used in the physical network building, the digital educating publishing projects, the public publishing projects and the informatization projects. By then the company will become the only one publishing company listed both on A and H shares. The price of its undervalued H-share stock will be re-valued. On the basis of robust fundamentals and sustainable dividends distribution ability, we give the Company an estimation of 12x PE in 2016, and the target price is HKD8.4. Besides, "Accumulate" is given. (Closing price as at 25 May2016)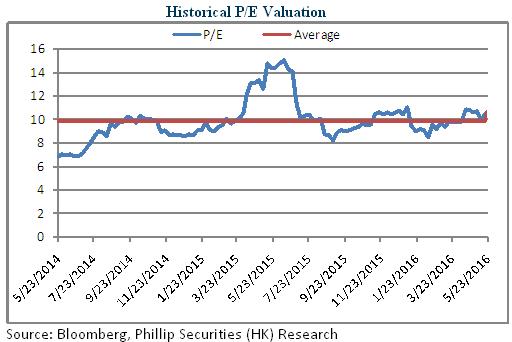 Risk Warnings
Risk of changing national preferential tax policy;
Risk of policy obstacles in cross-regional business;
Risk of technology of digital publication;
Risk of non-standardized competition;
Financials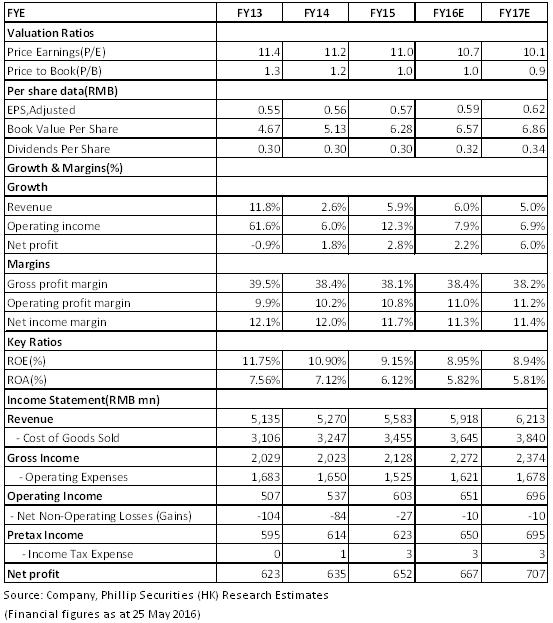 Recommendation on 27-5-2016
Recommendation
Accumulate
Price on Recommendation Date
$ 7.420
Suggested purchase price
N/A
Target Price
$ 8.400