BAIC MOTOR(1958)
Analysis¡G
During the first six months in 2016, the BAIC self-brand under BAIC Motor sold 203 thousand vehicles, representing a Y-o-Y increase of 36.69% while the sales volume of Beijing Benz was 143.4 thousand, up by 39.18% Y-o-Y and that of Beijing Hyundai Motor was 522.8 thousand, rose by 2.45% on a year-on-year basis. In general, the overall sales volume outperformed expectations. BAIC E-Class 320L4 MATIC Sedan may be launched during the second half of August. It is the third generation of Benz E-Class model manufactured in China. In the future, 6 different models including E 200L, E 200L Sports, E 300L, E 300L Sports, E 300L High-end and E 300L Sports High-end models will be successively launched and the pre-sales prices will be ranging from RMB450 thousand to RMB550 thousand. The new models are expected to continuously improve the profitability of BAIC.
Strategy¡G
Buy-in Price: $7.01, Target Price: $8.60, Cut Loss Price: $6.215

JAC (600418.CH) - Short-term Callback Opens up Favourable Buy Opportunity
Financial result review:
Over 50% Increase in Earnings Last Year
The FY2015 revenues of JAC amounted to RMB46.42 billion, up 19% yoy. Net profit attributable to parents stood RMB860 million, soaring 55% yoy. EPS was RMB0.59. DPS was RMB0.18, with the dividend payout ratio of 31%. The reason why the results fell short of our expectations is that the company appropriated large amounts of impairment losses on assets worth RMB130 million in Q4 2015. Addition, the expense ratio also increased.
Continued High Growth in FY Q1 2016
In Q1 2016, the company's rapid growth in profits continued under the revenue surging by 23% to RMB14.6 billion. The profit attributable to parent registered RMB279 million, up 25% yoy. EPS was RMB0.19.
Reviews of Sales data:
In 2015, the company's total sales increased strongly by 26.5% yoy to 587,900 vehicles. This good increase was primarily attributable to the growth in SUV (+254%), pure electric cars (+332%) and exports (+7%). Specifically, the demand of the small SUV models S3 and S2 was impressive, thereby consolidating the company's market position in the small SUV. Besides, in 2015, the company's pure electric car iev5, after it was unveiled, performed brilliantly. The first pure electric SUV iev6S has been launched in April 2016, which will further enhance the coverage and impact of the company's new energy vehicles. Also, the total sales in Q1 2016 continued to surge by 29% to 188,000 vehicles. Yet, the growth rate of the total sales in Q2 2016 saw a slight decrease due to the increase of base, greater burden of MPV / sedan and callback of exports, basically remaining unchanged at 145,000 vehicles over last year.
Actively Arrange New Energy Industry Chain
In the domain of new energy vehicles, by leveraging on accumulation of years of R&D base and great market base advantage, the company plans to further increase investment and accelerate the horizontal layout of the product lines, and proposes the strategic objective that "by 2025, the total sales of new energy vehicles exceeds 30% of that of all vehicles". The company has entered into a strategic framework agreement with Anhui JEE Automation Equipment Co., Ltd., SINOEV Technologies and Putian New Energy in such fields as motor, powertrain and charging piles, in order to actively arrange new energy industry chain.
In April 2016, the company signed a strategic cooperation framework agreement with NextEV. Both parties will undertake all-round cooperation in such links as R&D, manufacturing, supply chain and marketing platform. The mass production of the first cooperation OEM electric vehicle is scheduled to commence in 2017. We believe that the new energy vehicles is in line with the industry's development trend, and that the company's double-drive commercial (OBM + OEM) business model will provide double guarantees for giving the company a head start in the future competitions.
Investment Thesis
We revised our profit forecasts, with estimated EPS of RMB0.75 and RMB1.00 in 2016/2017 respectively. Our target price of RMB15.6 is equivalent to 20.8x/15.5x of its 2016/2017 PE. We reiterate a ¡§BUY¡¨ rating. (Closing price as at 22 July 2016)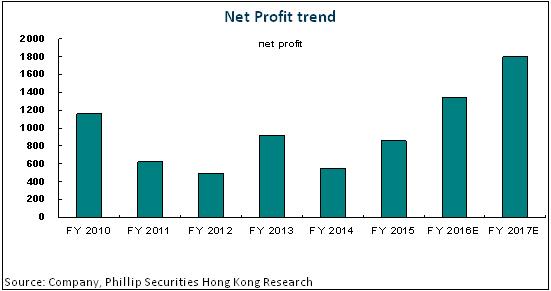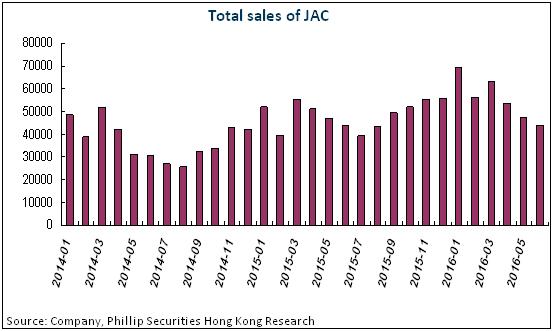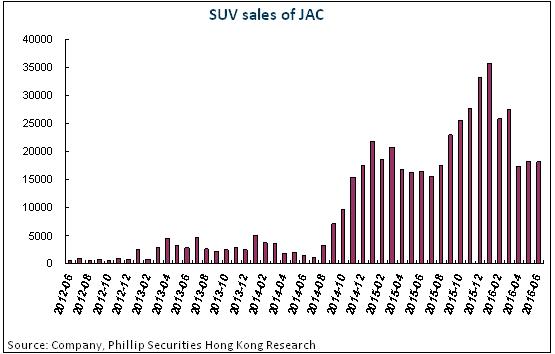 Financials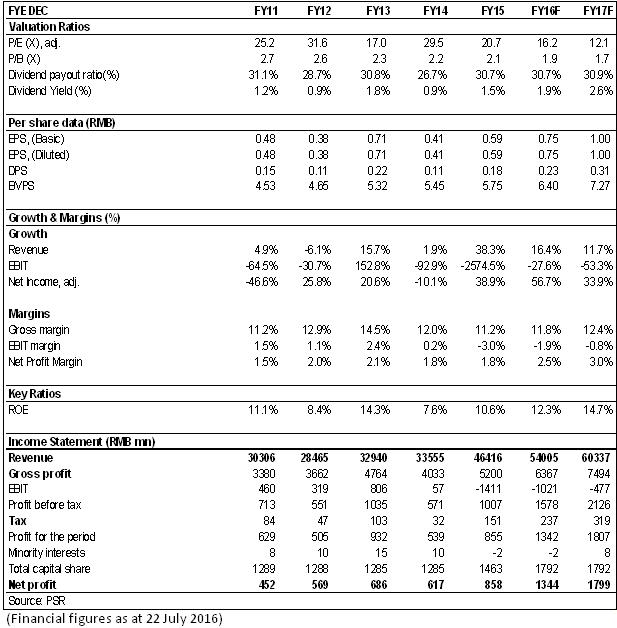 Recommendation on 28-7-2016
Recommendation
Buy
Price on Recommendation Date
$ 12.150
Suggested purchase price
N/A
Target Price
$ 15.600