Luenmei (600167.SH) - Endogenous Growth & Epitaxial Growth Drives its Future Development
Summary of Investment
-Net profit growth exceeded market expectation¡F
-The main business of heating drove fast growth of result¡F
-3D imaging the strategic layout accelerated the epitaxial growth¡F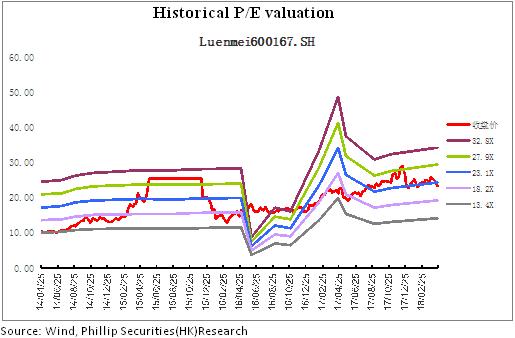 Net Profit Growth Exceeded Market Expectation
In 2017, Luenmei Holding recorded a revenue of RMB2.376 billion, up 16.24% yoy; net profit attributable to parent company of RMB0.922 billion, up 31.93% yoy, equivalent to EPS of RMB1.157, up 12.6% yoy. Among them, the Q1/Q2/Q3/Q4 net profit attributable to parent company hit 4.52/-1.43/1.72/4.55, respectively, with Q1 and Q4 contributed the most to the result for the year. Based on this robust performance, the Company planned to add 10 more shares by conversion of surplus reserves and distribute dividend RMB4.2 per 10 shares, topping the annual dividend rate to 40.08%.
Prompted by the growth of the gross margin, integrated gross margin and net profit margin surged by 3.38pct and 4.72pct, respectively, and stood at 50% and 39.73%, respectively, which suggested extraordinary profitability. This period also saw the higher efficiency of company capital management. Signing of the bank deposit agreement brought RMB0.15 billion in interest income. This brought the financial expense rate down to 6.74pct, at 6.32%. In addition, sales expense rate and administration expense rate also maintained at a relatively low level, at 0.29%(+0.14%) and 4.93%(-0.32%), respectively, which indicates excellent capability in expense management overall.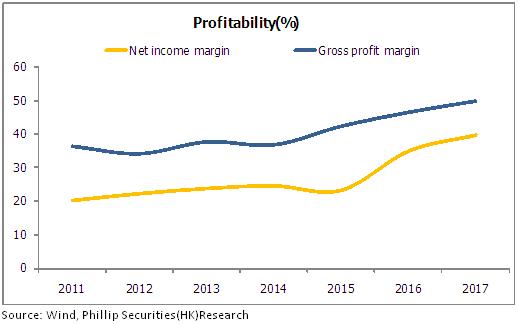 The Main Business of Heating Drove Fast Growth of Result
With contribution of about 90% of revenue and 95% of gross margin, the three major operating businesses provided robust support for profitability of the Company. Specifically, heating and steaming supply business reported RMB1.532 billion (+20.34%) of revenue, with gross margin at 37.52%, up 3.7pct yoy; engineering business, RMB0.181 billion of revenue(+19.5%), with gross margin at 80.23%, up 6.54pct yoy; and network access business, RMB0.421 billion of revenue(+6.27%), with gross margin at 95.86%, up 4.82pct yoy. However, decline in power generation capacity and number of utilization hours slashed the revenue in power generation by 6.48pct, at RMB0.189 billion, with gross margin decreasing by 7.04pct, at 14.64%.
Steady expansion of heating area and network access area spurred the growth of result for the year. In 2017, the average heating area amounted to about 56 million square meters, up 21.7% yoy; and the access area totaled 73.6 million square meters, up 19.5% yoy. Meanwhile, the Company actively sought opportunities for geo-replication projects. Franchise leasing project in Huanggu District, Shenyang has been successfully replicated and expanded in asset-light operation mode. Heating business in Baotou has showcased the Company's capability to geographically replicate the same business. In the future, with its triple model of "self-construction+purchasing+energy management", the Company will continue to speed up its business expansion, increase its business scale, and enhance its profitability.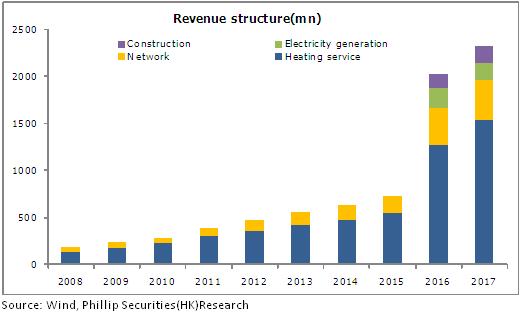 3D Imaging the Strategic Layout Boosted Its Epitaxial Growth
At the end of the year 2017, book capital of the Company recorded RMB5.4 billion. Abundant capital offered guarantee for the Company to make strategic layout of financial industry, new-tech industry and so on. In October, 2017, the Company acquired 400 million shares in CINDA P&C at RMB0.651 billion. This move made the Company take up 19.33% of its total share capital, and thus became its 2nd largest shareholder. In January, 2018, the Company signed an equity investment agreement with Mantis Vision Ltd (hereinafter referred to as MV Ltd), a 3D imaging solutions and algorithm R&D company in Israel. In accordance with the agreement, the Company will invest USD36 million, among which USD28 million is for series D funding of preferred stocks of MV Ltd, and USD8 million is purchase of the shares held by the former stockholders in MV Ltd. Upon completion of the investment, the Company will transcend as the largest stockholder of MV Ltd with 17.36% shareholding. While maintaining steady growth of its main business, the Company's strategic investment in financial industry and new-tech industry will strengthen its overall capability of risk resistance and sustainable development, and nurture new growth poles for its future profits.
Risk Warnings
Rising coal price;
Heating area and network access area below expectation;
Epitaxial growth below expectation;
Investment, merger and acquisition risks;
Financials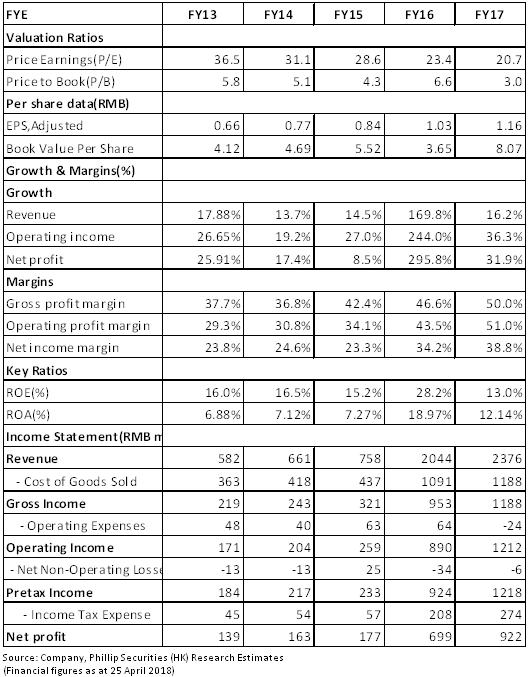 Recommendation on 27-4-2018
Recommendation
No Rating
Price on Recommendation Date
$ 24.000
Suggested purchase price
N/A
Target Price
N/A