SPRING Airlines (601021.CH) - Short-term shocks do not change long-term value
Investment Summary
Company profile & Shareholding Structure
Spring Airlines, the leader of the low-cost airlines in China, is the first private low-cost airlines in China. It was founded in 2004 and its base is in Shanghai. The company completed its shareholding reform in 2010, raised RMB1.75 billion in an IPO on the Shanghai Stock Exchange in 2015, and raised RMB3.46 billion through a private placement of 116 million shares in 2018 to purchase aeroplanes and flight simulators.
The founder Mr. Wang Zhenghua holds 36% of the parent company's shares, which holding 63% of the company's, while the public shareholding accounts for 25%, with relatively concentrated ownership and stable shareholding structure.
More than Ten Years` Dedication make an industry leader
At the beginning after its founding in 2004, the company started with only two aeroplanes and mainly provided passenger services on domestic routes. The company began to operate international and regional routes in 2010, and to accelerate its development of international and regional routes in 2011. After over a decade's development, the company has begun to take shape. By April 2020, Spring Airlines has had a fleet of 96 aircraft, all of which are Airbus A320. Among them 45 were purchased by the company itself, one is financing leased and 50 are operating leased. As for route layout, by now the company has formed a domestic market layout with Shanghai as its main hub and Shenyang in Northeast China, Shijiazhuang in North China and Shenzhen in South China as its pivots, and an international market layout with Osaka in Japan, Jeju in South Korea and Bangkok in Thailand as the main overseas nodes. As at the end of 2019, the company operated a total of 210routes, including 128 domestic routes, 69 international routes and 13 regional routes.
No matter in terms of the size of the fleet and the number of routes, or of the passenger traffic, Spring Airlines is far ahead in the domestic low-cost airline market..
Adherence to "Two Singles-Two Highs-Two Lows" Business Mode
The company's business mode can be generalized as "Two Singles", "Two Highs" and "Two Lows".
"Two Singles" refer to single model and single cabin. The company owns a fleet of single Airbus A320 series model, uniformly equipped with CFM engines. Using the same model and engine through centralized procurement can reduce the purchase and lease costs of aircraft and other aviation materials, maintenance costs and personnel training costs. The company's aircraft only contains only economy class seats, but no first class or business class seats. The number of available seats is increased by 15%-20%, which can effectively dilute the unit cost.
"Two Highs" refer to high P L /F and high aircraft utilization rate. The company raises its P L /F mainly through attracting travellers by its parent company, offering charter flights and providing special fares. And the company acquires high aircraft utilization rate through increasing the daily aircraft utilization rate by optimizing the route structure, extending flight time and speeding up the turnover, and diluting the fixed cost per unit.
"Two Lows" refer to low sales expenses and low administrative expenses. The company makes direct sales through self-built e-commerce way (accounting for 91.9% of its sales), instead of the AVIC system, as its main sales approach, which effectively reduces sales agency fees. It also makes full use of the resources which come from the third-party service providers and integrates business and financial ERP to record strict fee control management.
Differentiating Competitive Advantages Build a "Barrier"
The unit operating cost of the company is 32%-37% lower than that of the other three major airlines. With a significant cost advantage, the company is able to launch products at lower prices. The company provided tickets with prices 30-45% lower than that of full-service airlines. Such advantage in cost effectiveness attracts numerous self-paying passengers who are more sensitive to prices as well as business travellers pursuing high cost effectiveness, Maximizing the use of existing assets has recorded efficient production operations. The company's yield and P L/ F are much higher than that of other domestic airlines, which reflects its excellent capabilities for operations.
The company's P L/ F is as follows, 90.56% in 2017, 89.01% in 2018 and 90.8% in 2019, nearly 10 ppts higher than 83.2%, the average level of domestic airlines. In 2019, the daily aircraft utilization rate of the company is 11.24hours, at least 1.5 hours higher than industry average. The sales expenses per unit are RMB0.0060, and the administration expenses per unit are RMB0.0042, much lower than that of the other listed companies comparable in the industry. Since 2011, the company has maintained double-digit returns on capital and net profit margins.
Steady Operation Brings Better Anti-risk Capabilities
In the company's revenue structure, the passenger transportation income accounts for 97%, the freight income 0.83%, and other income 2.2%. The proportion of domestic/international/regional routes in the layout is about 64:33:3. In 2019, the company recorded a revenue of RMB14.803 billion, increasing by 12.88% yoy; a net profit of RMB1,841 million, increasing by 22.5% yoy, and a net profit after deducting non-recurring profits and losses of RMB1,588 million, increasing by 30.42% yoy. In the whole year, the company recorded a total transportation turnover of 3.6 billion ton-kilometres, increasing by 14.5% yoy; and 39.69 billion passenger-kilometres, increasing by 14.4% yoy; and its P L/ F increased by 1.8 ppts yoy.
Suffering from the outbreak of COVID-19, in Q1 2020, the Company reported a revenue of RMB23,80 million, down by 34.5% yoy. Net loss attributable to the parent company was RMB230 million, down by 147.9% yoy. In Q1, the Company fleet capacity decreased by 35.7% yoy. Its P L/ F is 72.5%, down by 19.7% yoy. While, under the circumstance of epidemic prevention and control, the Company reduces its personnel amount and flight expenditures, implements a stricter budget to reduce expenditures, with its administration expenses decreasing by 45.7% yoy, R&D expenses increasing by 32.0% yoy, and finance expenses decreasing by 52.4% yoy.
A Vast Space for Medium and Long-term Low-Cost Airlines
China's low-cost airlines started developing late and are still in the early stages of development, with a low penetration rate. In 2018, the penetration rate of low-cost airlines is as follows: 56% in ASEAN countries, 50% in Europe, 32% in the United States, and only 11% in China. With the diversification of people's travel needs, the market potential is gradually emerging. Compared with overseas peer giants, the company has vast development space, and has the first-mover advantages and a "barrier", which help it to fully enjoy the industry dividend. We believe that short-term impact caused by the epidemic does not change the long-term investment value of the company.
Investment Thesis
Spring Airlines` pricing strategy takes into account cost additions and benchmark high-speed rail fares. At present, whether it is a popular route or a newly opened route, Spring Airlines` fare is very competitive compared with the high-speed rail line. With the gradual advancement of high-speed rail price increases, it is expected to raise the company's fare lower limit.
As for valuation, we expected diluted EPS of the Company to RMB 0.42/2.56 of 2020/2021. And we accordingly gave the target price to RMB47, respectively 112/18x P/E and 2.8/2.3x P/B for 2020/2021. "Buy" rating. (Closing price as at 22 May)
Risk
Business cycle risk
Risk of jet fuel price fluctuation
Public health outbreak risk
Exchange rate fluctuation risk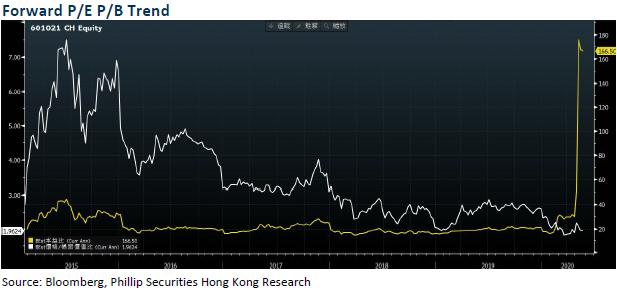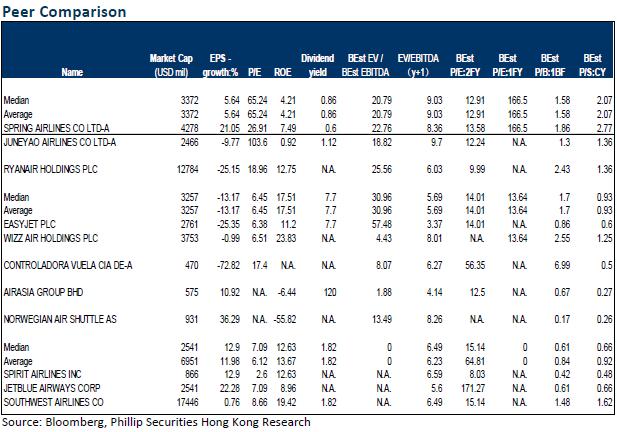 Financials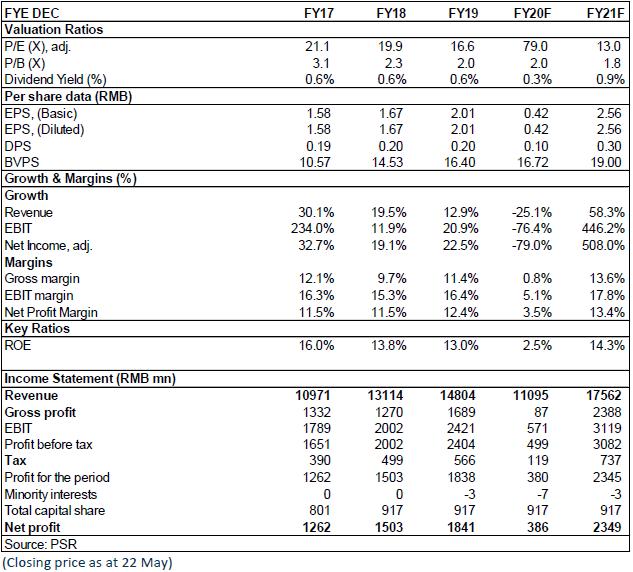 Recommendation on 29-5-2020
Recommendation
Buy
Price on Recommendation Date
$ 33.300
Suggested purchase price
N/A
Target Price
$ 47.000