Razer (1337.HK) - Razer expects FY20 Breakeven
Investment Summary
RAZER(¡§The Company¡¨) has issued a positive profit alert, expecting a breakeven profit or loss on a GAAP basis for the financial year ended December 31, 2020 as compared to a loss of US$83.5 million for the financial year ended December 31, 2019.
According to the notices, the Company revenue growth is expected to be at least 40% year-on-year for the financial year ended December 31,2020, with broad-based growth across the Razer ecosystem of hardware, software and services. In particular, Razer's peripheral equipment and computer system products have grown more than expected due to the holiday effect. For example, during the ൓-11 Shopping Festival" last year, the network-wide turnover increased by as much as 45% year-on-year, and the cumulative number of visitors exceeded 4.8 million. Among them, the sales of wireless mouse products increased by 210% year-on-year, and the sales of DeathAdder series mice exceeded 260,000; the sales of Razer Viper Ultimate gaming mouse exceeded 60,000, and it ranked first in the sales charts of Tmall and JD.com. In terms of gaming keyboards, sales of Razer BlackWidow series gaming keyboards exceeded 18,000, and sales of Razer Huntsman series gaming keyboards exceeded 8,000. For gaming headsets, the sales of Kraken series gaming headsets exceeded 30,000, and the sales of Hammerhead True Wireless Earbuds exceeded 5,000. The company's gaming notebooks ranked second in the top-end gaming notebook turnover rankings of JD.com. We expect its hardware revenue to reach US$994 million in 2020, a year-on-year increase of 39.25%. But next year (2021) due to the high base effect, we expect hardware revenue next year (2021) to reach 1.017 billion US dollars, an increase of 2.31% year-on-year.
In terms of software and services, the Company's management expressed confidence in developing the software platform by expanding user base and user activity, and continuing to invest to expand the company's fast-growing high-profit service business. The Company continues to expand in regional countries such as Malaysia and the Philippines. We expect its software and services revenue to reach US$141 million in 2020, a year-on-year increase of 82.7%. We expect software and service revenue to reach US$246 million next year, an increase of 75% year-on-year.
The Company also announced on February 3, 2021 that it intends to acquire console accessories brand Controller Gear. The acquisition of Controller Gear, which specializes in creating licensed peripherals and merchandise for popular console brands including Xbox, PlayStation and Nintendo, will strengthen Razer's position in the fast-growing premium console market as the entire gaming market is forecast to cross its first US$200 billion year in 2023.
Valuation and Investment Recommendation
In summary, as Razer is the world's leading young and millennial brand, the Company expects its business to rise steadily. We have raised the 2020 revenue to US$1.15 billion (+7.7%). On the other hand, given the Company recently repurchased some of its shares in December, We raised the Company's 2020/2021/2022 revenue per share of US $0.13/0.14/0.17(+7.89%/+0.17%/+0.17%), twelve-month target price is raised to HKD3.36 (previous HKD3.27), corresponding to 2020/2021/2022 P/S ratio of 3.33x/3.00x /2.53x. Accumulate rating is rated. (Exchange rate: 7.78 HKD/USD) (Current price as of 8 February 2021)
Financial statements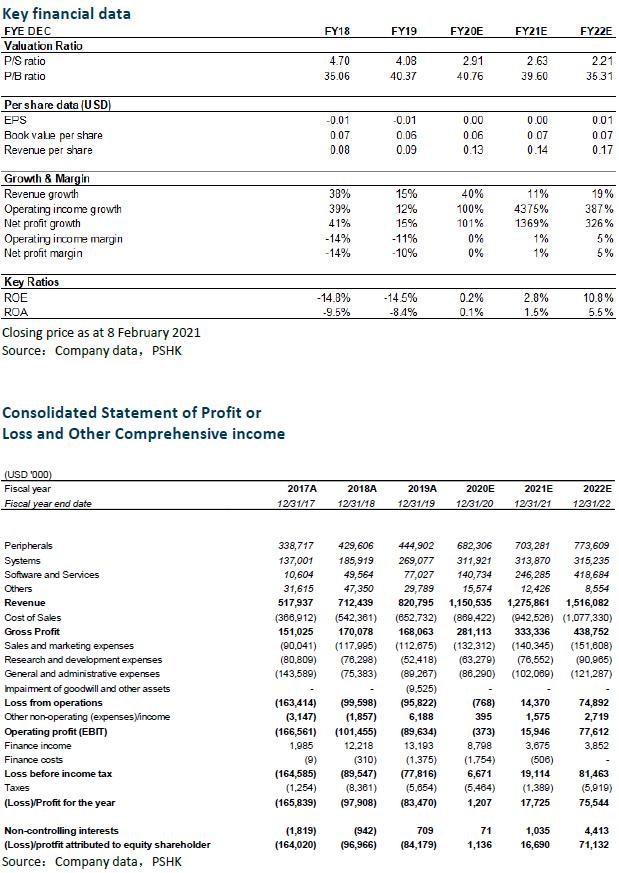 Recommendation on 11-2-2021
Recommendation
Accumulate
Price on Recommendation Date
$ 2.940
Suggested purchase price
N/A
Target Price
$ 3.360