Inovance Technology (300124.CH) - 3Q2020 Result Beat, reaffirm accumulate rating
Investment Summary
Earnings Soared by 132% in the First Three Quarters
In the first three quarters of 2020, the total revenue of Inovance Technology achieved RMB8.098 billion, increasing by 65% yoy. Net profit attributable to the listed company's shareholders hit RMB1.498 billion with a yoy increase of 131.93%. Revenue in Q1, Q2 and Q3 achieved RMB1.55/3.24/3.31 billion with a significant yoy rise of 41%/100%/51%, respectively. The net profits in the first three quarters were RMB170 million, RMB600 million and RMB720 million, a yoy jump of 34%, 123% and 192%, respectively.
The main reasons for the company's good result lie in:
1) Inovance Technology has seized the opportunities of strong demands for mask-making machines and melt-blown nonwovens equipment as well as the opportunities of demands for domestic brands due to the insufficient supply of foreign brands during the worldwide pandemic with its revenue of high-margin products including general-purpose servos and control systems soaring.
2) Inovance Technology has effectively reduced costs and realized higher efficiency, and its gross margin of the integration of servos, control systems and elevators has increased yoy.
3) Inovance Technology has made solid achievements in the resumption of work and production and control over the Covid-19 pandemic.
4) Rebates and subsidies of VAT software have been increased. Sales expenses, management expenses and R&D expenses have grown slower than revenue under the economies of scale.
5) Last year's performance was at a relatively low point during the adjustment period.
Inovance Technology's profitability has improved substantially with the net profit margin in the third quarter up by nearly 10 ppts yoy and 3.4 ppts mom. The company also raised its 2020 goal of net profit attributable to the parent company to a range from RMB1.809 billion to RMB2.285 billion, hitting a yoy increase between 90% and 140%.
Many business segments delivered strong momentum
The company has made remarkable achievements in many businesses of departments.
1) Inovance Technology has gained approximately RMB3.396 billion from general automation business with a yoy increase of 63.6%. Drawing on the product competitiveness created by active market expansion and continuous R&D investment, the company has fully enjoyed this opportunity of import substitution in the transformation towards high-end manufacturing and localization of downstream equipment. As a result, all segments of its automation business have grown rapidly. We believe that China's industrial automation industry will enjoy a continuously promising future with a projected high-rate growth of over 40% in 2021.
2) The revenue of Inovance Technology's elevator business reached RMB3.171 billion with a yoy increase of 82%. The integration effect after the company's acquisition of BST has begun to take effect. To be more specific, its supporting business at a large scale has grown rapidly and the progress of multinational enterprise business projects have fallen in its expectation. With the advancement of the elevator, business is expected to maintain steady growth with the increasing production capacity of the Jiashan base.
3) The revenue of Inovance Technology's new energy vehicle business has reached RMB631 million, increasing 85% yoy, and the gross margin of new energy vehicles has been improved. The passenger car business has seen rapid growth in orders from new car manufacturers, and the logistics car business has grown rapidly. But the passenger car business has relatively declined. At present, at the domestic customer level, the company became a supplier of products including passenger car motors, electronic controls and power supplies for first-line OEMs. These business orders are expected to maintain strong growth momentum next year with an increasing number of domestic new energy vehicles.
4) The industrial robot business (including Shanghai Laien) has scored a sales revenue of RMB120 million, a 71% yoy growth. The company has expanded its downstream businesses with a comprehensive plan for the combination of core components, complete machines, vision and techniques. The remarkable growth in 3C, lithium battery and other industries have been achieved with mass sales being delivered.
5) Inovance Technology's rail transit business has reported the sales revenue of RMB217 million with a yoy decline of 28%. The company has continued to complete new projects and improve the maintenance market in terms of its rail transit business. It has sufficiently stock orders worth around RMB1.1 billion. And the maintenance project of the traction system of Suzhou Metro Line 1 was obtained during the reporting period.
Improved gross margin and lower expense ratio
In the first three quarters, the company's comprehensive gross margin was 39.35% growing by 1.08% yoy. The number was 44.23% without consideration of BST's consolidation factors with a yoy increase of 3.08%. And BST's gross margin was 26.08%. The increase in gross margin was mainly due to improvements in product structures, the increase in the proportion of high-margin servos, PLCs and some inverters and the reduction in procurement and manufacturing costs with significant contributions.The company's expenses growth rate was lower than that of its revenue and its period expense ratio has improved remarkably to 21.15% declining by 6.36 ppts yoy. These achievements were mainly attributed to the scale effect and the initial results for the management reform aiming at lower costs and higher efficiency.
Investment Thesis
Recent years have seen growing uncertainties worldwide which created great opportunities for import substitution. The demand for domestic industrial automation products has been gradually stimulated by downstream industries such as 3C, new energy, and photovoltaics. The company has recently raised RMB2.1 billion to expand production capacity, increase research and development and implemented equity incentives to enhance future development momentum. We are optimistic about the company's future growth potential as a leader in the industrial automation field with the increasingly obvious growth of its intrinsic value in the long run.
As for valuation, we expected diluted EPS of the Company to RMB 1.18/1.53/2.02 of 2020/2021/2022. And based on 1.5x PEG, we accordingly gave the target price to RMB 87.45, respectively 74/57/43x P/E and 15/11/10.2x P/B for 2020/2021. "Accumulate" rating. (Closing price as at 11 November)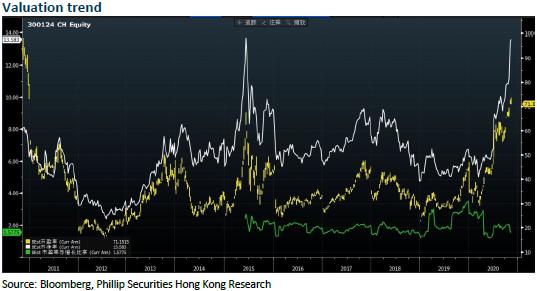 Financials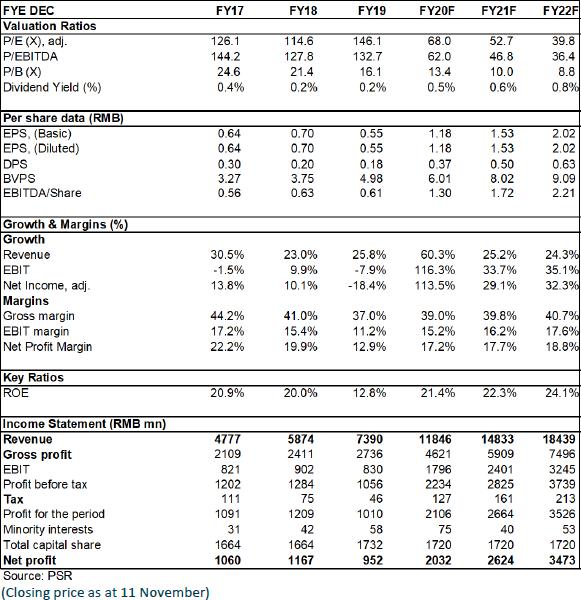 Recommendation on 13-11-2020
Recommendation
Accumulate
Price on Recommendation Date
$ 80.330
Suggested purchase price
N/A
Target Price
$ 87.450