SIA (600009.CH) - Epidemic impacts short-term 1H Earning, but bearish maybe overreacted
Investment Summary
Annual Net Profit Increased by 20% Approximately
The preliminary earnings estimate of Shanghai Airport Authority (SAA) revealed that the Company recorded a revenue of RMB10.944 billion in 2019, up by 17.52% yoy. The net profit attributable to listed shareholders was RMB5031 million with an increase of 18.9% yoy and basic EPS was RMB2.61 with an increase of 18.64% yoy. Revenue recorded in the third and fourth quarter was RMB2752 million and RMB2737 million, respectively, with an increase of 14.9% yoy and 14.1% yoy, while the net profit attributable to the parent company were RMB1295 million and 1036 million, respectively, with an increase of 15.7% yoy and an decrease of 5.1% yoy.
Result Growth Slowed down in the Fourth Quarter due to the Increased Costs
Operating cost such as utilities has increased since the launch of satellite terminal in September. In the meantime, the decline of regional routes was enlarged, leaving revenue basically flat qoq and the result of the fourth quarter lower than expectation. Annual cost of SAA in 2019 was RMB5.41 billion, up by 18.3% yoy. The cost in the fourth quarter soared up by 37.8% yoy or RMB460 million yoy and reached RMB1.64 billion, among which the increment of depreciation incurred by the launch of satellite terminal was approximately RMB160 million and the increment of operating and labour costs was approximately RMB300 million.
Production Plummeted Sharply Affected by Coronavirus Pandemic
Aircraft movements in January and February of 2020 were down by 2.4% yoy and 61.7% yoy, respectively, while the passenger volume were down by 5.4% yoy and 81.5% yoy, respectively. The decline was scaled up sharply affected by coronavirus pandemic. The decline of aircraft movements in January and February was 30.7% yoy in total, while the decline of passenger volume was 42.8% yoy in total. Domestic routes were weaker than international routes in January, but stronger in February. Domestic flights have been in the process of slow recovery since domestic outbreak was under control. However, international flights are expected to take more time to recover due to the fact that overseas outbreak is still severe and measures taken by all countries to block the traffic have become more aggressive. It is estimated that the result of the first quarter will experience a drastic decline with the impact of coronavirus pandemic on throughput and increased cost incurred by satellite terminal.
Short-term Impact does not Change the Logic of Long-term Growth
Civil Aviation Administration launched a series of measures on 9th March, including 10% drop of landing charge in class I and class II airport, wavier of all parking charge and 8% drop of differential between purchase and sale price of aviation kerosene, which will generate negative impact on aeronautical income of airport companies. However, as a world-class aviation hub in Shanghai free trade zone build by government with all efforts, we are still looking forward to government support like rescue policies and tax reduction.
The short-term impact caused by coronavirus pandemic will not change the consumption upgrading trend of medium and high-end crowd in the future. The logic of Company's growth remains unchanged. The potential of non-aviation business is still enormous with tax-free products of all categories and enhancement of management capabilities.
Investment Thesis
Taking into account the short-term outbreak affecting the Company's aviation and non-aviation business, as well as cost pressure, we have reduced the EBITDA per share forecast of Shanghai Airport in 2020/2021. The target price is revised to RMB 70, with the estimation of a 32.6/17.3x multiple respectively, and the "Accumulate" rating is maintained.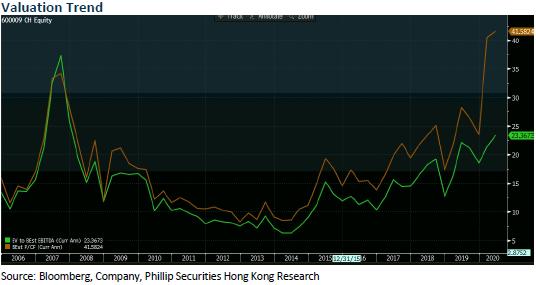 Financials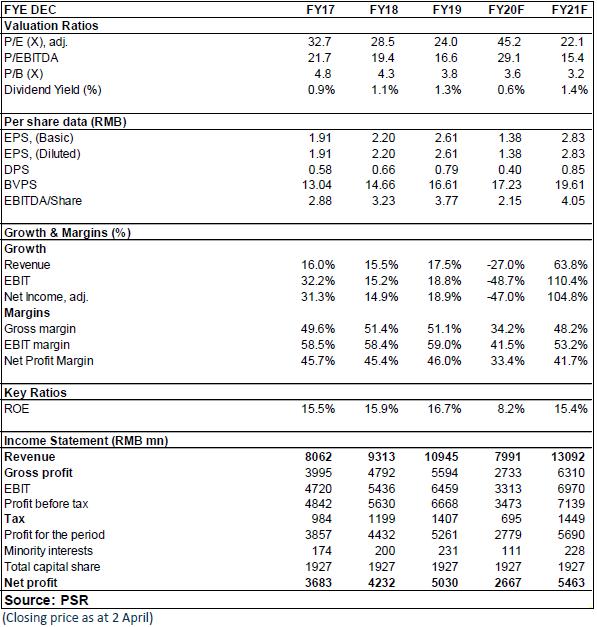 Recommendation on 8-4-2020
Recommendation
Accumulate
Price on Recommendation Date
$ 62.540
Suggested purchase price
N/A
Target Price
$ 70.000