GAC (2238.HK) - The Epidemic has a Short-term Hurt, But the Effect will be Limited in the Long Run
Investment Summary
Sales Volume maintain Steadily in 2019: Japanese JVs Maintained Strong Momentum While Self-Brand Gradually Improved since H2
Domestic automobile market trend was downward through 2019 with an overall decrease of 9%. GAC outperformed the industry due to strong Japanese JV brands, achieving a sales volume of 2.0622 million for the year, down by approximately 4% yoy. The sales volume of GAC Honda was 771,000 units, up by 4% yoy. Among popular vehicle models, average monthly sales of the 10th generation Accord was approximately 20,000 units. Annual sales volumes of both Crider and Vezel exceeded 100,000 units. The sales volume of GAC Toyota for the year was 682,000 units, increasing by 17.6% yoy, which was a lot higher than the average. Hot models like Levin, Camry, CHR, and Highlander were best sellers in respective segments.
Compared with that of Honda and Toyota, annual sales volumes of joint venture brands like GAC Fiat and GAC Mitsubishi showed different ranges of decline. Sales volume of GAC Fiat in 2019 was 73,900 units, down by 40.96% yoy, while sales volume of GAC Mitsubishi for the year was 133,000 units, down by 7.64% yoy.
Annual sales volume of self-brand GAC Trumpchi was 384,600 units, down by 28.14% yoy. Product upgrade and actively reducing dealer inventory were the theme of 2019. It came to our attention that monthly sales has slightly improved since 2019H2.
The Epidemic has a Short-term Hurt on Automobile Market, But the Effect will be Limited in the Long Run
It was estimated that automobile sales in the first quarter of 2020 will be strongly suppressed by the epidemic. We predicted that sales volume of automobiles will decrease by more than 40% yoy in 2020Q1 and a rebound will not come until April. However, the epidemic also emphasizes the convenience of having a private car, which might help boost demand of first-time car buyers. In the medium term, suppressed demand of purchasing vehicles will be frequently released starting from the second quarter. Pro-consumption Policy introduced by government later will also be helpful of stimulating consumption potential. But the epidemic will definitely have a negative effect on the annual sales volume as it will have on macro economy. Industry recovery that was supposed to happen in later half of 2019 will be accordingly postponed. The effect epidemic had on market will be limited in the long run because a trend of industrial chain marching towards middle and high-end part of the value chain characterized as four modernization (intelligent, distributed, mobile, and participatory) remains unchanged. The fact that whether automobile manufacturers can make prospective and timely adjustments in response program, marketing model and supply chain management will be a critical factor of measuring their future competitive strength.
Policies Introduced by Guangzhou Government to Support Automobile Industry will Benefit GAC the Most
A policy on automobile consumption was introduced by Guangzhou government in early March, which indicates that quota of vehicle licence will soon increase 100,000. Meanwhile, allowance up to RMB10,000 will be distributed to individual consumers if they purchase new-energy vehicles and RMB3,000 allowance will be distributed to those replacing their old vehicles with new ones on China VI vehicle emission standards. We believe that the policy will promote consumption in Guangzhou City and as an automobile manufacturer with biggest market share in the area, GAC will benefit the most from it. It is possible that governments in other domestic cities might follow suit in the future.
Japanese joint venture brands are estimated to maintain a strong momentum of growth through 2020. GAC Honda Breeze launched in November last year and GAC Toyota Wildlander launched in February this year will continue to enhance product matrix of joint ventures in 2020. Furthermore, GAC Toyota will launch EV version of CHR and Mirai hydrogen-powered vehicle this year, while GAC Honda will launch the 4th generation Fit, Inspire Hybrid, Avancier Facelift and other new models. The production expansion project of GAC Toyota and GAC Honda is expected to be put into production at the end of the year. Each of the production capacity will increase by 120,000 to 240,000 units, which will accumulate strength for the development in the next stage. The new generation of Trumpchi is quite competitive compared with competitors. It was launched in November last year and went into mass production smoothly, which helped dramatically improve sales of GAC self-developed brand. Its future performance is worth looking forward to.
Investment Thesis
We revised the Company's 2019/2020/2021 earnings forecast. We give the "Accumulate" rating with the target price to HKD 9.5, equivalent to 11/9.8/7.7x P/E and 1.1/1.0/0.9x P/B ratio in 2019/2020/2021. (Closing price as at 9 March)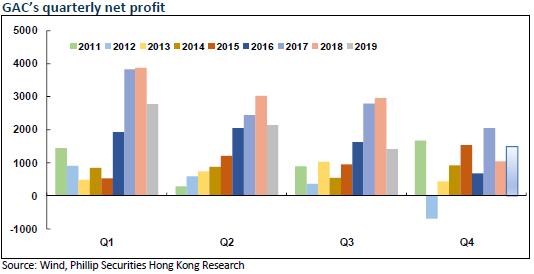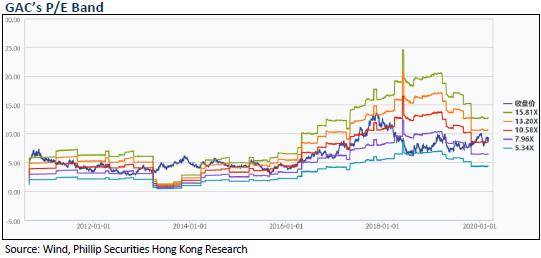 Financials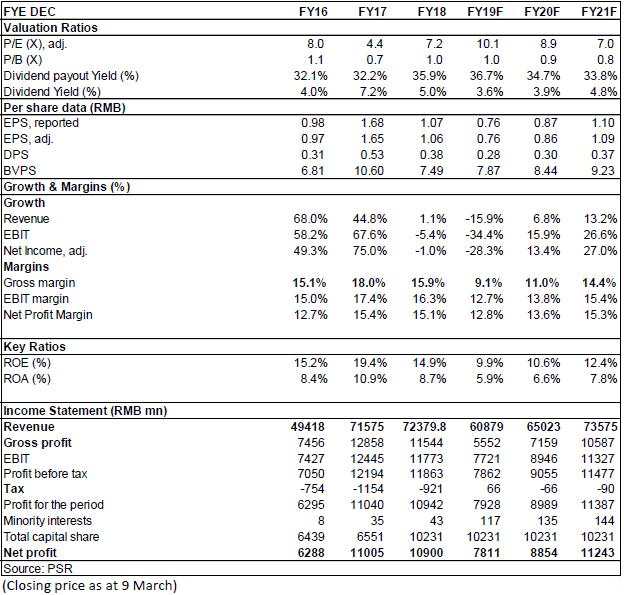 Recommendation on 12-3-2020
Recommendation
Accumulate
Price on Recommendation Date
$ 8.660
Suggested purchase price
N/A
Target Price
$ 9.500