Minth Group (425.HK) - Constant positive prospects for the Company's high-end path
Investment Summary
New Orders of Aluminium Battery Packs Recognized by the Public
Recently, Minth announced that it received Nomination Letter of European aluminium battery pack from MEB platform of Volkswagen Group headquartered in Germany. MEB platform is an electric vehicle platform for the production of all middle and low-end cars of Volkswagen Group. Formally put into use in 2020, the MEB platform costs overall R&D fee of tens of billions of euros, making it one of the largest electric vehicle platforms in the world. Volkswagen Group plans to launch 80 models of electric vehicles by 2025. It means that with electric vehicles accounting for more than 25% of total sales, global sale of MEB platform cars will reach one million sets and achieve ``carbon neutralization`` in 2050.
The aluminium battery packs produced by Minth include short, medium and long models, matching all B, C, D-level electric vehicles produced by Volkswagen Group. Receiving supplier orders from MEB platform again proves the Company's leading role in this field. Based on this plan, it is possible for Minth to reach tens of billions of turnover in aluminium battery packs among future strategic plans.
Positive Development Trend in Overseas Business
In Q3 2019, led by high demand of European market, the Company's overseas business is expected to achieve double-digit growth and the domestic market regain positive growth in turnover, stabilizing gross profit level. At the same time, the Company's factories in Mexico and Thailand are constantly improving operating efficiency.
Constant positive prospects for the Company's high-end path
Minth has always been contributed to the widening of product lines. The company has further developed and expanded products in the field of new energy vehicles such as aluminium battery packs, aluminium door frames and ACC signs since 2017. The implementation of aluminium battery pack business starts first: Minth has entered multiple supplier systems of main engine factories of global electric vehicle platform and has received orders from multiple automobile brands such as BMW, Daimler, Honda, Nissan, Renault, Ford, Volvo, Jaguar and Land Rover, making Minth one of the largest suppliers of aluminium battery pack in the world. In December 2019, the company successfully became aluminium batter pack supplier of Peugeot Citroen Group, taking charge of the design for electric vehicle platform, industrialization planning and production. This year, the Company's aluminium door frames will also be put into mass production.
Judging from new energy strategic plan of major vehicle enterprises across the world, most of them regard the year of 2020 or the year of 2025 as the ``critical year`` for new energy planning. With the further advance of overseas vehicle electrification, previous orders may help the Company strengthen strategic partnership between overseas customers and drive future growth in result.
Focus on operating rebound after the coronavirus outbreak
Some of the Company's factories resumed operation since February 10, which may slightly influence export according to the Management. The Company's factory in Wuhan mainly supplying Honda accounts for low double-digit growth in production. Although this year's outbreak brings challenge to the prosperity of car industry in the first half of 2020, it's assured that there will be a strong result rebound after the outbreak because the Company has abundant orders, high-quality customer structure, gradual mass production of new models and huge improvement prospects in overseas business.
Valuation
We believe that it is reasonable to give the company a valuation of 19/17.6/14.3x P/E in 2019/2020/2021, equivalent to target price of HK$ 33.32 and Buy rating. (Closing price as at 2 March)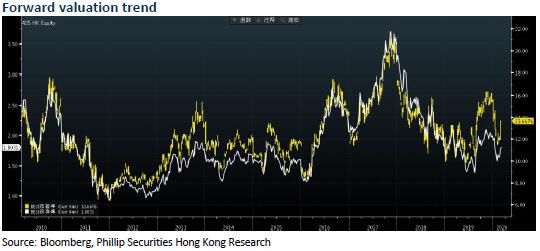 Financials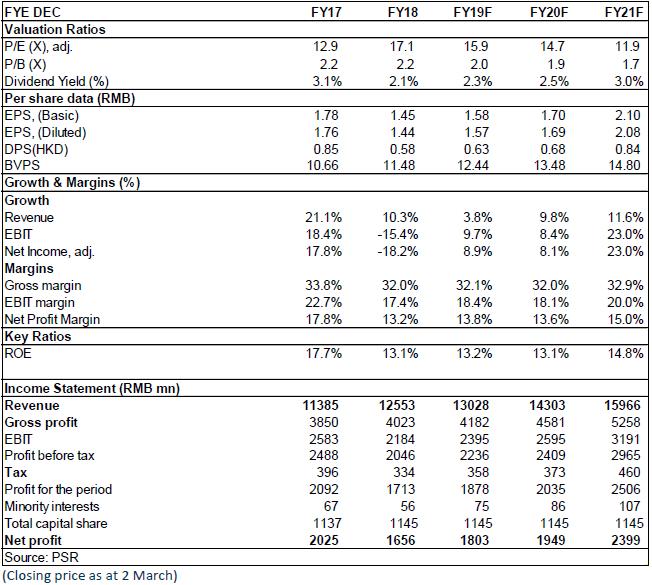 Recommendation on 4-3-2020
Recommendation
BUY
Price on Recommendation Date
$ 27.750
Suggested purchase price
N/A
Target Price
$ 33.320