CANVEST ENV (1381.HK) - Yangtze River Delta Regional Cooperation Accelerates
Company Update
On December 29, 2019, SIIC ENVIRONMENT HOLDINGS LTD. (SIIC Environment (807.HK)) together with Baowu Group Environmental Resources Technology Co., Ltd. (¡§Baowu Environment¡¨) and Canvest Environmental Protection Group Company Limited (¡§Canvest¡¨), hereinafter referred to as the three parties (¡§Three Parties¡¨) signed Framework Agreement on Comprehensive Cooperation to Promote and Implement Strategic Cooperation of Two Groups.
The content of Framework Agreement mainly includes that Three Parties will utilize their respective resources and strengths to carry out cooperation in the environmental technology industry. Three Parties will build a national benchmark project of waste incineration, Shanghai Baoshan Renewable Energy Utilization Center Project, which is under construction and is expected to be superior to current environmental standards. Next, Three Parties will actively explore functional transformation and escalation of steel industrial parks in cities such as Nanjing, Wuhan, Ma`anshan, and Chongqing to create more high-quality and modern environmental projects, which aim to positively contribute to greater ecological protection of Yangtze River and further development of Yangtze River Economic Belt. In this respect, Three Parties will utilize their respective strengths such as capital management, team building, researching and developing advanced technology, and project management experience to actively participate in the construction of eco-industrial parks in economically developed areas. On the basis of project cooperation, Three Parties harness resources from their respective shareholders to further promote research and development and enter the high-end manufacturing field of environmental protection equipment, which expands the business scope along the value chain. Responding to the Belt and Road Initiative, Three Parties will actively explore overseas markets.
Shanghai Baoshan Renewable Energy Utilization Center Project is located in the Baoshan District, Shanghai, it's an integration of incineration and wet garbage disposal facilities, the overall daily design treatment capacity is 3,800 tons of garbage, dry waste incineration power generation capacity is 3,000 tons per day while wet garbage disposal capacity is 800 tons per day. The total investment is estimated to be about RMB 3.041 billion, of which the project capital is RMB 1.1 billion. SIIC Yangtze River Delta (a joint venture between SIIC and Canvest) and Baowu Environment will contribute 60% and 40% respectively. The project will be the first domestic waste innocuous disposal facility to be constructed after the implementation of waste classification in Shanghai.
According to the company's disclosure, on January 6, 2020, the company acquired the Xiangyun County Domestic Waste Incineration Power Generation Project in Dali Bai Autonomous Prefecture, Yunnan Province. The project has a 30-year operating period, with a planned daily total domestic garbage disposal capacity of 1,000 tons. The processing cost is estimated to be RMB 56.8 per ton, and the construction cost is about RMB 50 to 60 per ton. The company's total processing capacity so far is about 40,430 tons.
Yangtze River Delta Regional Integration Development Plan Issued, Implementation in Cooperation with SIIC
On December 1, 2019, the Central Committee of the Communist Party of China and the State Council issued the "Outline of the Yangtze River Delta Regional Integration Development Plan", and the development of the Yangtze River Delta regional integration development has become a national strategy. The planning scope covers the whole area of ​​Shanghai, Jiangsu Province, Zhejiang Province, and Anhui Province (with an area of ​​358,000 square kilometers). The planning period is up to year 2025, and the outlook period is up to year 2035. With the promotion of the waste separation and treatment policy, it will directly lead to the increased demand for sanitation equipment and services for front-end classified disposal, classified collection, and classified transportation. By the end of 2020, 46 key cities are expected to be basically completed domestic waste sorting and processing system.
On August 21, 2019, Canvest Environmental Investment, an indirect wholly-owned subsidiary of the company, entered into a joint venture agreement with the shareholders of Shanghai Industrial Environmental Technology (a direct wholly-owned subsidiary of SIIC Environment) to set up a joint venture. The joint company will focus on the investment, construction and operation of waste incineration power projects in the Yangtze River Delta.
Maintain ¡§BUY¡¨ investment rating with raising TP
We believe that the successful implementation of the first cooperation project can further strengthen the cooperation with SIIC. With the support of policies such as the Yangtze River Delta Development Plan and the Yangtze River Protection, we are optimistic about the company's future performance. We adjust a TP of HKD 5.13, corresponding to FY19/FY20/FY21 14.38x/12.28x/10.38x PE with a +34.91% potential upside compared with CP of HKD 3.80 as of January 10, 2020, we maintain ¡§BUY¡¨ investment rating.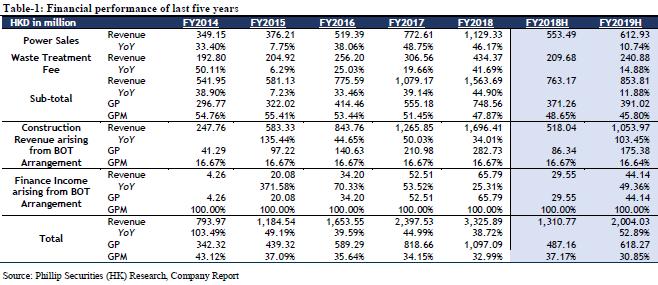 Risk
Fail expectations of project progress; policy risk of electricity price allowance; fail expectations of acquisition of new projects
Financials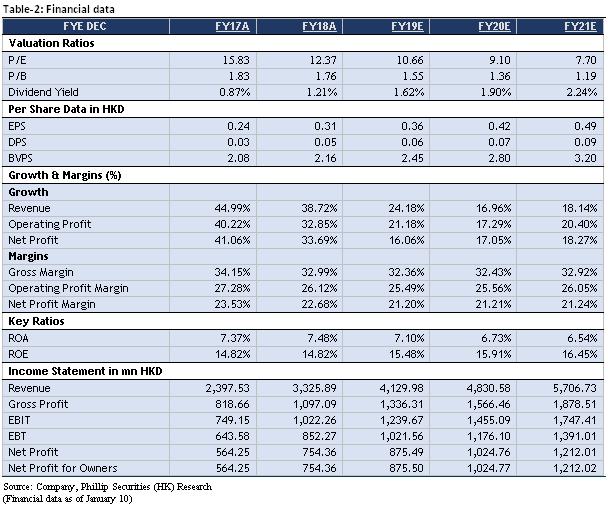 Recommendation on 14-1-2020
Recommendation
BUY
Price on Recommendation Date
$ 3.800
Suggested purchase price
N/A
Target Price
$ 5.130