ChinaSoft International(354.HK)-Net profit failed to meet due to the upsurge in costs
Investment Summary
ChinaSoft International is one of the leading software and information services companies in China. Revenue growth was in line with expectations, while net profit failed to meet due to the upsurge in costs. Based on 2019 net profit, we assume a P/E ratio of 15.5x (average over the past three years), deriving a TP of HK$5.01, 23.7% lower than previous TP. Due to the slump in stock price, we reiterate a ¡§Buy¡¨ rating with a potential return of approximately 44.8%. (Closing price at 30 Sep 2019)
Annual result update
Revenue growth in line with expectations, while net profit failed to meet due to the upsurge in costs
The Group announced its interim results. During the period, revenue increased by 15% YoY to RMB 5.54 billion. Net profit attributable to shareholders increased slightly by 1.5% YoY to RMB 360 million. The Technical and Professional Services Group (TPG) increased by 17.8% YoY to RMB 4.75 billion; the Internet IT Services Group (IIG) increased slightly by 0.7% YoY to RMB 790 million. Gross profit margin decreased by 0.6% YoY, mainly due to the preparation on staffs for Huawei, resulting in an increase in labor costs. Administrative costs as a percentage of revenue increased by 0.9% YoY, mainly due to the continuing investment in research and development of cloud smart services, and increased research and development expenses. And, operating profit margin fell by 1% YoY.
In terms of business, the Group entered the list of Huawei consumer business group IT core suppliers and became the best supplier of Huawei CBG annual IT framework. HSBC's business grew steadily, covering HSBC's new generation of personal mobile banking credit card customization system Apollo and HSBC Personal Business. Banking system RBB, etc. In addition, the business from financial and banking have also steadily increased, adding more than 20 domestic and foreign banks, private banks, non-bank financial institutions and overseas financial institutions.
Launching the ¡§Z Plan¡¨ - a human resource outsourcing platform
The Group plans to launch the ¡§Z Plan¡¨ for the human resource outsourcing on the Jointforce, and has now enrolled in more than 400 suppliers. The Group will serve as a bridge between the demand side and the supply side, which will meet the demand and quality requirements of the demand side and bring high quality customers with large volume to the supplier. In addition, the Group can continue to provide services to the long-tail market in a platform manner and leave important human resource to large customers. Therefore, we believe that the move will help the long-term development.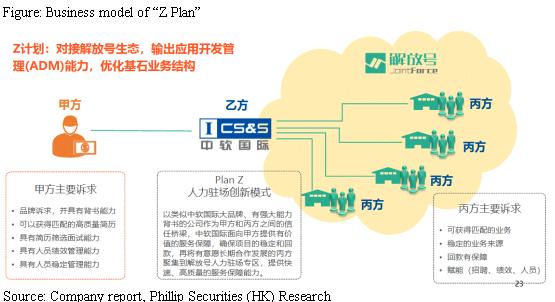 ¡§Cloud Integrative Services¡¨ goes well
In addition, the Group continued to develop and expand its ¡§Cloud Integrative Services¡¨ business and achieved good results in both Nanjing and Xi`an. The platform mainly provides procurement, digital supervision, software project control, value-added services and financial services for budget units, industry management departments and IT suppliers. The platform has registered more than 3,000 government units, with more than 500 service projects, and the project amount reached about 200 million. The platforms of Guangzhou Baiyun and Chongqing Yubei have also started operations and reached strategic cooperation intentions with Chengdu, Changsha and Guizhou. The Group expects that the market space will reach RMB 300 billion in 2022, with a CAGR of approximately 15%.

Valuation
Based on 2019 net profit, we assume a P/E ratio of 15.5x (average over the past three years), deriving a TP of HK$5.01, 23.7% lower than previous TP. Due to the slump in stock price, we reiterate a ¡§Buy¡¨ rating with a potential return of approximately 41.0%. (HKD/CNY=0.913)
Risk
Slower-than-expected growth in SaaS market
Suddenly loss on major customers
Slower-than-expected growth in emerging business
New products replace the company's existing products
Financials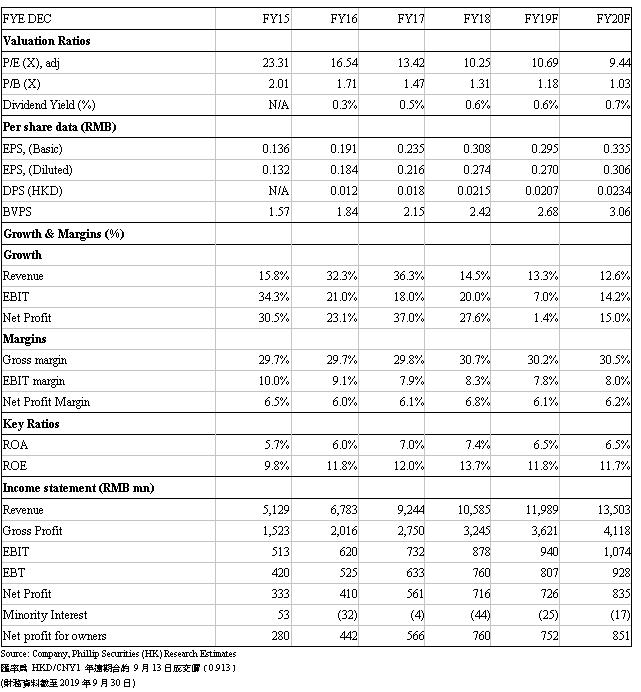 Recommendation on 3-10-2019
Recommendation
Buy
Price on Recommendation Date
$ 3.460
Suggested purchase price
N/A
Target Price
$ 5.010