CHUNLI MEDICAL(1858)
Analysis¡G
The Group is engaged in the manufacture and trading of surgical implants, instruments and related products, and mainly develops, produce and sell implantable orthopedic medical device by the brand name ¡§Chunli¡¨ in China. The products include ceramic joints, XN new knee joint system and DAMIS (Direct Anterior Minimally Invasive Surgery). In 2019H1, the revenue growth was 75.9%, to 375 million RMB, while the growth in net profit was only 116.6%, recorded 109 million RMB. The Group announced a positive profit alert, where the revenue has recorded 70% growth, due mainly to the sustainable investment in research and development, product quality and technological innovation, as well as efforts in product improvement and marketing activities. The Group has continued to promote DAMIS (Direct Anterior Minimally Invasive Surgery) and has yielded significant results, which in turn stimulated the sales of our minimal invasive products. The training centres for DAMIS have been set up in numerous hospitals across the PRC and a national project called ¡§DAMIS Thousand Talents Program¡¨ has been launched to provide training for DAMIS techniques in the next three years to a thousand doctors, who specialised in joint-related surgeries.
Strategy¡G
Buy-in Price: $40.50, Target Price: $50.00, Cut Loss Price: $35.50




iShares Expanded Tech-Software Sector ETF ( IGV )
iShares Expanded Tech-Software Sector ETF is a passively managed equity exchange-traded fund, with market cap of approximately USD 2.69 billion and expense ratio of 0.47%. IGV offers targeted exposure to the North American software industry. Although IGV is a market-cap-weighted ETF, it caps individual security weights at maximum 8.5%.The US software industry has seen tremendous growth over the past several years as different enterprises undergo digital transformation. Cloud computing and flexible consumption model are key to boost the growth of software industry. Software companies integrate AI capabilities into cloud-based enterprise software so that nowadays large, medium and small companies can access these latest AI-based solution easily for reducing cost and enhancing organizations` competitiveness. According to IDC forecast, total cloud spending will reach USD 358 billion by 2022 from USD 166 billion in 2018, which is a 21.2% compound annual growth rate. Increasing adoption of subscription models fuels the revenue growth of vendors. Due to the flexible consumption models companies don`t need to bear the risk and cost of buying complex technologies. Shifting to subscription models increases the predictability of revenue and thus the valuation of software equity. Therefore, investors can capitalize the growth of US software sector via IGV.Entry Price: USD 219.32Stop Loss: USD 211.57Target Price: USD 231.08

Travelsky Technology (696.HK) - Interim performance in line, Airline industry will still suffer in the short term
Investment Summary
Travelsky Technology is the largest provider of the aviation information systems in China, which developed systems, such as flight control, air ticket distribution, check-in, boarding and load planning, accounting, settlement and clearing system, and aviation logistic. Based on DCF valuation, we derived a TP of HK$23.40, implied a P/E of 24.9x and 22.4x in 2019/20F. We maintain a ¡§Buy¡¨ rating with a potential upside of 47.2%. (Closing price at 25 Sep 2019)
Interim performance in line
The Group announced interim results with revenue of RMB 3.84 billion, up 9.2% YoY. Aviation information technology service revenue, settlement and clearing income, system integration service revenue, data network revenue and other revenues increased by +8.9% and +3.5%, respectively. 23.8%, -1.5% and +7.7%. Net profit was RMB 1.44 billion, up 4.3% YoY, mainly due to the higher growth on cost than revenue. Total operating costs increased by 12.1% YoY. Among them, labor costs, depreciation and amortization, commission and promotion expenses and costs of software and hardware sold increased by 17.9%, 38.4%, 6.4% and 66.9% respectively.
As of 2019H1, the system processed volume of the Group reached 337 million, a YoY increase of 7.8%, of which China and foreign commercial airlines increased by 7.7% and 9.6% respectively; BSP ticket system processing volume also reached 206 million, an increase of 7.6%. The number of newly added airports and number of system integration projects under implementation also reached 10 and 90 respectively.
China's passenger traffic has continued to grow, but the freight transport volume has declined
Despite the adverse effect on Chinese economy from US-China trade war, along with the sharp depreciation of the RMB, passenger traffic from January to July increased by 8.7% YoY to 381 million, but the growth rate was 3.4% lower than the same period last year. This is the same situation as in the 2008 financial crisis, and passenger traffic continued to grow even in times of economic downturn. We believe that this phenomenon is due to the fact that with the increase in people's purchasing power and the emergence of low-cost airlines, the people have gradually been able to afford the aircraft for travel, making the demand for the service less elastic, so even in the economic downturn, passenger traffic still has a good performance. However, freight transport was affected more by US-China trade war. The freight transport volume from January to July fell by 0.5% YoY to approximately 4.129 million tons.
Booking volume rebounds, but still lower than the past
Although the Group's bookings for commercial airlines in China in March and April this year were the lowest in nine years, only 3.3% and 4.3%, whereas the growth in bookings in May, June and July began to pick up, which were 6.4%, 6.4% and 8.6 respectively. However, this year's bookings are still at a relatively low level compared to the past. In view of the fact that the US-China trade war and the depreciation of the RMB are not likely to be resolved in the short term, we believe that the growth in booking volume will remain low this year.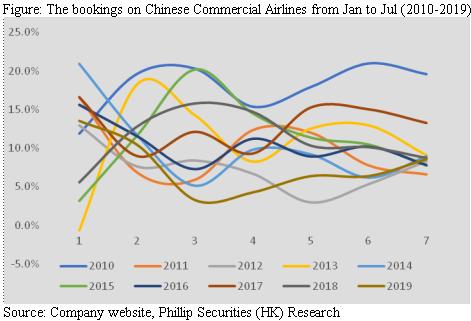 Valuation
We adopted the DCF model for valuation, where we assume the discount rate to be 9.76%, and terminal growth to be 2.5%, with FCFF forecast to 2028F. We derived a TP of HK$23.40, implied a P/E of 24.9x and 22.4x in 2019/20F, 1.47% lower than our previous TP, due to the depreciation on RMB. We believe the investment ground in the long term still remains, but may suffer in the short term due to the economic downturn. In view of the plunge in stock price, we maintain a ¡§Buy¡¨ rating with a potential upside of 47.2%. (HKD/CNY=0.913)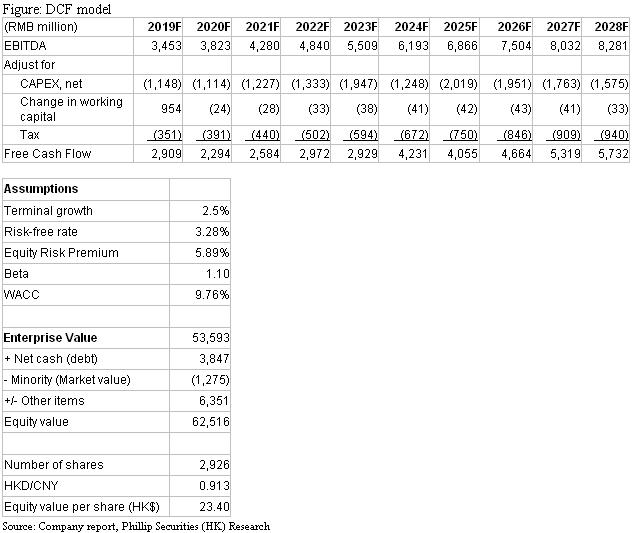 Risk
1. Economic downturn
2. Aviation system market opening up
3. Airlines develop their own systems
Financials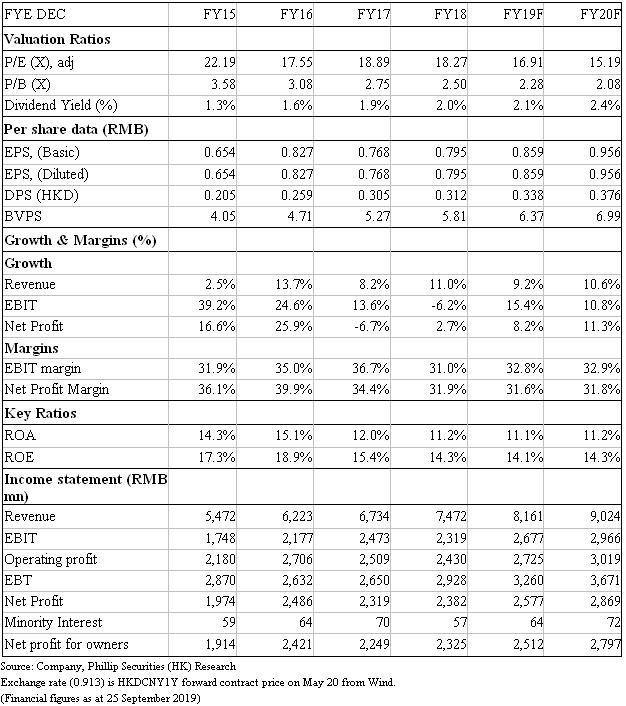 Recommendation on 27-9-2019
Recommendation
Buy
Price on Recommendation Date
$ 15.900
Suggested purchase price
N/A
Target Price
$ 23.400