CHINA WATER AFFAIRS (855.HK) - Kangda's Reforms Have Seen Initial Results, Synergy Effects Need Time to Reflect
Event Update
On April 3, 2019, CWA spent HKD 1.2 billion to acquire a 29.52% stake in Kangda International. Upon completion of the acquisition, CWA will nominate 4 and 1 candidates respectively to serve as executive directors and independent non-executive directors of Kangda International, which holds the majority of the board of directors of Kangda International, and CWA will become the single largest shareholder of Kangda International. Kangda International will be accounted as an associate company of CWA. Kangda International is mainly engaged in Urban Water Treatment, followed by the Water Environment Comprehensive Remediation and the Rural Water Improvement.
As at 1H2019, the company had entered into a total of 108 service concession arrangements projects, including 100 wastewater treatment plants, 3 water distribution plants, 3 sludge treatment plants and 2 reclaimed water treatment plant, amounting to a total designed daily treatment capacity of 4,243,350 tonnes, which comprised daily wastewater treatment services capacity of 3,966,500 tonnes, daily water distribution services capacity of 211,300 tonnes, daily reclaimed water treatment services capacity of 65,000 tonnes and daily sludge treatment services capacity of 550 tonnes. The projects spread over Shandong, Henan, Heilongjiang, Zhejiang, Anhui, Guangdong, Shanxi, Jiangsu and other provinces/municipalities in the PRC. For 1H2019, the annualized utilization rate for wastewater and reclaimed water treatment plants in operation was approximately 85% (1H2018: 85%). The actual average water treatment tariff for 1H2019 was approximately RMB1.46 per tonne (1H2018: approximately RMB1.39 per tonne). For 1H2019, construction revenue was recognized for 27 projects, including 22 wastewater treatment plants, 2 water distribution plants, and 3 sludge treatment plants.
For 1H2019, the company recorded a revenue of RMB1,412.6 million, representing a decrease of approximately 12% as compared to the previous corresponding period of RMB1,607.5 million. The decrease was mainly due to the decrease in construction revenue of RMB251.5 million caused by the partial completion of the company's EPC projects. Total operation revenue of the company's Urban Water Treatment services recorded for 1H2019 was RMB433.7 million, representing an increase of approximately 7%. Total construction revenue for urban water treatment services was RMB574.4 million, representing a YoY increase of approximately 5%. Total revenue of water environmental comprehensive remediation was RMB72.6 million, representing a YoY decrease of approximately 79%. Gross profit was RMB595.3 million, representing an increase of approximately 7%. Gross profit margin was approximately 42%, representing an increase of 7 percentage points, the increase was mainly due to the higher construction margin recognized when the EPC projects finished and the increase in the proportion of financial income. Profit attributable to owners of the parent was RMB183.6 million, basically the same with the corresponding period last year. The company's selling and distribution expenses for 1H2019 was RMB3.4million, representing a climb decrease of approximately 56% as compared to RMB7.8 million of the previous corresponding period, which was a result of stringent management and cost control. Administrative expenses for 1H2019 was RMB120.3 million, representing a decrease of approximately 16% as compared to the previous corresponding period of RMB143.0 million. The decrease was mainly due to the decrease in staff costs and traveling and entertainment expenses which was caused by the stringent management and cost control.
Kangda's Reforms Have Seen Initial Results, Synergy Effects Will Gradually Reflect
In the 2019 Interim Results meeting, Kangda International Management stated that they will integrate the company's resources, focus on the core business municipal sewage treatment business, and tighten the water environment comprehensive remediation business, and the 1H2019 company's municipal sewage revenue accounted for 92.3%. And they will streamline the company level, flatten the management structure, improve the company's operational efficiency, the company's 2Q2019 salary and benefits fell by RMB 11 million, travel and hospitality reduced by RMB 8.5 million, management cost fell by RMB 7.5 million. They will also optimize asset structure, revitalize inefficient assets, sell the equity-type assets, and increase the recovery of the corresponding collections. It is estimated that approximately RMB 400 million will be recovered for the subsequent capital expenditures.
In addition, the company's operating income occupation increased by 10 percentage points to 51.9%, for the first time it exceeds 50%, and the income structure is more stable. In 1H2019, it completed the price increase of 5 projects, with a total scale of 440,000 tons per day, and another 8 projects are pending. The company's actual total treatment capacity of urban water services in 1H2019 was 496.4 million tons. At the end of 2019, the newly added operation is estimated to be 665,000 tons per day, based on the yield of 65% (the average yield of 1H2019 was 85%), 1H2020 newly added treatment capacity is expected to be 77.8 million tons, totaling approximately 572 million tons. The company expects a revenue of RMB 3 billion in 2019 and capital expenditures of RMB 1.15 billion.
We believe that, on the one hand, Kangda International could maintain a net profit same with last year on the basis of a 12% decline in revenue, and refinanced more than RMB 2 billion through CWA's financing network, reflecting the continuous improvement of the company's performance and increasing communications with CWA. However, at present, there is only partial synergy between the two sides, and more potential synergy remains to be released. With the further strengthening of the reforms of Kangda, we believe that more synergies will gradually be reflected. And on the other hand, CWA will further promote the integration of water supply and drainage through Kangda International, expand the project coverage area, and the regional influence of coincident areas will be further enhanced. The construction of urban-rural water supply integration will be further strengthened, and the market's worries about CWA will gradually fade away.
Re-affirm ¡§BUY¡¨ Investing Rating
We adjust the TP of HKD 10.33, corresponding to FY20/FY21/FY22 11.58x/10.22x/9.18x PE with a +64.76% potential upside compared with CP of HKD 6.27 as of September 13, 2019, we maintain ¡§BUY¡¨ investment rating.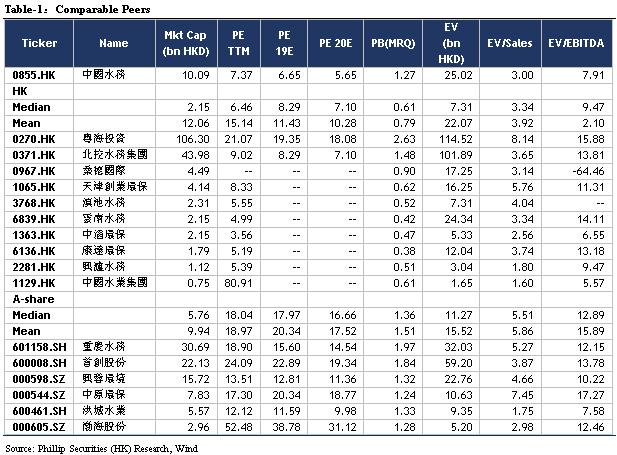 Risk
1. Capacity increase fail expectations;
2. Industry policy;
3. M&A fails expectations.
Financials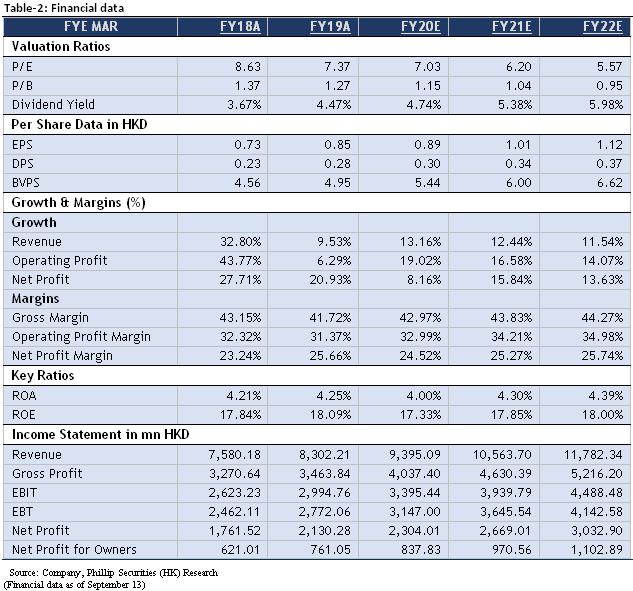 Recommendation on 18-9-2019
Recommendation
BUY
Price on Recommendation Date
$ 6.270
Suggested purchase price
N/A
Target Price
$ 10.330