CHINACOMSERVICE(552)
Analysis¡G
For 1H2019, revenue increased 10.4% to RMB56,049 million YoY, among which, revenue from the Core Businesses recorded a YoY increase of 11.8%, sustaining a favorable growth momentum; gross profit increased 2% to RMB6,300 million YoY. The company`s gross profit margin was 11.2%, representing a YoY decrease of 1.0 percentage point. Profit attributable to equity shareholders of the company was RMB1,712 million, representing a YoY increase of 7.3%, with net profit margin of 3.1%, which was largely the same as the same period of last year. Basic earnings per share amounted to RMB0.247, representing a YoY increase of 7.3%. In the first half of 2019, the company expedited the deployment in the domestic non-telecom operator market and effectively leveraged on its smart products and integrated solutions to realize rapid revenue growth in such market. Meanwhile, the company accelerated its integration into the domestic telecommunications operators` ecosystems and realized a stable development in such market attributable to the OPEX-driven business, as well as smart application businesses.
Strategy¡G
Buy-in Price: $4.60, Target Price: $6.00, Cut Loss Price: $4.30




Toyota Tsusho Corporation (8015)
Established in 1948. Succeeded the trading department of Toyota Finance, which was founded in 1936 and carried out the sales finance of Toyota cars, and was dissolved due to the 2nd zaibatsu designation. Is a general trading company which carries out various insurance agency work, construction work contracts, transactions between foreign countries, import and export transactions and domestic transaction of various goods. Acquired the largest French trading company CFAO SAS in 2012.For 1Q (Apr-Jun) results of FY2020/3 announced on 31/7, earnings increased by 2.4% to 1.689853 trillion yen compared to the same period the previous year, operating income decreased by 1.5% to 55.659 billion yen, and net income increased by 19.2% to 55.612 billion yen.Although effects from exchange rate fluctuations have appeared, due to the gain from sale of companies related to the electric power business which drove the machinery / energy / plant project businesses, it resulted in an overall increase in profit.For its full year plan, net sales is expected to increase by 13.1% to 150 billion yen. The company's African business boasts a history of over 90 years, and after the business integration with CFAO, it will now cover 53 out of 54 African countries. Despite the Japanese government showing their stance in backing private investment in Africa in TICAD7, the company will likely be the first.

Air China (753.HK) - 19H1 Result Review: Accounting Standards Caused Financial Expenses to Surge
Investment Summary
Drop in Off-season Earnings Dragged the Results in H1 Down by 9.5%
AC recorded a revenue of RMB65,313 million in 2019 H1, an increase of 1.67% yoy, with the lowest growth rate in five years. The net profit attributable to the parent company recorded RMB3,139 million, a decrease of 9.49% yoy. The net profit attributable to the parent company excluding non-recurring items recorded RMB3,025 million, a decrease of 3.49% yoy. The yield recorded RMB0.5214, a decrease of 1.29% yoy. The percentage of passenger seat utilization per flight recorded 80.99%, an increase of 0.51 ppts yoy.
In 2019 Q1 and Q2, the revenue reached RMB32,554 million and RMB32,759 million, respectively, an increase of 3% and 0.38%, and the net profit attributable to the parent company reached RMB2,723 million in Q1, an increase of 3.6% yoy, while RMB471 million in Q2, a decrease of 50.42%.
Runway Maintenance and Divest from Air China Cargo of Capital Airport Brought Total Revenue Growth to a Five-year New Low
In H1, due to runway maintenance in Beijing Airport and Tianjin Airport and the grounding of Boeing MAX, AC, as the main base airline of Beijing Airport, suffered a yoy increase of only 5.93% in its passenger input, far below the 12.44% of the same period of last year, of which, the yoy increase of the domestic route input recorded only 0.86% (while in 2018H, +9.5%), and the increase of international routes and regional routes recorded 6.22% and 7.82%, respectively (while in 2018H, 17.88% and 5.68%).Under the limited passenger transport supply, AC enjoyed a yoy increase of 5.2% or RMB59,851 million in its passenger revenue, of which the increase in international and regional routes reached 11% and 16.78%, respectively, while that of domestic routes was only 1.99%.
In terms of cargo business, the revenue in cargo transportation reached RMB2,830 million, a decrease of RMB2,245 million or 44%, due to the divestment from Air China Cargo, without regard to which, the Company's belly cargo revenue decreased by RMB67 million yoy.
Well-controlled Costs, Neutral Impact of Crude Oil and Exchange Rate and Change in Accounting Standards Caused Financial Expenses to Surge
Thanks to the Company's sound cost control and continuously enhanced operating efficiency, the available unit cost per seat per kilometre and available unit cost per ton per kilometre remained stable, and the daily utilization rate of aircraft recorded 9.71 hours, an increase of 0.15 hours yoy. In H1, the operating costs increased by 0.97% yoy, of which the aviation fuel cost increased by RMB33 million or 0.19% yoy. The net foreign exchange loss recorded RMB119 million, a decrease of RMB399 million yoy, as the depreciation of RMB was less than that of the same period of last year. The financial expenses recorded RMB2,587 million, an increase of RMB687 million yoy, of which, the interest expense (excluding those capitalized) recorded RMB2.44 billion, an increase of RMB1.07 billion yoy, mainly due to the impact of the implementation of new lease standards.
Meanwhile, due to the new lease standards, the total assets and total liabilities increased by 16% and 28%, respectively, the asset-liability ratio increased by 6.2 ppts, and the proportion of USD liabilities increased to 48% at the beginning of 2019 from 31% at the end of 2018. The exchange rate sensitivity increased. However, the Company was still working on reducing its USD liability proportion, which was reduced to 44.2% by the middle of the year.
Valuation & Investment thesis
In H2, the factor of airport overhaul will affect less, and we expect the Company's scheduled aviation capacity will recover gradually. And the positive factors of freight rate rise and CAAC's total quantity control will hedge the negative impact of the demand fluctuation. We expect a positive trend of the cost end, and that the halving of the civil aviation fund in H2 will help AC to better its results, and the oil price will remain low. However, the recent acceleration in the depreciation of the RMB exchange rate will be a drag on the Company's earnings.
According to the latest hypothesis of the oil cost and exchange rate, we revised our estimate 2019/2020 net profit of AC to be 7.94/10.985 billion RMB. The target price is adjusted to HKD8.9, estimates 14.7/10.6x P/E and 1.17/1.07x P/B in 2019/2020. ¡§Accumulate¡¨ rating is given. (Closing price as at 12 September 2019)
Risk
Traffic demand languished for the deterioration of macro-economy;
The depreciation of the RMB against USD would bring exchange loss;
Oil prices rose exceeded forecast.
War, terrorist attacks, SARS and other emergencies;
Highspeed railway diversion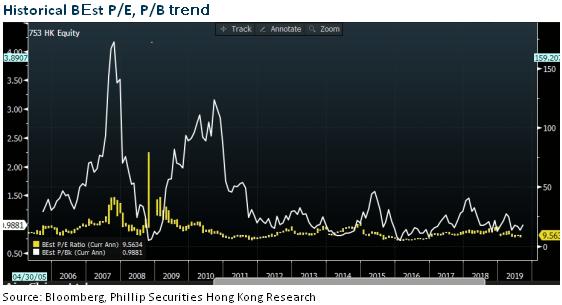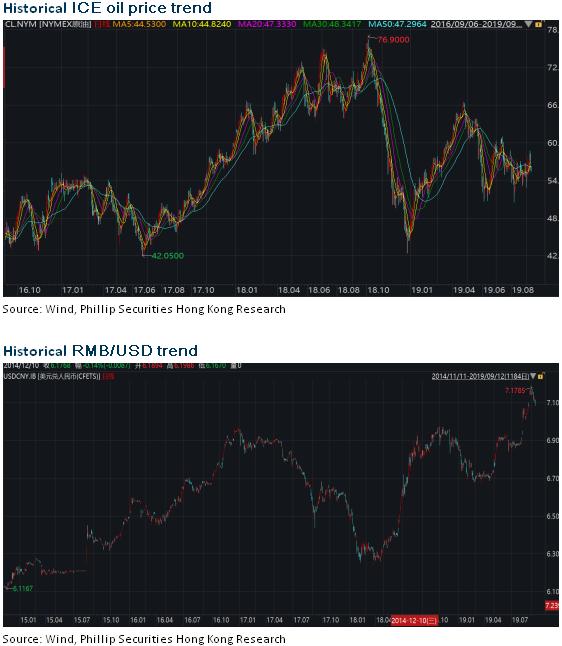 Financials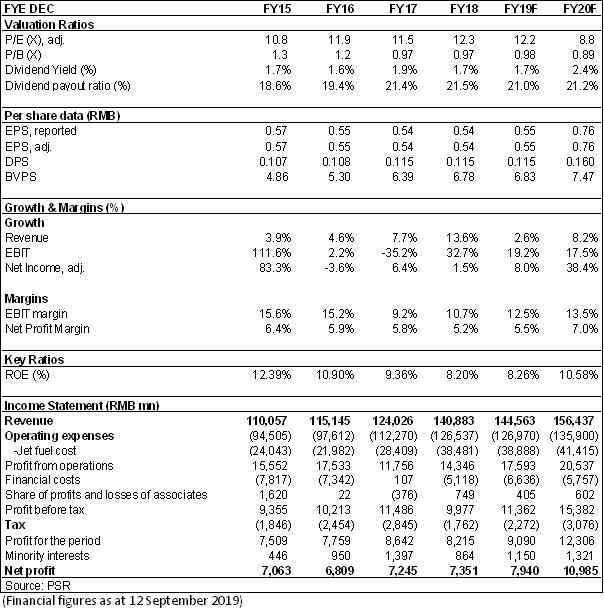 Recommendation on 16-9-2019
Recommendation
Accumulate
Price on Recommendation Date
$ 7.420
Suggested purchase price
N/A
Target Price
$ 8.900