China Resources Beer (291.HK) - Acquisition of Heineken helping to open up mid-to high-end market¡FLooking forward to harvest period
Investment Summary
China Resources Beer's interim revenue of FY 2019 increased by 7.2% y.o.y. to RMB18.825 billion , and net profit increased by 24.1% to RMB 1.871 billion. Although the gross profit margin facing the pressure of rising raw material costs, thanked to the optimization of product mix, it improved by 1.9ppt. y.o.y. to 37.8%.
The increase in revenue during the period was mainly due to the 7% increase in sales volume of the mid- to high-end beer, which drove the overall beer sales volume and average price to increase by 2.6% and 4.5% respectively. This was benefited from the brand repositioning strategy, further upgrade of product mix and contribution from the acquisition of Heineken China. CRB's overall beer sales growth performance was better than the industry level, and better than the management's original annual sales target which was to be flat y.o.y.
CRB's acquisition of Heineken China was completed by the end of April. The contribution from such operation does not bring significant impact to the company's financial performance for 1H of FY2019. This long-term strategic partnership will provide an important strategic opportunity for our development in China's premium beer market.
According to the management team, the integration with Heineken China is going smoothly. The integration includes work teams, channels and markets. The existing channel networks in 26 provinces have launched Heineken beer products. It plans to accelerate the integration process. It is expected to complete the integration within this year and further improvement and optimization will be carried out next year.
We expect that with the acquisition, the share of mid- to high- end business i.e. selling price more than RMB5, will further increase, with the possibility of increasing to over 50% between 2020 and 2021. The company's mid-to-high-end products accounted for 39% of the total revenue in FY2017, and increase to 43% in 2018. Heineken China recorded a total after-tax loss of RMB66.8 million in 2017. This was mainly due to the increase in marketing expenses as lacks the channels to digest or effectively reach the end market. With the cooperation of CRB, we believe this can be improved.
The percentage share of selling and distribution expense to revenue increased by 0.8 ppt to 15.4%, which was due to the impact of higher investment in advertisement and the acquisition of Heineken China. The company continued to pursue capacity optimization and organizational restructuring, resulting in staff compensation and resettlement expenses.The percentage share of general and administrative expenses was decreased by 1.3 ppt. To 10.3%.During the period, 1 brewery ceased operation. In the meantime, 3 breweries were added after the acquisition of Heineken China.
As of the end of June 2019, the company operated 80 breweries across 25 provinces, municipalities and autonomous regions in Mainland China, with an aggregate annual production capacity of approximately 21,600,000 kiloliters. We expect EPS of FY2020 will be RMB0.65, with target price HKD42.7, and target price-earnings ratio 60 times . (current price as of September 11, 2019)
Investment Thesis & Valuation
We expect EPS of FY2020 will be RMB0.65, with target price HKD42.7,and target price-earnings ratio 60 times . Potential investment risks include revenue growth or channel expansion missing expectation, market competition deteriorates¡Ahuge fluctuations of raw material costs . (current price as of 11 September, 2019)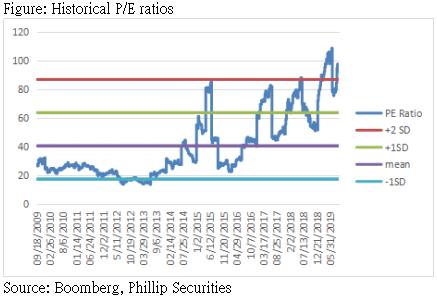 Financials
Recommendation on 13-9-2019
Recommendation
Neutral
Price on Recommendation Date
$ 42.400
Suggested purchase price
N/A
Target Price
$ 42.700