LUYE PHARMA(2186)
Analysis¡G
For 1H2019, revenue increased 42.1% to RMB3,130.9 million YoY, gross profit increased 38.5% to RMB2,431.9 million YoY, resulting in a gross profit margin 77.7%. Profit attributable to shareholders increased 36.2% to RMB766.6 million. The Board declared an interim dividend of RMB0.059 per share, increasing 37.2% YoY. In addition, revenue from sales of oncology products, alimentary tract and metabolism products, cardiovascular system products and CNS products increased to RMB1,404.8 million, RMB552.2 million, RMB483.6 million and RMB613.6 million respectively, representing a growth rate of 29.0%, 17.3%, 32.9% and 182.6% YoY, while revenue from other products increased by 21.5% to RMB76.7 million. In China, company`s key products are competitively positioned in four key therapeutic areas and have gained top-ranking market shares measured by revenue. According to IQVIA, oncology-related pharmaceutical products constituted the second largest market in China for pharmaceutical products in 1H2019. The xompany`s portfolio of oncology products includes Lipusu, the best-selling domestic pharmaceutical product for cancer treatment in China in 1H2019 according to IQVIA, as well as CMNa, a Class I New Chemical Drug and the only China NMPA approved sensitiser for cancer radiotherapy in China.
Strategy¡G
Buy-in Price: $5.90, Target Price: $8.30, Cut Loss Price: $5.50




Hitachi, Ltd. (6501)
Established in 1910 as a comprehensive electrical machinery manufacturer. Has 5 main sectors, namely ¡§IT¡¨, ¡§Energy¡¨, ¡§Industry¡¨, ¡§Mobility¡¨ and ¡§Life¡¨. In addition to information / electronics and electric power / industrial machines, company possesses an extensive product lineup.For 1Q (Apr-Jun) results of FY2020/3 results announced on 29/7, sales revenue decreased by 6.2% to 2.325 trillion yen compared to the same period the previous year, and operating profit after adjustment, which indicates profits of the business, have decreased by 16.0% to 124.388 billion. Despite the 5 major sectors performing well, due to the stagnant Chinese economy, the 34% decrease in total operating income after adjustment of their 4 listed subsidiaries have affected.For FY2020/3 plan, net sales is expected to decrease by 5.1% to 9 trillion yen compared to the previous year, and operating income after adjustment to increase by 1.3% to 765 billion yen. The 12.6% YoY increase in their 1Q net sales of businesses related to ¡§Lumada¡¨, the foundation providing ¡§IoT¡¨ services that links various things online, have performed well. Once it enters the5G communication era where data come and go at high speed and low delay, we can expect a sudden rise in value in the manufacturing industry with ¡§industrial IoT platforms¡¨.

NetDragon (777.HK) - Gaming business performed brilliantly; Eudcation business dropped due to cyclicality of tender business
Investment Summary
NetDragon mainly engaged in gaming and education. The group announced its interim results, where the gaming business performed brilliantly, with segment profit increased by 85.4% YoY. Besides, the new game ¡§Vow of Heroes¡¨ will be launched in the seconed half of 2019. In the future, the Group will try to monetize its education business in order to become profit-making. We adopted sum of the parts valuation, deriving a TP of HKD 29.75, and reiterate a ¡§Buy¡¨ rating with a potential return of approximately 58.1%. (Closing price at 10 Sep 2019)
Annual result update
In the first half of this year, the gaming business performed brilliantly, with revenue up by 51.6% YoY to RMB 1.58 billion; segment profit increased by 85.4% YoY to RMB 970 million. During the period, the revenue of the Group's three major IP ¡§Eudemons¡¨, ¡§Hero Evolved¡¨ and ¡§Conquer Online¡¨ increased significantly, at 57%, 27% and 43% respectively. Regarding Eudemons, the Eudemons PC version launched an new expansion packs on June 30 this year. The group also said there will be two expansion packs every year, which will help miantain the popularity of the game. As for Hero Evolved, the group tried to cooperate with other IP to create IP crossover collaboration effect. This year, the group cooperated with the Japanese anime IP "Overlord" and domestic IP "Rakshasa Street" on Hero Evolved to maintain the driver for the revenue growth. In addition, the group also added an new leisure game mode - Auto Chess in ¡§Hero Evolved Pocket Version¡¨, which helps keep the game fresh and attract new users.
At present, the group has more than 10 games in the development or testing stage, and it is expected that ¡§Vows of Heroes¡¨, ¡§Heroes of Ages¡¨ and ¡§Eudemons Legends¡¨ will be launched in the second half of this year. ¡§Vows of Heroes¡¨ will be the star product, focusing on the two-dimensional market. The group has planned to cooperate with the domestic ACG film sharing website Bilibili to release the game, hoping to direct the target users more effectively. Although the lisence of these three games have not yet been granted, the group said that the lisence approval has reached the national level, and it is believed that it will be approved in a short period of time.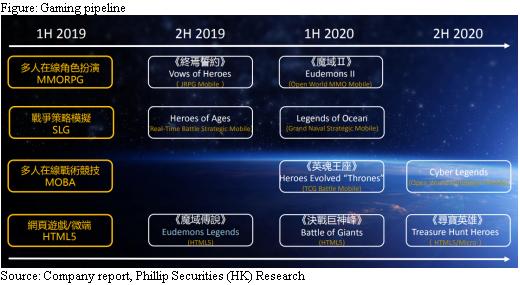 In the first half of this year, the revenue from education business decreased by 24.2% YoY to RMB 1.05 billion, due mainly to the tender business from Russia in the first half of last year, but not in the first half of this year. In addition, the segmental loss increased to RMB 310 million due to the cyclicality of the Russian tender and the six-month performance of Edmodo (two months last year). If the Russian tender order is deducted, the education revenue will increase by 5% YoY. The Group expects that tender business will be resumed in the second half of 2019 and 2020. The Group signed a memorandum of understanding with the Egyptian Ministry of Education in the first half of the year to undertake the design and supply of 265,000 "Pop-up Classrooms". Prometheam launched a new product line (Element series) in the second quarter of this year, and the market responded well. After deducting Russian tender orders, the shipments in the first half of the year increased by 28% YoY.

Currently, there are about 106 million registered users in Edmodo, an increase of about 500 million users compared with 101 million at the end of last year, implying its growth in slightly lower than the growth in the second half of 2018 where it added 1 million users monthly. The Group is preparing to launch a homework application ¡§AskMo¡¨ in October this year to provide AI-assisted learning and live tutors. In addition, it will launch 1:4 and 1:1 online tutoring in December this year, trying to monetize platform users.
In addition, the Group continued to strengthen the penetration of 101 education PPT. As of June 30, 2019, the number of 101 PPT installation users has reached 6 million, effectively covering more than 10 million students. The Group hopes to complete the development of the 101 Education PPT content distribution platform in the second half of this year, and will pave the way for monetization by enabling consumption of paid value-added contents on the platform.
Valuation
We adopted sum of the parts valuation and forecast the earnings per share of the gaming business in 2019F to be RMB 3.44, with target PE ratio 8x. As the education business is still loss-making, PS ratio will be used for valuation. We predict the revenue per share of the education business in 2019F to be RMB 4.35, with target PS ratio 2x. With RMB 2.94 net cash per share in 19H1, we derive our TP to be HKD 29.75, 1.6% lower than our pervious TP, due to the sharp depreciation in RMB, maintaining a ¡§Buy¡¨ rating, implying 58.1% potential upside. (CNY/HKD=0.91)
Risk
1. Edmodo integration progresses slowly
2. Overseas acquisition fails
3. Gaming revenue growth slows down
4. Policy risk on gaming industry
Financials
Recommendation on 12-9-2019
Recommendation
Buy
Price on Recommendation Date
$ 18.820
Suggested purchase price
N/A
Target Price
$ 29.750