TCL ELECTRONICS(1070)
Analysis¡G
In the first half of 2019, TCL performed quite well. In terms of business, the global business of TV sets has grown significantly. The global TV sales reached a record high of 15.53 million units, up 17.9% year-on-year, ranking the top two in the world. Among them, sales of TCL`s own brand TV sets are 10.31 million units, up 33.1% year-on-year. Sales of ODM business were 5.22 million units, ranking the world`s top three. Analysis according different markets: In the Chinese market, there is pressure from oversupply in the domestic market, but TCL still has a good performance and achieves growth under unfavorable market conditions. In overseas markets, TCL shows strong growth because of the advantage of internationalization strategy. From the perspective of performance, the company`s profitability has increased significantly. As of June 30, 2019, the company`s revenue reached 22.72 billion Hong Kong dollars, an increase of 8% year-on-year, a record high compare to the pervious performance of first half of years; thanks to the adjustment and optimization of product structure, the company`s gross profit margin increased by 1.1 percentage points to 16.4%; The profit attributable to owners of the parent company was HK$1.36 billion, a year-on-year increase of 138.1%. Thanks to the rapid growth of overseas markets and Internet business, the net profit was HK$550 million, a significant increase year-on-year. 32.9%. In addition, the company`s Internet business performance is outstanding, the user scale continues to expand, and the ability to realize business is further highlighted. Internet revenues amounted to HK$350 million, a year-on-year increase of 125.2%. The overseas Internet business generated revenue for the first time with revenues of HK$96.02 million.
Strategy¡G
Buy-in Price: $3.80, Target Price: $4.60, Cut Loss Price: $3.00




Bronco Billy Co., Ltd. (3091)
Founded in Nagoya in 1983. Expands 135 only directly-managed restaurants in Tokyo, Osaka and Kyoto prefecture, and 9 other prefectures. Uses mainly Australian beef in their steaks and hamburger steaks. Their style of offering it together with a salad bar buffet is popular. For 1H (Jan-Jun) results of FY2019/12 announced on 16/7, net sales decreased by 0.1% to 11.145 billion yen compared to the same period the previous year, and operating income decreased by 17.4% to 1.168 billion yen. Revising their course in rapid outlet expansion to a policy that focuses on profitability, by closing 2 outlets after opening 2 new outlets, along with the 9.5% decrease in net sales of existing stores have affected and resulted in a decrease in income and profit. For FY2019/12 plan, net sales is expected to increase by 4.8% to 23.5 billion yen compared to the previous year, and operating income to decrease by 6.4% to 2.43 billion yen. As all outlets are directly-managed, in order to go back to expanding outlets, there is a need to strengthen employee training of new staff which requires time. As a reinforcement measure for their existing outlets, their first investment in the ¡§super thick-cut aged sirloin steak¡¨ from Uruguay in chain restaurants nationwide in 5/2019 have been selling very well. We can expect further reform in their existing outlets.

BAIC (1958.HK) - More Challenge than opportunity in H2
Investment Summary
Net Profit Fell by 26% in the Middle of 2019
According to the interim results of BAIC, in 2019H1, the Company recorded a revenue of RMB87,764 million, an increase of 14.1% yoy, a net profit attributable of RMB2.09 billion, a decrease of 25.9% yoy; and an EPS of RMB0.25, while that of 2018H1 was RMB0.36.
Gross Margin Declined due to the Down-regulation of the Product Mix of Beijing Benz
The comprehensive gross margin of BAIC recorded 23.48%, a decrease of 3 ppts yoy. Though the revenue increased, the gross profit was basically flat, with a slight increase of 0.84%. This is mainly because Beijing Benz's low-priced Class-A models accounted for a larger share of sales, causing the product mix to be down-regulated. In H1, Beijing Benz recorded a sales volume, revenue and gross profit of 282,000 vehicles, RMB77.81 billion, and RMB22.02 billion, respectively, an increase of 11.9%, 10.8% and 0.16% yoy, with the average gross profit of single vehicle declined by 10%, approx. In H2, Beijing Benz will launch new models including the interim modified long-wheelbase GLC SUV, brand-new GLB SUV, EQC EV SUV, and A35-LAMG. With the increased demand for premium cars, we are confident that Beijing Benz will continue to maintain its sound growth momentum.
NEV Enjoyed Strong Sales Momentum, Leading Self-Brands to Reduce Losses
The gross margin of Self Brands of BAIC increased to -14.2% from -23.2% of the same period of last year, mainly due to 1) the growth of sales volume; 2) the increase in the proportion of new-energy models with relatively high gross profit; and 3) the impact of the decline of new-energy subsidy policy which offset part of the gross profit.
The gross profit of BAIC's Self Brands increased to -RMB1,414.9 million from -RMB1,551 million of the same period of last year, with a loss reduction of RMB136 million or 8.8%. In H1, Self Brands of BAIC sold 82,000 vehicles, an increase of 12.2% yoy, of which new-energy models sold recorded 54,000 vehicles, a significant increase of 263% yoy, which served as the main driving force. Revenue related to Self-Brands increased to RMB9,956.6 million, an increase of 49% yoy. The average unit price of Self-Brands increased by 30%, approx., and the average gross profit loss of single vehicle decreased by 20%.
In H2, the Company will divest officially the severely loss-making brands, Wei Wang and BJ, which will benefit the overall loss reduction of its Self-Brands. However, in view of the ongoing integration of BAIC Self-Brands and the adjustment to the domestic NEV market in H2, we are still cautious about the Self-Brands in the short term.
Beijing Hyundai Turned Gain to Loss
Due to the fierce price competition and the de-inventory of models of National V Standards, Beijing Hyundai recorded a finished vehicle wholesale of 276.000 vehicles in H1, a decrease of 27.3% yoy, causing the Company's attributable profit to turn to a loss of RMB365 million from a gain of RMB580 million of the same period of last year, which served as the main reason for the sharp decline of the Company's results. In H2, BAIC Hyundai will launch a number of products including the brand-new ix25 SUV, new Verna sedan, Generation-10 Sonata sedan and Fista and Encino EV models. We believe that, with the launch of new models and models of National VI Standards, the earning performance of Beijing Hyundai will be better than that in H1. However, it will still be difficult to improve significantly in the highly competitive auto market.
Investment Thesis
Given the latest financial data, we lower the profit forecast of the company in 2019/2020 to EPS of RMB 0.54 / 0.60. We will also revise target price to 4.73 HKD (7.9/7.2x for 2019/2020 P/E) and Hold rating. (Closing price as at 5 August 2019)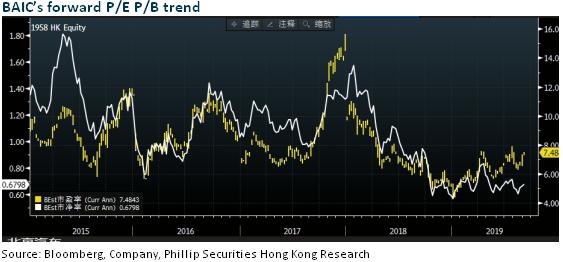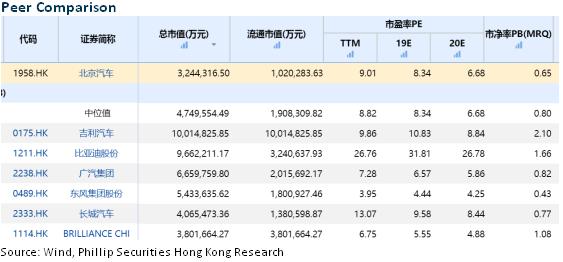 Financials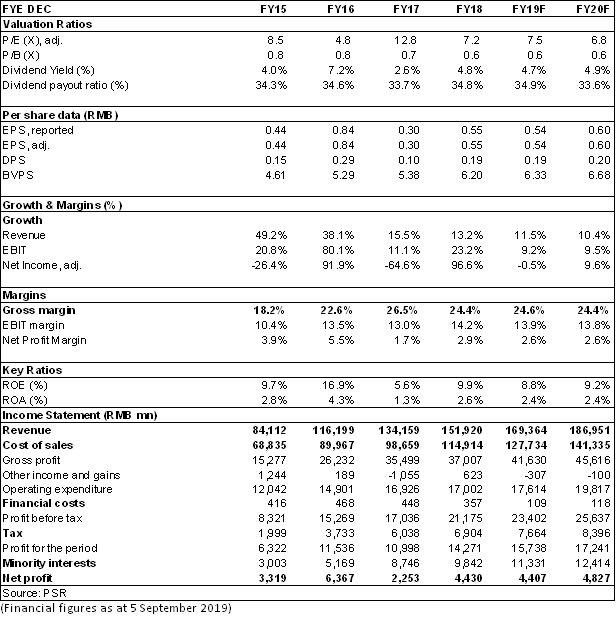 Recommendation on 9-9-2019
Recommendation
Hold
Price on Recommendation Date
$ 4.510
Suggested purchase price
N/A
Target Price
$ 4.730