SIA (600009.CH) - Excellent Non-aeronautical Business Continued
19H1 Results Maintained High Growth of 34%
According to the 2019 H1 Financial Report released by SIA (Shanghai International Airport), the Company recorded a revenue of RMB5,455 million, up 21.11% yoy, a net profit attributable of RMB2.70 billion, up 33.54% yoy, and an EPS of RMB1.4. It also recorded a net profit deducting the non-recurring items of RMB2.65 billion, up 31.09% yoy.
Aeronautical Business Enjoyed Small Growth
In H1, the production and operation index of SIA enjoyed a sound approach. Its aeronautical revenue recorded RMB2,024 million, up 3.0% yoy, of which the revenue from flights recorded RMB879 million, up 2.1% yoy, mainly benefiting from a 1.92% yoy increase in aircraft movements, and the revenue from passengers cargo and postal services recorded RMB1,145 million, up 3.77% yoy, benefiting mainly from a 4.2% yoy increase in passenger throughput. In H1, SIA enjoyed the second highest passenger throughput in China, of which the volume of international and regional passengers remained the first in China. With the scaling-up proportion of wide-body aircraft, we expect its aeronautical revenue to maintain a small single-digit growth ratio.
Non-aeronautical Business Gave Excellent Performance
The non-aeronautical revenue recorded RMB3.43 billion in 2019 H1, up 35.1% yoy, accounting for 62.9% of the total revenue. Among them, the commercial catering revenue recorded RMB2.77 billion, a significant increase of 46.0% by year, and other non-aeronautical revenues recorded RMB660 million, up 2.7% by year. Since the duty-free stores in Pudong T2 Terminal started to adopt the new royalty rate of 42.5% as of the first quarter of 2019, which increased sharply by 17.5 ppts from that of 25% of 2018, the sales revenue from duty-free stores in Shanghai Airport in H1 recorded RMB7 billion, approx., up 27% yoy, approx. The growth in royalty rate and sales revenue boosted greatly the profitability of non-aeronautical businesses, being the major driving force for its excellent result. In 2019Q4, the duty-free stores in Pudong Satellite Hall will be launched, and those on entry in T2 Terminal will be put into use. The duty-free business area will continue to expand, so there is still room for the further growth of the non-aeronautical revenue.
Depreciation Decreased, and Gross Margin Continued to Increase
In H1, the total operating cost increased by 9.3% yoy, 11.9 ppts lower than the revenue growth rate. The overall gross margin increased by 5.0 ppts to 56.4% when compared to that of the same period of last year. The depreciation and amortization cost decreased by 11% yoy due to the expiration of the depreciation life of some fixed assets.
Non-aeronautical Business Will Be Improved After the Satellite Terminal Puts into Service
Satellite Terminal S1 and S2, the Phase III Expansion Project of Pudong Airport, is expected to put into service in September 2019, which will increase a duty-free area of 9,062m2, and T1 and T2 Terminal will offer a new duty-free area of 1,000m2, which is expected to enhance the shopping experience of passengers while expanding the area of its duty-free business, so as to fully release the premium valuation of the Company as a leading hub airport.
Moreover, the overall guideline of New LinGang Zone in Shanghai Free Trade Zone proposed recently, mentioning to support Pudong International Airport to be a world-class aviation hub, a regional center for airliners` headquarters base, and an international hub center of air cargo express. Enjoying a unique geographical advantage, SIA is expected to be the first to benefit from it.
Investment Thesis
Considering the Company riding on the new round of stable growth period, we revise the Company's EBITDA per share in 2019/2020 E EBITDA per share. The target price is increased to RMB 93, with the estimation of a 23/22x multiple respectively, and the "Accumulate" rating is maintained. (Closing price as at 29 August 2019)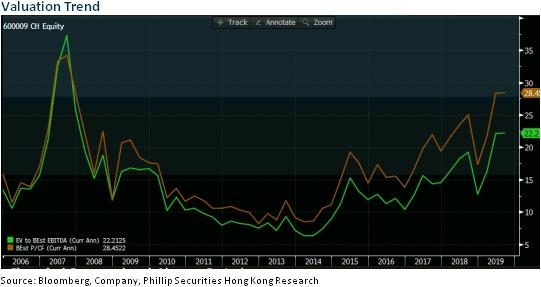 Financials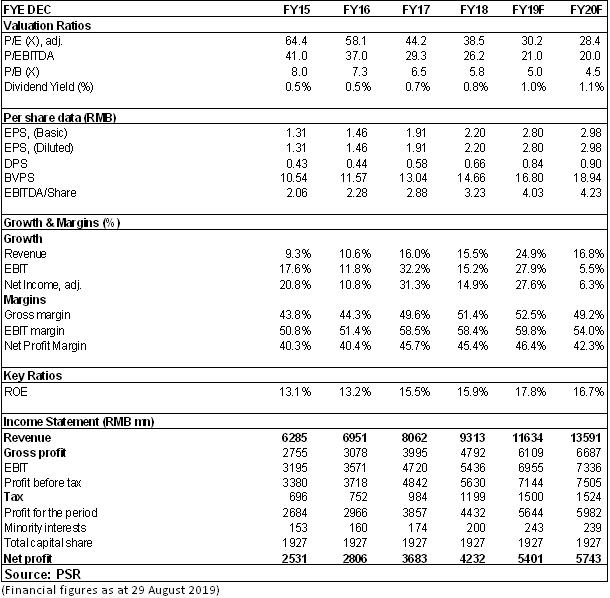 Recommendation on 2-9-2019
Recommendation
Accumulate
Price on Recommendation Date
$ 84.560
Suggested purchase price
N/A
Target Price
$ 93.000