Want Want China (151.HK) - Product mix optimization continuing, expand emerging channels and digital marketing
Investment Summary
Want Want's revenue of FY 2018 increased by 2.8% y.o.y. Under the original accounting standards, revenue increased by mid-single digit. The ASP of the year also increased by mid-single digit, which means that the sales volume growth was flat. According to the management team, sales performance of Q1 in FY2019 was flat on y.o.y. basis due to the large base effect. Compared to the same period of 2017, it recorded a mid-single digit growth.
We expect revenue of FY2019 can remind a stable growth with the consideration of that the company will launch a number of new products this year and is expected to account for 2.5% to 3% of the total revenue. The company will also continue to expand emerging channels such as maternity, cold chain, vending machines and Hot-Kid theme stores. We expect this year's growth is mainly driven by sales volume. This year's new products include ¡§Mr. Bond¡¨ series, ¡§Queen Alice¡¨ series which aim to attract stylish urban ladies.
The GPM of FY2018 increased by 2.7 ppt. to 45.4%, thanked to the decrease in cost of certain key raw materials and the enhancement of product profitability. We expect the GPM of FY2019 to be further improve as the cost of certain key raw materials such as milk powder and packaging materials continue to decline, and the trend is expected to continue in the next two quarters, coupled with continued enhancement of profit profitability.
The operation cost of FY2018 increased by 4% y.o.y., while the proportion to revenue was 25.7%, which was similar to the previous year. The increase in management fees was due to the increase in staff salaries. The management team expect there will be an increase of advertising expenses in distribution expenses which will be invest mainly in emerging channels and new products.
Revenue from traditional channel shared 78% of the total revenue in FY2018, whereas e-commerce platform shared 4.5%, modern channels shared 11%, overseas market shared 5%. We expect that all channels will maintain the growth trend this year, and the e-commerce platform will continue to maintain rapid growth.
After the cross-sector co-branding activities between Want Want and brands in the fashion and apparel and beauty sectors, in April 2019, there was ¡§Want at home¡¨ programme, which was the idea of launching furniture products such as Hot-Kid ball cakes couch and Want Want sugarcoated crackers table lamp. Soon after, the announcement regarding the ¡§Hot-Kid seasoning¡¨ (such as savoury senbei powder and condensed milk) received over 200 million impressions. Netizens showed great interest and all are looking forward to the official launch of those products. We give forecast P/E ratio 21 times, the corresponding target price HKD6.71. (current price as of August 28, 2019)
Business Overview
Financial performance review of FY2018
In 2018FY, the total revenue amounted to RMB20,712.0 million, representing an increase of 2.8% as compared with that of 2017FY. Profit attributable to equity holders of the Company for 2018FY amounted to RMB3,476.6 million, representing an increase of 11.6%.
Revenue from rice crackers and snack foods segments was RMB5,813.5 million and RMB5,101.1 million respectively, representing a respective increase of 3.9% and 3.5% as compared with that of FY2017. The aggregate revenue from rice crackers and snack foods segments accounted for 52.7% of the total revenue.
According to the management team, with the development of overseas markets, rice crackers products with local characteristics will be launched in the future for each targeted market. Revenue from dairy products and beverages segment increased by 1.6% as compared with that of FY2017, amounted to RMB9,729.6 million and accounted for 47.0% of the total revenue.
Investment Thesis & Valuation
We give forecast P/E ratio 21 times, the corresponding target price HKD6.71. Potential investment risks include revenue growth or channel expansion missing expectation, raw material cost with huge volatility. (current price as of August 28, 2019)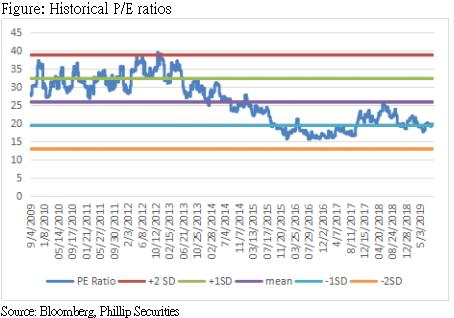 Financials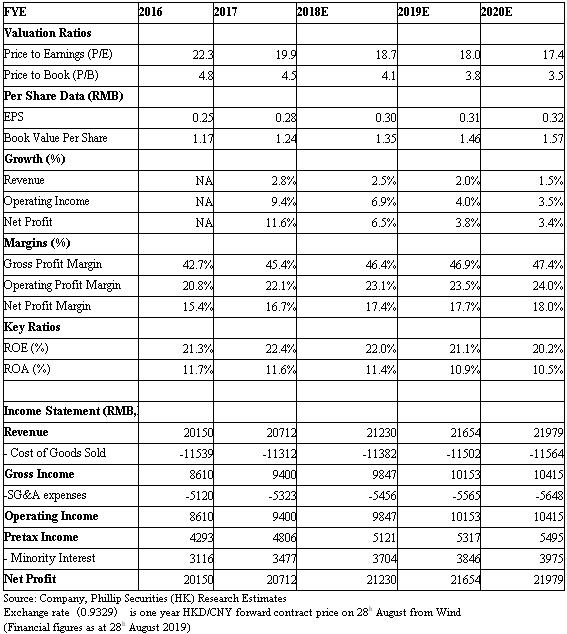 Recommendation on 30-8-2019
Recommendation
Accumulate
Price on Recommendation Date
$ 5.970
Suggested purchase price
N/A
Target Price
$ 6.710