Tuopu Group (601689.CH) - Domestic NVH Leader start a new round of growth
Company profile
Product introduction
The main business of Tuopu Group includes the R&D and manufacturing of auto parts such as power chassis system, trim system, and intelligent driving control system. At present, the Company has developed four product lines covering NVH (vibration and noise reduction), sound insulation, lightweight chassis and automotive electronics, with over 5,000 products in total.
Shareholding structure
Mr. Wu Jianshu, the actual controller and the founder, holds 0.68% of the Company's shares in a direct way, and 478.4 million, or 65.75%, of the Company's shares through Maike International Holdings (Hong Kong) Co., Ltd., totalling 66.43%. Among other shareholders, National Social Security Fund (NSSF) 113 Portfolio holds 1.84%, NSSF 418 Portfolio holds 1.28%, Basic Pension Fund (BPF) 802 Portfolio holds 0.65%, and Lugutong holds 1.05%.
Milestones
Founded in Ningbo, Zhejiang Province in 1983, the 30-year Tuopu Group started its business in the auto parts industry in the field of NVH (vibration and noise reduction) (rubber shock absorber and sound insulation products). In 2015, it was listed at Shanghai Stock Exchange by launching the initial public offering, and in 2017, the Company entered the field of auto lightweight chassis (aluminum alloy control arms, steering knuckles, and deputy frames) in a speedy manner through merger and acquisition, as well as the field of automotive electronics (electronic vacuum pumps and intelligent brake boosters) with the support of private placement capital raising.
Industry position/Competitive edge
1) The Company is an industry leader in the field of automotive NVH that is capable of synchronous design with the original equipment manufacturer (• Complete NVH solutions • Finished vehicle tests and analysis • Product design that meets vibration and noise requirements of finished vehicles). The Company's sales volume and market share of rubber shock absorbers and sound insulation products rank the first in China, and it owns R&D centers that support global projects and test centres with leading technologies.
2) In terms of auto chassis business, the Company one of the few manufacturers worldwide that master the core technologies for high-strength steel and light alloy. In recent years, the Company has developed a large number of products and put them on the market. It is expected that, in the near future, the lightweight chassis project will be the foremost engine that drives the Company towards constant rapid growth.
3) The Company's strength also lies in its high-quality and stable customer resource. With its leading R&D technologies, manufacturing techniques, quality management and global supply capacity, Tuopu Group has established sound technical cooperation with world-famous automobile manufacturers, and has become the global supplier of Audi, BMW, Chrysler, GM, Ford, Mercedes-Benz, Porsche, and Volkswagen, as well as the supporting supplier of Faurecia, Valeo, Benteler and other well-known integration suppliers. In 2015 and 2016, the Company announced successively that it had obtained orders of RMB2.7 billion from GM E2XX platform and GEM global platform, with the product life cycle being 8 years and 6 years, respectively.
In terms of domestic market, the Company has built R&D, marketing, storage and manufacturing bases centering on the six major automobile industry clusters in China and the major markets abroad, established close relationship with Geely Motor, and developed new relationship with independent brands such as BAIC, SAIC, Great Wall, FAW and GAC. In 2016, the Company won the designated supplier qualification of Tesla's lightweight chassis. Tesla's super factory in Shanghai enjoys a capacity of 250,000 vehicles in Phase I, which is expected to be put into operation by the end of 2019 or at the beginning of 2020, and to increase in the future.
4) The Company also enjoys administrative strength. Though it's a private enterprise, the Company has always adhered to the professional manager model, implemented informatization management, encouraged internal entrepreneurship, insisted on independent innovation, developed new products, and upgraded equipment. The proportion of its R&D expenditure in revenue increased from 3.6% of 2011 to 4.8% of 2018, and the number of its R&D personnel increased from 365 of 2011 to 1,326 of 2018, accounting for 17.2% of the total number of employees from 11.7% of 2011. Every year, the Company obtains a large number of patents, which guarantees its leading edge in technology.
Financial Analysis:
Tuopu Group is a typical enterprise with steady growth. The output value of the Company's traditional business, shock absorption system products, exceeded RMB2.3 billion in 2018, accounting for 40% approx. of the total revenue, and its CAGR reached nearly 11% in the past seven years, enjoying steady growth. Sound insulation products are the Company's second-largest traditional business. Its output value recorded RMB2.2 billion approx. in 2018, and its compound growth rate reached nearly 21.7% in the past seven years, enjoying rapid growth on the whole. Lightweight chassis and automotive electronics are the Company's emerging businesses, with their output values up to RMB1.17 billion and RMB130 million, respectively, and their compound growth rates reached 84% and 31%, respectively, since 2015, enjoying a rapid development.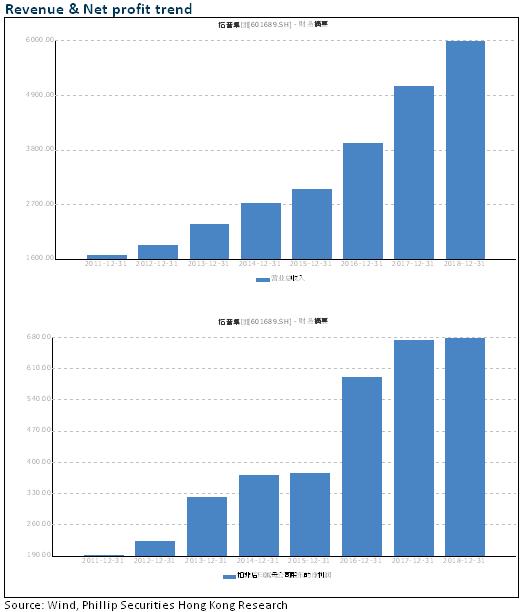 In terms of gross profit composition, in 2019 H1, shock absorption, sound insulation, lightweight chassis and automotive electronics businesses have contributed 49%, 25%, 13%, and 2% of the gross profit sources, respectively, till now. The gross margins of the four recorded 31%, 20%, 17%, and 32%, respectively. In recent years, the Company's overall gross margin has been maintained above 25%, basically, EBITDA rate above 20%, and ROE above 10%, which allows the Company to stand at a leading position in the auto parts industry that is at a low level generally.
In 2019 H1, as affected by the extreme industry depression and the product line adjustment of its major customers, Geely Auto and SGM, Tuopu Group recorded a revenue of RMB2,438 million, a decrease of 20.7% yoy, and a net profit attributable to the parent company of RMB211 million, a decrease of 51.76% yoy. The declined sales volume of downstream customers, the increased price reduction pressure, and the raised depreciation dragged down the level of its gross margin.
We believe that the declined performance of the Company in short term was the result of disturbance factors in the industry, and in the long term, with its technical strength and customer relations in traditional businesses, the Company is expected to get new incremental orders from new energy vehicle enterprises in the field of emerging businesses (lightweight chassis and automotive electronics) in the future. Besides, the launch of Tesla's factory in Shanghai will bring a breakthrough for the Company.
Investment Thesis
We expect that the Company will realize a net profit of RMB501 million in 2019, and RMB637 million in 2020, with the corresponding EPS being RMB0.48 and 0.60, respectively. Although the Company's result is pressured in the short term, it will benefit from the wide prospect of lightweight and automotive electronics businesses under the tide of new energy in the long term. We give the Company's target price to RMB12.7, respectively 26/21 x P/E for 2019/2020, giving the average peers` and its history valuation, wining a "Accumulate" rating at its initiate coverage. (Closing price as at 22 Aug 2019)
Risk
Price war among peers
Raw material price increase
New business risk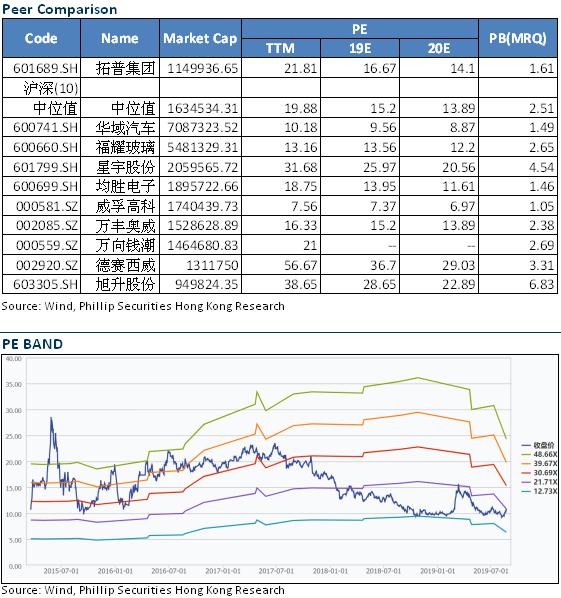 Financials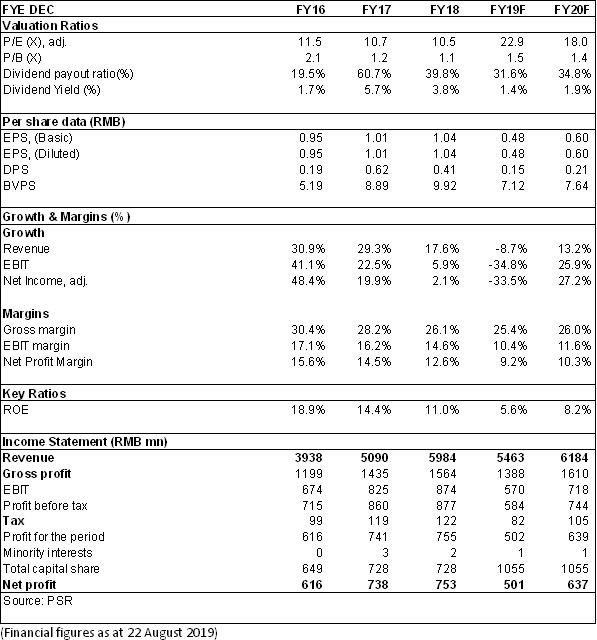 Recommendation on 26-8-2019
Recommendation
Accumulate
Price on Recommendation Date
$ 10.900
Suggested purchase price
N/A
Target Price
$ 12.700