GWM (2333.HK) - Price Pressure Eased in H2
Investment Summary
Continued to Rise Steadily against the Adversity, and Sales Rose by 5.3% yoy in 7M2019
GWM (Great Wall Motor) released a sales report, which showed that it sold 60,300 vehicles in July, a increase of 11% yoy, and a slight decrease of 4.6% mom. In the first seven months, it sold accumulatively 553,900 vehicles, an accumulative increase of 5.33% yoy, achieving by 51.8% of the annual target of 1.07 million vehicles after the down-regulation. The Company's overall sales volume enjoyed a growth higher than the industry average (-11.6%yoy/-12.1%mom/-12.8%yod).
More Balanced SUV Model Matrix
In July, in terms of models, GWM sold 50.1 thousand SUVs, an increase of 13%, of which, the sales volume of Haval brand accounted for 86%, an increase of 15% yoy, and the sales of M6, F7 and F5 increased by 2591, 8040 and1449 units, respectively. As the new flagship model, F7 has maintained over 10,000 vehicles monthly since its launch, while the sales volume of H6 fell by 11% to 23,079 vehicles and the sales of others including H2, H4, and H9 decreased by 3,524 units yoy in total. We believe that, the fall in the sales volume of H6 and the rise in F-series showed that degree of dependence of GWM on single H6 has been reduced, and the products matrix was getting more balanced.
WEY brand increased by 2.34% yoy, and accounted for 14%, of which, the sales volume of VV6 increased by 4,636 vehicles, while the same of VV5 and VV7 decreased by 3,930 vehicles yoy in total. In addition to the annual updated VV6, VV7 GT equipped with the newly developed 2.0T engine, 9DCT gearbox and electric drive system will be launched in H2, which will further enhance the product spectrum of WEY brand.
Pickup and NEVs Temporarily in Doldrums
In July, Pickup sold 8,075 vehicles, a decrease of 11% yoy, and an increase of 12.7% mom. GWM first launched Wingle 7 of National Standard VI in China, while still selling Wingle 5 and Wingle 6 in low-end markets in which National Standard VI has not yet been implemented. The first large and high-end Pickup, Great Wall Pao, will be launched in September, with off-road and passenger (diesel and gasoline) versions, and followed by the pure electric version. With the loosing restrictive policies, the domestic pickup market will usher in a new stage of development in the future.
The sales volume of sedan models was driven mainly by Ora, the new energy brand. Ora sold 2,071 units, and Ora R1 and iQ sold 1,677 and 394 units, respectively, a decrease of 47.6% and 30% mom, mainly due to the end of the policy transition period and the comprehensive decline of subsidies for NEVs since July. We expect the China NEV market to be challenged in the short term, and the sales volume of Ora mostly to follow the trend.
Less of 60% in Earnings in H1, and Price Pressure Eased in H2
According to the Profit Forecast of GWM, the MGMT is expected to see a total revenue of RMB41.38 billion approx. in 2019H, a decrease of RMB7.3 billion or 15.0% from that of 2018H. The net profit attributable was RMB1.53 billion, approx., a decrease of RMB2.17 billion or 58.6% yoy. The main reason is that the Company offered more discount, and continued to enhance the promotion of its brands and increase R&D input. Meanwhile, out of prudent consideration, the Company lowered the former annual sales target of 1.2 million vehicles by 10.8% to 1.07 million, which means that the sales volume in H2 will be basically flat yoy, and the pressure from promotion by reducing price will be eased to some extent. With the launch of H6 Sport, H2, and M6 of National Standard VI, the pressure from sales and prices will be further eased, and the launch of H9 2020 in H2 is expected to continue to push upward the model structure of Haval models.
Investment Thesis
The enhanced promotion and stable product competitiveness drove the sales volume of GWM to buck the trend and rise, though the stock price was pressured as the profitability was significantly reduced. However, the Company's transformation and a series of attempts are pushing its product structure and product scale to a better improvement, and overseas markets and cooperation projects are also the highlights in future expectations. In terms of valuation, we adjust our target price to HK$5.42, equivalent to 11.7/9.6 P/E and 0.8/0.8 P/B ratio in 2019/2020. We maintain the rating of ¡§Accumulate¡¨. (Closing price as at 15 August 2019)
Risk
New vehicle sales fall short of expectations
The SUV market dramatically worsens
The progress of new energy vehicle project is poorer than expectations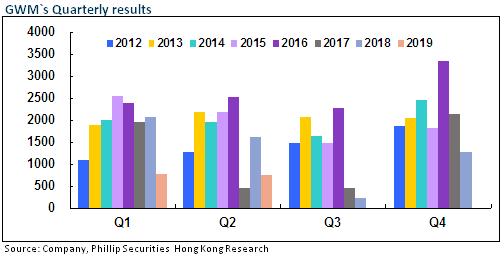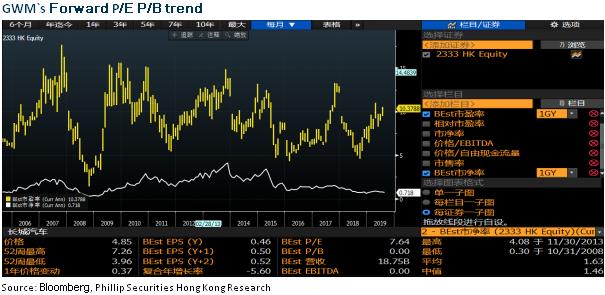 Financials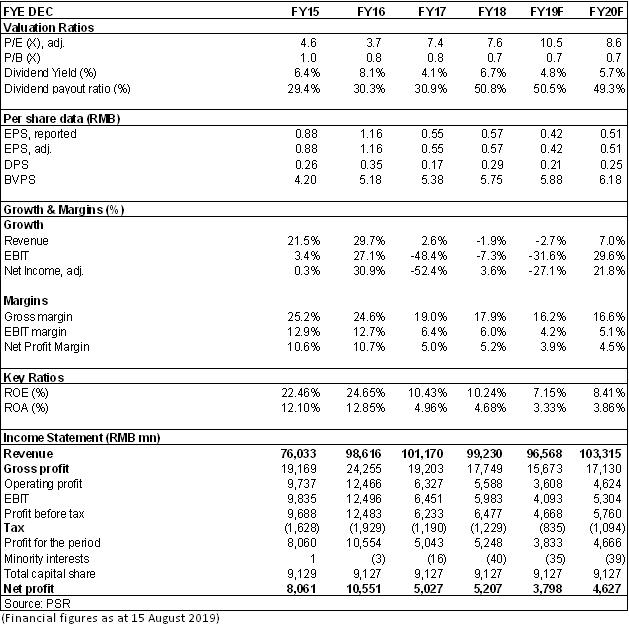 Recommendation on 19-8-2019
Recommendation
Accumulate
Price on Recommendation Date
$ 4.850
Suggested purchase price
N/A
Target Price
$ 5.420