Ausnutria (1717.HK) - Own-branded goat milk powder business with fast growing trend; nutrition business with growth potential
Investment Summary
Ausnutria has recently announced positive profit alert for 1H of FY2019. Revenue increased by 21.9%y.o.y. and is mainly driven by the increase of 45.3% of its own-branded goat formula milk powder products. The percentage share of this business to revenue increased from 35.2% to 44.9% y.o.y. The own-branded goat formula milk powder also increased by 20.7%. The adjusted net profit increased by 63.8% y.o.y.Ausnutria ranked the ninth in infant milk formula market in China during 2018, with a market share of 3.9%. But it ranked the first in the imported goat milk formula with a market share up to 62.5%. The management team's target is to be among the top five players in China's overall infant milk market in the next three to five years.
According to the F& S Report, the retail sales value of China's infant milk formula market increased at a CAGR of 11.2% from 2014 to 2018, and is expected to increase at a CAGR of 6.9% until 2023. The slow down is mainly due to the decreasing birth rate, but super-premium and premium infant milk formula products, is expected to continue as the driving force of the overall industry. This underpinned by accelerating urbanization, rising disposable income, increasingly educated and health conscious consumers and growing demand for high quality infant milk formula products. At the same time, with the gradual improvement of Chinese consumers` awareness of the goodness of goat milk, we are optimistic about the medium to long-term development of Ausnutria. It is expected that the own-branded goat milk infant formula products will maintain rapid growth, especially for higher-end products. Cow milk infant formula products will maintain a stable single digit growth.
The high-end segment of infant milk formula products increased at a CAGR of 27.3% from 2014 to 2018, which accounted for 22% of the overall market in 2014 and 37.9% in 2018. It is expected to grow at a CAGR of 16.6% until 2023, accounting for 58.3% of the overall market. In particular, the super-premium segment grew at a CAGR of 39.5% from 2014 to 2018 and is expected to grow at a CAGR of 16.9% until 2023. This segment accounted for 6.8% of the overall infant milk formula market in 2014, increasing to 16.9% in 2018, and is expected to increase to 26.4% by 2023.The company will continue its R&D projects and launch new products. The elderly goat milk formula product is expected to be launched in 2020. The organic infant goat milk formula is still awaiting registration and is expected to be also launched in 2020. In terms of cow milk powder, it it just got a new baby milk powder product registration in March this year, and began to have related promotion activities in June. There are still 3 brands that are still waiting to register at the New Zealand plant.
The company's GPM in 1H improved by 5.7 ppt y.o.y. to 52.1%. We expect that the overall GPM will continue to improve y.o.y. this year, mainly due to the improvement of product mix. The sales of super-premium products of own-branded segment with over 60% GPM, will maintain fast growth. Last year, the increase in distribution expense was due to the increase in the proportion of own-branded segment and the increase in transportation cost. The current transportation costs have been reduced, mainly due to the increase in the use of railway transportation since the Q4 of last year. We give buy rating, target price-earnings ratio 25 times, with target price HKD15.7. (current price as of August 8, 2019)
Business Overview
About the company
It is an international high-end dairy and nutrition products enterprise with an entire business chain of raw milk collection, R&D, production, and end-market sales. The Company's global sales and service network cover China, North America, Europe, Russia, Australia, the Middle East, and beyond. Founded in Changsha City, Hunan Province, PRC in September 2003, the company was listed on the Stock Exchange of Hong Kong Limited in October 2009, spotlighted as the first Chinese infant formula company to list in Hong Kong.
In 2011, it acquired Ausnutria Hyproca B.V. (formerly "Hyproca Dairy Group B.V"), a dairy company with over 100 years of history in the Netherlands. In 2014, it initiated the investment and construction of the Pluto Factory and the Hector Factory, also in the Netherlands. In 2016, it acquired Nutrition Care, an Australian nutritional products company, and co-invested with Westland (a dairy company in New Zealand) to establish the PNL Factory. In 2017, it acquired ADP and Ozfarm in Australia. In October 2018, Ausnutria introduced CITIC Agricultural Fund as the Company's single largest shareholder.
At this time, Ausnutria possesses ten factories around the world, among which there are two in China, five in the Netherlands, two in Australia, and one in New Zealand. They provide a diversified product portfolio covering infant formula, toddler formula, adult formula, liquidity milk, and other nutrition products.
Nutrition products
Ausnutria's own-branded formula mild powder business shared 82% of the total revenue in both FY2018 and FY2019. As we considers that other businesses like nutrition products will maintain fast growth, this figure is expected to maintain at over 80% without large room to grow. Revenue of nutrition products grew 80.7% y.o.y. in FY2018. The business focuses on intestinal health products for children and adults.
In early July, Ausnutria announced the acquisition of the remaining 40% equity interest in each of Nutriunion HK and Nutriunion Guangzhou. The upfront consideration of the former is RMB56.38 million, which shall be settled by the issuance and allotment of 4,118,255 shares at share price of HK$15.47 each. The subsequent consideration is capped at RMB180.00 million. Nutriunion GZ is agreed to buy at the acquisition consideration of RMB6.82 million, which shall be settled by cash.
According to the management team, it will continue to pay attention to suitable M&A opportunities, which will mainly be mainly downstream intestinal health companies. The milk powder production capacity is currently sufficient, and the capacity utilization rate is only 50%, so there is no need for further M&A.
Industry Overview
According to F&S report, prior to the melamine incident in 2008, domestic brands of China's infant milk formula held a relatively larger proportion of market share in comparison to international brands. Following the incident, consumers` confidence in domestic infant milk formula has been negatively impacted, which led to international brands taking up market share. Nevertheless, over the years it was evident that the market share of domestic brands has gradually rebounded. In 2014 and 2018, international brands collectively held 55% and 53.4% respectively of the infant milk formula in terms of the retail sales value. While doemstic brands collectively held 45% and 46.6% respectively.
There are favourable industry policies by the PRC government. The NDRC unveiled the Action Plan for the Promotion of Domestic Infant Milk Formula in May this year, aiming to increase the portion of domestically manufactured infant milk formula in China with a target to remain at a 60% self-sufficient level in the industry, and to encourage the use of fresh milk in the production of infant milk formula. The Administrative Measures for the Registration of Product Formulas of Infant Formula Milk Powder issued in June 2016 limits each registered infant milk formula to the production of up to three product series, resulting in a higher market concentration which would benefit major infant milk formula market players with a strong presence in small cities and rural areas in China.
Investment Thesis & Valuation
We give buy rating, target price-earnings ratio 25 times, with target price HKD15.7. Potential investment risks include policy change, market competition deterioration, and raw milk cost with huge volatility. (current price as of August 8, 2019)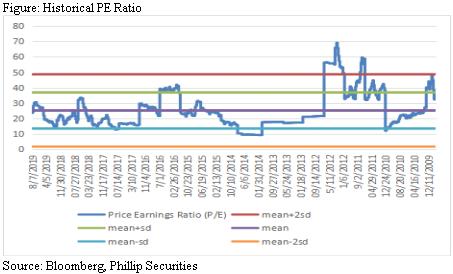 Financials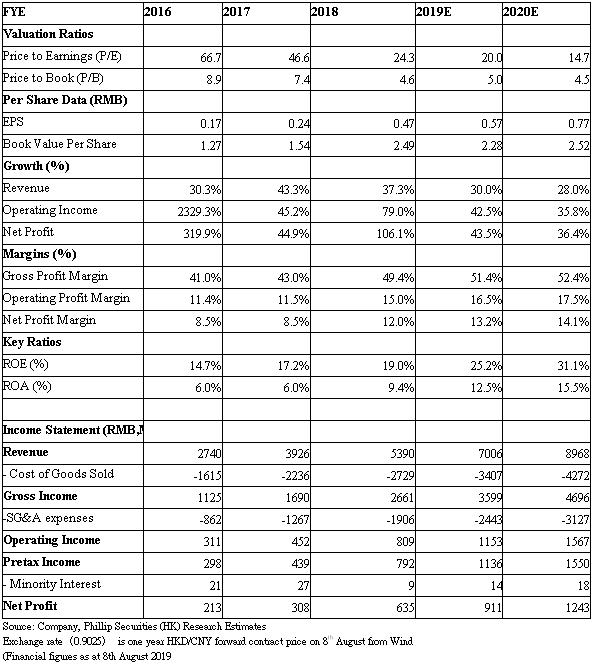 Recommendation on 12-8-2019
Recommendation
Buy
Price on Recommendation Date
$ 12.580
Suggested purchase price
N/A
Target Price
$ 15.700