GAC (2238.HK) - Half year sales review
GAC Toyota and GAC Honda Remained Strong, with Sales Increasing by 22% and 16%, respectively, against the Trend
According to the sales data released, in 2019 H1, the total sales of GAC recorded 999,600 thousand vehicles, a slight decrease of 1.7% yoy.
Among them, GAC Toyota sold 311,200 vehicles, an increase of 21.68% yoy, with Highlander, Camry and Levin enjoying a well selling; and GAC Honda sold 394,500 vehicles, an increase of 16.41% yoy, with Accord, Fit and Crider enjoying a growth against the trend and Avancier, Odysssey and Vezel enjoying a stable performance. GAC Toyota and GAC Honda grew against the trend of weak domestic demand, revealing a strong products competitiveness and good command of the market.
GAC Honda has launched Odyssey Sport Hybrid, new Vezel and other new models in late April and mid-June, and GAC Toyota has launched officially the upgrading generation Levin in June, and will launch an EV model in 2019 H2 and withdraw CHR EV in 2020. As driven by new models, the growth is expected to remain strong in H2.
Currently, the total production capacity of GAC Toyota is 480,000 vehicles, approx., and the rate of capacity utilization in 2018 has exceeded 125%. When the roll-out production line of its third new factory reaches the design capacity, its maximum capacity will increase by 220,000 vehicles, an increase of 50%, nearly. Meanwhile, to respond to the trend of new energy vehicles, GAC Toyota plans to invest RMB11.3 billion to expand its new energy vehicle project to reach an expected capacity increase of 400,000 vehicles, which will be up and running in 2022; and to invest RMB3.7 billion to increase the production capacity of TNGA engines by 432,000 units, which will be put into operation in 2021, when the modular production efficiency of the new TNGA platform will be greatly improved.
Currently, the total production capacity of GAC Honda is 600,000 vehicles, and the rate of capacity utilization in 2018 has exceeded 125% also. When the capacity expansion project in Zengcheng is put into production, the production capacity will increase by 120,000 to 240,000 vehicles, and the total production capacity will reach 720,000 to 840,000 vehicles.
Self-brands were under great pressure but with eased decline, and its NEV segment did all they can to catch up
In H1, Trumpchi, the self- brand of GAC, sold 187,000 vehicles, approx., a decrease of 30% yoy. Since the beginning of this year, to respond to the cooling auto market and ease the inventory pressure of dealers, the Company took the initiative to reduce the wholesale sales volume, with an average monthly decline of over 25%. But with the lowering base, the yoy decline was eased month by month. In June, the monthly sales growth of Trumpchi turned from negative to positive. In 2019, Trumpchi will usher in a year of upgrading. The new generation models with upgraded appearance, interior decoration and power include 2019 facelift GA4, GS3, GS4, GS5, GS7 and GM8, mid-life facelift GS8 and GA8, new-generation GA6 and new GM6.
What's worth mentioning is that, in H1, GAC sold 10,900 NEV self-brand vehicles, an increase of 73% yoy. Among them, Aion S, the new EV model launched in May, enjoyed an outstanding performance. It sold 3,061 vehicles in May and June, with an accumulated order volume of over 50,000 vehicles. As planned, it will deliver 3,000 vehicles in July, and 5,000 after August. Other three new energy models on sale are GA3S PHEV, GE3 530 and GS4 PHEV. By the end of this year, it will launch Aion LX, an EV SUV, which has a NEDC endurance mileage up to 600 miles and will compete with NIO ES6 and BYD Tang EV. As driven by the accelerated growth of new energy models, we expect the sales volume of its self-brands to do all they can to catch up.
Other brands recorded weak performance
Due to the concentration on SUVs of its production line and the lack of models, in H1, GAC FCA sold only 36,000 vehicles, a significant decrease of 49% yoy, and Renegade, Cherokee and Compass recorded a bad performance. GAC Mitsubishi Motors sold 630,000 vehicles, a decrease of 16% yoy, and Outlander and ASX recorded a declined sales volume. Due to the insufficient competitiveness in model varieties, we expect a lack of significant improvement of both in the short term.
Investment Thesis
Thanks to the strong momentum of GAC Toyota/GAC Honda, the Company's result safety mat is thicker; the self-owned brands are expected to gradually stabilize and rebound under the help of the new generation models and new energy models. We revised the Company's 2019/2020 earnings forecast. We give the "Buy" rating with the target price to HKD 9, equivalent to 8.4/7.8x P/E ratio in2019/2020. (Closing price as at 7 Aug 2019)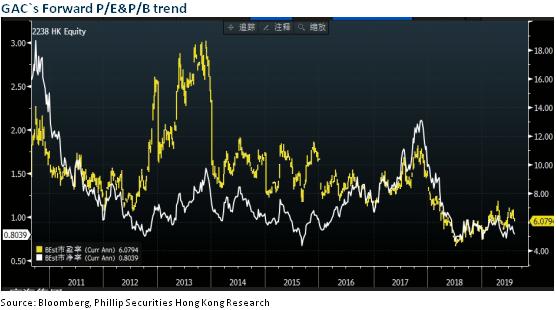 Financials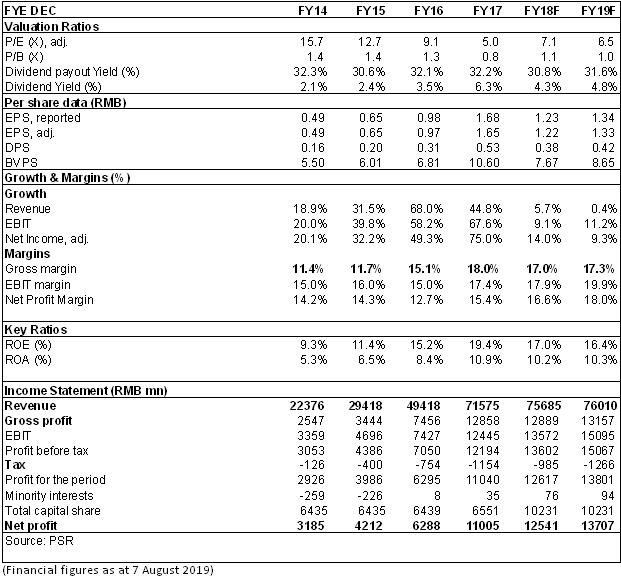 Recommendation on 9-8-2019
Recommendation
Buy
Price on Recommendation Date
$ 7.210
Suggested purchase price
N/A
Target Price
$ 9.000