BOC Aviation (2588.HK) - 2018 result beat expectations; concerning 737 MAX issue
Investment Summary
BOC aviation (BOCA) is a leading global aircraft operating leasing company in Asia, currently with a portfolio of 310 owned and 25 managed aircrafts. We remain an ¡§Accumulate¡¨ rating based on a Price-to-book ratio vs. Return on Equity method, deriving a target price of HK$74.8, 10.5% potential upside. (Closing price at 29 July 2019)
2018 result beat our expectations
BOCA reported its 2018 result with revenue of US$1725.5mn, up by 23.2%. The net profit reached US$620.4mn, increased by 5.8%. The increase in profit was lower than that in revenue, due to its positive tax effective rate. The revenue/net profit beat our estimate about 6.2%/13%, due mainly to the strong growth in interest and fee income and net gain on sale on aircraft. The lease rate factor in 2018 was 10.8%, 0.1% higher than our expectation and cost of funds was 3.3%, 0.4% higher than estimate, due to the rising share of fixed rate debt, making the net lease yield dropping to 8.3%, 0.1% lower than estimate. The total number of aircraft delivered or scheduled to be delivered in 2019 is 79.
BOCA released the operating performance in 1Q19. The aircraft owned, managed and on order was 310, 25 and 172, in total of 507. The average aircraft age and average remaining lease term was 3.1 /8.2 years respectively. As of the first quarter, there are 11 aircraft to be delivered and signed 7 lease commitments, with aircraft utilization rate at 99.9%.
737 MAX issue
The 737 MAX only accounts for 1.9% of its owned aircraft, and BOCA could still receive rental income even though it were suspended for flight. As a result, there is no significant impact on the current aircraft fleet. However, there are still 87 to be delivered in the next few years. If the issue remains, it may delay or even cancel the remaining deliveries, slowing the growth in lease rental income.
Capex and Aircraft NBV
BOCA stated that the committed Capex from 2019 to 2021 was US$9.217bn. We expect the committed Capex in 2019 should be US$3.0-3.5bn. Due to 737 Max issue, we believe the committed Capex in 2019 could be 2.5-3.0bn. Historically, it will have a US$1-1.5bn additional Capex, implying a total Capex of US$4.0-4.5bn. We expect the aircraft NBV will boost by around US$2.0-2.5bn after considering an aircraft disposal of around US$1.4bn and depreciation of around US$0.6bn.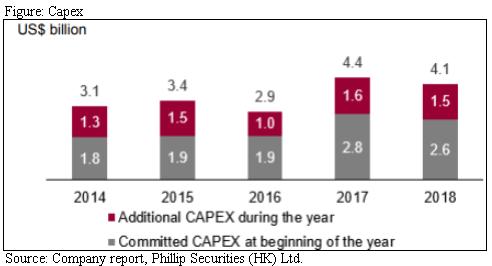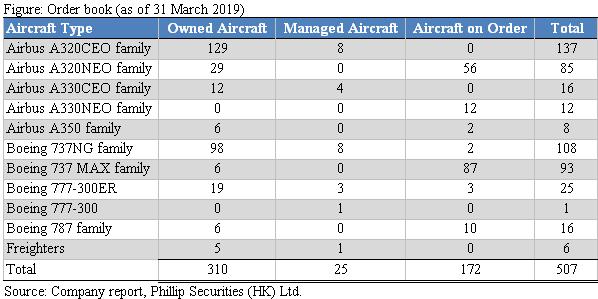 Valuation
The result in 2018 beat the estimate and development goes well. Although the 737 MAX issue may adversely affect the growth in in lease rental income in short term, we believe the competitive advantage of BOCA still remains in long term. We derived our target price to be HK$74.8 based on the book value per share in 2019F, implying P/B 1.43/1.29x in 2019/20F respectively and maintain an ¡§accumulate¡¨ rating, with 9.7% potential upside. (HKD/USD: 7.8)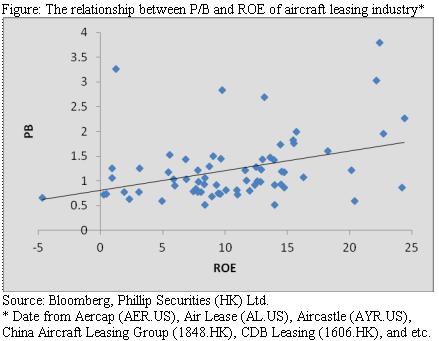 Risk
1. Higher-than-expected increase in interest rate
2. The demand for traveling and aircrafts slow down
3. Delayed aircrafts deliveries
4. Depreciating value for aircrafts in secondary markets
Financials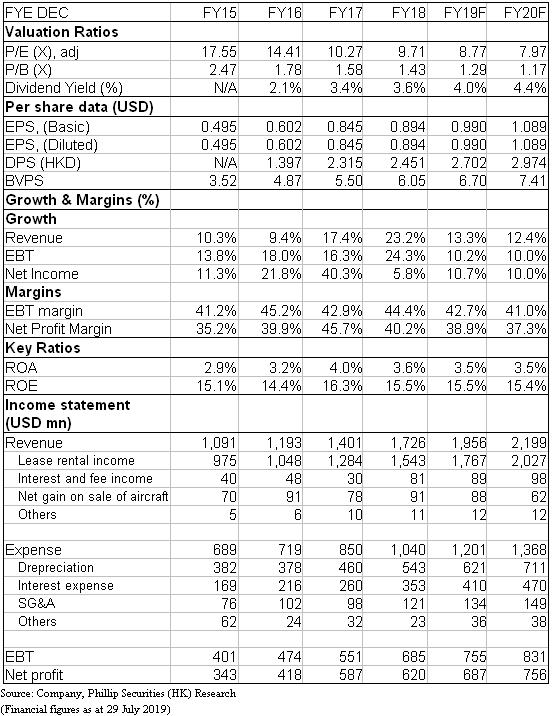 Recommendation on 1-8-2019
Recommendation
Accumulate
Price on Recommendation Date
$ 67.700
Suggested purchase price
N/A
Target Price
$ 74.800