NEW HIGHER EDU(2001)
Analysis¡G
The Group`s revenue in 2018 was RMB 561 million, a YoY increase of 35.5%, mainly due to the excellent organic growth of students in Yunnan and Guizhou, the higher average Accommodation fee per student and the consolidation of Henan and Northeastern schools. The net profit attributed to the owner was RMB 243 million, up 3.9% YoY, mainly due to the provision for the termination of the acquisition of Xinjiang schools. If this provision, listing fees and exchange gains are deducted, the adjusted net profit is RMB 285 million, a YoY increase of 20.3%. During the period, the number of students in Yunnan and Guizhou schools increased by 13.7% to 44,583; the number of students in Northeast, Central China and Henan schools increased by 17.1% to 39,012. Among them, the number of students in Central China and Henan schools increased by nearly 50% and 16% respectively, but the number of students in Northeastern schools dropped slightly by 1%. It can be seen that the organic growth for those schools is strong. The number of students in Gansu and Guangxi schools is 8,218 and 9,953 respectively. In terms of tuition and accommodation fees, due to the improved dormitory environment in Yunnan and Guizhou, the average accommodation fee per student has increased by 9.9% this year. Except for Guizhou schools, the tuition fee range of each school has also increased in the 2018/19 academic year. The average tuition fee is expected to be RMB 9,947, an increase of about 5% from the previous year`s RMB 9,492. We believe it is a good time to buy thanks to the recent slump.
Strategy¡G
Buy-in Price: $2.50, Target Price: $3.50, Cut Loss Price: $2.10



China Resources Beer (291.HK) - Acquisition of Heineken helping to open up mid-to high-end market¡FLooking forward to harvest period
Investment Summary
China Resources Beer's acquisition of Heineken China was completed on April 29 this year. Heineken's mainland China , Hong Kong and Macao business will be included in CRB, which we expect will be reflected in the financial report afterwards. The acquisition will help to further increase the proportion of the high-end (more than RMB 5 per bottle) business of CRB, which accounted for 43% in 2018 and is expected increase to over 50% by 2020-2021. According to GlobalData, CRB has a market share of 23.2% in the Chinese beer market in 2018, which is the market leader. In the premium and super premium market, it ranks the third, with a market share of 11%. The top two are Budweiser and Tsingtao.
The recent suspension of the listing of Budweiser APAC has driven the market to pay attention to the prospects of the beer industry. We believe the suspension is more due to the recent market volatility and we are optimistic about the industry in medium to long term. China's beer market is the largest globally which accounted for a 25% share of global beer volumes. Despite its large aggregate size, beer consumption in China remains relatively low on a PCC basis at 35 liters per capita in 2018, indicating a significant potential for growth in beer consumption compared to other markets such as the US, Brazil and Mexico, which are at 71 liters, 60 liters and 74 liters respectively.
Overall beer market size in China by volume grew at a CAGR of 2% from 2013 to 2018, and is expected to grow at a CAGR of 0.9% until 2023. Premium and super premium categories in China grew and is expected to grow at CAGR of 6.4% and 4.9% respectively. In value terms, overall beer market size in China grew at a CAGR of 3.1% from 2013 to 2018, and is expected to grow at a CAGR of 4.7% until 2023. Premium and super premium categories grew and is expected to grow at CAGR of 12% and 8.5% respectively.
The management team of CRB expects that there will be a learning curve with Heinken in 2019, but believes that the situation will gradually improve and they are optimistic about business performance in 2020. It is expected that the operational efficiency will improve at that time. We expect the impact of the short-term acquisition on the financial report to be minor. Heineken recorded a net loss after tax of RMB 66.8 million in 2017. In 2016, it recorded a net profit after tax of RMB 51.3 million.
CRB's revenue in FY2018 increased by 7.2% y.o.y., which was mainly driven by an increase in ASP of 12.3%, while sales volume fell by 4.5%. The decline in sales volume was due to the decrease of volume in the northeastern market and intensified competitions, as well as the decline in sales volume resulted from the increase of product price in certain areas. In addition to the increase in prices of some products during the year, another important reason is that the sales of medium and high-end beer increased by 4.8%. Therefore, even with the rising costs of some raw materials and packaging materials, GPM can still improve by 1.4ppt per year y.o.y. to 35.64%.
During the year, 13 beer factories ceased operation, and the company continued the production capacity optimization and organizational restructuring. As a result, there were compensation and staff resettlement expenses.Together with the increase in transportation and advertising expenses, the operating expenses as a percentage of revenue increased by 3.1 ppt to 33.3%. Net profit fell 16.9% y.o.y.. As of the end of 2018, CRB operated 78 breweries in 24 provincess, municipalities and autonomous regions in mainland China, with an aggregate annual production capacity of approximately 21 million kiloliters. The management said that the cut down on the production capacity in FY 2019 will be less than that in FY 2018.We expect EPS of FY2019 will be RMB0.64, with target price HKD36.2,and target price-earnings ratio 50 times . (current price as of July 22, 2019)
Investment Thesis & Valuation
We expect EPS of FY2019 will be RMB0.64, with target price HKD36.2,and target price-earnings ratio 50 times . Potential investment risks include revenue growth or channel expansion missing expectation, market competition deteriorates¡Ahuge fluctuations of raw material costs . (current price as of 22 July, 2019)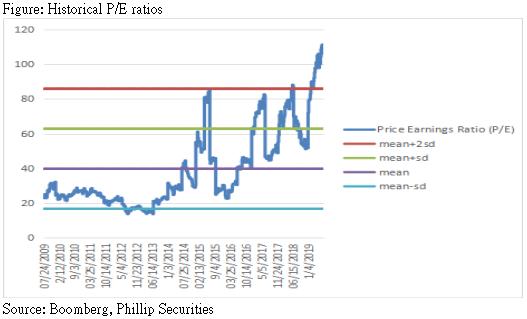 Financials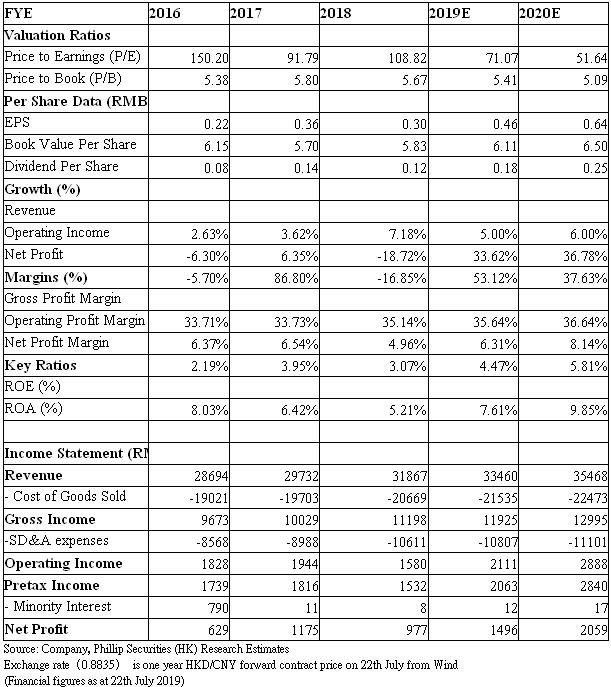 Recommendation on 25-7-2019
Recommendation
Neutral
Price on Recommendation Date
$ 37.400
Suggested purchase price
N/A
Target Price
$ 36.200