Yonyou (600588.SH) - Robust growth of Cloud services in hope of domestic replacement
Investment Summary
Yongyou is a leading provider of enterprise services in China, offering cloud, software and financial services. The result in first quarter was doing well, where the revenue grew by 16.6%, and the cost control improved. Besides, the growth of revenue from cloud services remained robust, up by 95% YoY, and paid enterprise customers increased by 46.3% YoY. We give a TP of RMB $29.58, 6.4% lower than previous, downgrading to ¡§Accumulate¡¨ recommendation, with 10.1% potential upside. (Closing price at 18 Jul 2019)
Result update
The group announced its first quarter results for 2019. During the period, the revenue was RMB 125 million , up 16.6% YoY; the operating loss was RMB 155 million, an increase of about RMB 40 million over last year. In addition, gross profit margin decreased by 1.6% to 62.5%, but the cost control improved. Selling and administrative expenses to revenue decreased by 3.5% and 4.7% respectively. Net profit was RMB 102 million, which turned into a profit from last year, mainly due to the sale of SuiRui Technology this year. The net loss attributable to owners after deducting non-recurring gains was RMB 54.77 million, a decrease of 51.2% YoY.
Revenue from Cloud services reached RMB 125 million, a YoY increase of 95%. Currently, there are about 4.77 million cloud service enterprise users and about 380,000 paid enterprise customers, increased by 46.3% YoY.
In other business areas, revenue from software business was RMB 864 million, up 20.6% YoY; payment service revenue was RMB 74 million, up 230.1% YoY; however, revenue from Internet investment and financing information service business decreased 29.7% YoY to RMB 197 million.
Launch and strength the cloud products, build up a cloud ecosystem
The Group launched NC Cloud 1903, which adopted the latest hybrid cloud technology architecture to provide hybrid cloud solutions for large enterprises. It is believed that the new products will help the group enter the cloud market of large enterprises. Besides, the Group has also strengthened the marketing of NC Cloud, which is expected to make NC Cloud sales scalable. For U8 Cloud which is targeting the medium-sized companies, the Group will accelerate its research and development and strengthen its promotion in the industry.
The Group continued to build up a cloud ecosystem and launched 52 models in the cloud market, including cloud-based eco-products such as IoT services, business travel services, and cloud customer service small business editions. The total number of eco-partners in cloud market exceeded 3,500, and the total number of products and services exceeded 5,500.
We expect the Group to increase its investment in research and development in the cloud business, which may reduce the net profit margin in the short term, but it is expected to create a long-term competitive advantage.
Visiting from Huawei may implies the acceleration of domestic replacement
Media reported that the Huawei ERP team visited Yonyou Industrial Park in Beijing. Therefore, it is speculated that Huawei may abandon SAP, their current ERP system, and adopt a domestic one. We think it is likely to happen. Under the China-United trade war, Huawei became one of the targets United States wants to restrain. US prohibited companies in US from providing any services to Huawei. In order to reduce the dependence on foreign software, we believe that Huawei has sufficient incentives to shift their current foreign ERP system into domestic. Although there is no confirmation at present, this visit reflects the intention of Huawei.
Valuation
Based on the net profit attributable to the owner in 2020, we derive a TP of RMB $29.58, 6.4% higher than the previous TP, reflecting a 20x P/E in light of the rapid growth in cloud services. Although increase in research and development on cloud services may reduce the net profit margin in the short term, but it is expected to create a long-term competitive advantage. Since the sharp rise in share prices recently, we have downgraded to the ¡§Accumulate¡¨ rating, with a potential upside of 10.1%.
Risk
1. Slower-than-expected growth in cloud products
2. The economy of China slows down
3. Cloud ERP may take away the existing customers of traditional ERP, particularly SME
Financials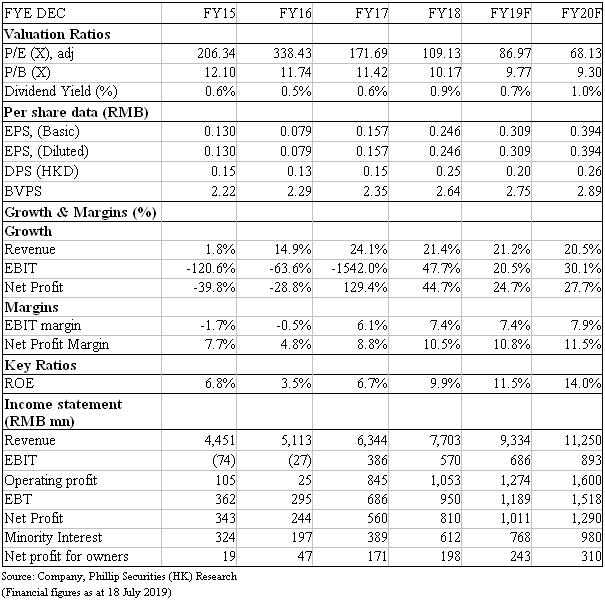 Recommendation on 22-7-2019
Recommendation
Accumulate
Price on Recommendation Date
$ 26.870
Suggested purchase price
N/A
Target Price
$ 29.580