GBIA (600004.CH) - Negative Factors Will be Absorbed
Investment Summary
The profits of Baiyun Airport in the last four quarters hit a six-year low as rebate for airport construction fee was cancelled and depreciation surged after new capacity came on stream. However, we believe that negative factors will be absorbed, and, with the launch of duty-free mode in the future and the construction of Guangdong-Hong Kong-Macao Greater Bay Area, we are optimistic about the commercial value revaluation of Baiyun Airport, and maintained our target price at RMB 18.7 yuan. (Closing price as at 15 July 2019)
Pressured Result by Surged Depreciation due to Launch of Terminal T2 and Cancellation of Rebate for Airport Construction Fee
Benefiting from the launch of Terminal T2 since April 2018, Baiyun Airport recorded an annual revenue of RMB7.75 billion, an increase of 14.6% yoy. However, due to the cancellation of rebate for airport construction fee since December, its revenue growth in the fourth quarter was slowed down. The quarterly revenue grew 8.8%, 22.5%, 22.2% and 5.4%, respectively. Meanwhile, due to the surge in depreciation, operation and maintenance expense after the launch of T2, it recorded an annual depreciation/labor expense/water and electricity expense of RMB1,255/260/340 million, an increase of 178%/195%/42% yoy, respectively, resulting in a yoy jump of 35% in total operating cost and an increase in financial expense. The final net profit attributable was RMB1.13 billion, a decrease of 29.2% yoy. The EPS was RMB0.55, DPS was RMB0.17, and the dividend payout ratio was 31%.
According to Q1 Financial Report of 2019, due to the rebate for airport construction fee included in the same base period of the previous year and the low yoy base of operating cost as T2 was not launched, the revenue of Baiyun Airport in Q1 increased only by 11.3% to RMB1.92 billion yoy, and the total operating cost surged by 40% yoy, resulting a decrease of 48.3% to RMB224 million yoy in the net profit attributable to the parent company.
Negative Factors Will be Absorbed, and Result Growth Is Expected to Recover Gradually
Terminal T2 of Baiyun Airport was put into use on April 26, 2018. Currently, Baiyun Airport has two terminals and three runways, capable of meeting the annual operating requirements of 620,000 flight-times of aircraft movements, 80 million passengers and 2.5 million tons of cargos and mails, which solve effectively the previous production capacity bottleneck but also bring great pressure to the cost end in the short term. However, we expect the growth at the cost end to slow down from Q2 as the yoy base increases.
In 2018, the Company recorded completed aircraft movements of 477,000 times, an increase of 2.6% yoy, and a passenger throughput of 69.74 million person-times, an increase of 5.9% yoy, ranking the third in China and 13th in the world, among which the international and regional passenger throughput was 17.31 million person-times, and increase of 9% yoy, enjoying a significant growth among first-tier airports. In H1 of 2019, the Company recorded aircraft movements of 240,000 flight-times, an increase of 2.6% yoy; a passenger throughput of 35,646,000 person-times, an increase of 4.14% yoy, including 17.65 million arrivals and 18 million departures; and a cargo-mail throughout of 905,700 tons, an increase of 1.3%.
In summer/autumn flight seasons of 2019, Baiyun recorded a yoy growth of 6.6% in total flights quote, far greater than that of 0.2% of BCIA and 0.7% of Pudong Airport. It is expected that, with the ascending time capacity and proportion of wide-body aircrafts, the aeronautical revenue of Baiyun Airport will benefit from the improvement of capacity utilization, and the bad in the cancellation of rebate for airport construction fee will be absorbed gradually in the future.
Enlarged Duty-free Mode and Guangdong-Hong Kong-Macao Greater Bay Area Development were two major engines for Long-term
In terms of non-aeronautical business, the total duty-free area has been expanded from 1,300m2 to over 5,900m2 as the duty-free entry was launched in Terminal T1, and the duty-free entry/exit was launched in new Terminal T2. It is expected that the revenue from duty-free business will increase significantly in the future, and the duty-free commercial value of Baiyun Airport will reveal gradually.
Baiyun Airport is a world-class airport group built with the State's efforts in the Pearl River Delta, and the core airport in Guangdong-Hong Kong-Macao Greater Bay Area, enjoying an advantage of a natural network that covers Southeast Asia, connects Europe, the United States and Australia and reaches major cities in mainland China. In the next three years, Baiyun Airport plans to launch 30 international routes, among which, 14 are long routes to Europe and the United States, so as to further make up for its shortage. The GDP per capital in Guangdong-Hong Kong-Macao Greater Bay Area records USD21,700, far higher than the national average. With the upgrading consumption and the rapidly growing aeronautical demand, the development potential of the Company is expected to be fully released.
Investment Thesis
We revised our forecast its EBITDA/share in 2019/2020/2021 to be RMB 1.55/1.76/1.97 yuan, our target price of RMB 18.7 yuan, respectively 12/10.6/9.5x of our expected EBITDA/Share. We give it an "Accumulating" rating.
Financials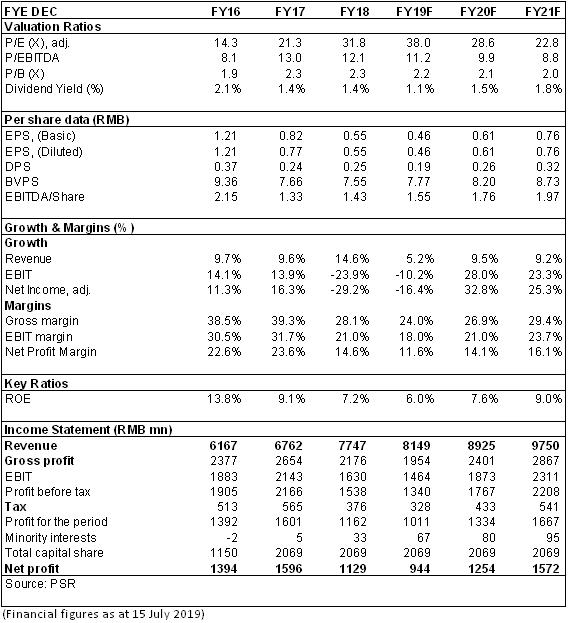 Recommendation on 17-7-2019
Recommendation
Accumulate
Price on Recommendation Date
$ 17.340
Suggested purchase price
N/A
Target Price
$ 18.700