Weifu(000581.CH) - National VI Emission will sharpen its advantage edge
Investment Summary
Large-value asset impairment/decline in gross margin impact last year's results
In 2018, Weifu recorded total revenue of RMB8.72 billion, a slight decrease of 3.3% yoy. The net profit attributable to the parent company reached RMB2.4 billion, down 6.8% yoy, while net profit attributable to the parent company excluding non-recurring items reached RMB201,500 million, down 13.24% yoy. The EPS was RMB2.37, and the cash dividend per share was RMB1.2. The dividend payout rate exceeded 50%, up 3.4 ppts.
The investment income was RMB1.96 billion, up 6% yoy. The investment income from Bosch Automotive Diesel. and Zhonglian Electronics. increased by 4% and 3%, respectively, accounting for three-quarters of the Company's total profit. Due to abundant cash flow, the investment income contributed by wealth management plans increased by 40% to RMB310 million from RMB220 million last year.
The overall gross profit margin fell 1.43 ppts to 23.34%, dragged down by switching emissions standards, price cutting on older models for promotion and rising prices of raw materials. By category, the revenue from fuel injection decreased 10% yoy to RMB5.03 billion, with a gross profit margin of 23.3%, down 1.3 ppts yoy. The revenue of post-processing increased by 8.9% yoy to RMB2.79 billion, and the gross profit margin was basically maintained flat at 12%. The revenue of intake system increased 15.7% yoy to RMB440 million, and the gross profit margin increased by 3 ppts to 28%.
Large provision is one of the main factors of declining results. In 2018, the asset impairment loss surged by 1.1 times to RMB251 million. In addition to the inventory depreciation reserve of RMB77.19 million and the bad accounts loss of RMB27.18 million, the main cause is that the company in 2018Q4, based on the principle of caution, set aside impairment provision of RMB146 million for investment in the hub motor company Protean.
The sales expense ratio increased to 2.73% in 2018, a yoy increase of 0.57 ppts, mainly caused by the increase of wages and warranty costs. The administration expense ratio reached 11.33%, with a yoy increase of 1.01 ppts, mainly due to the substantial increase in equity incentive expenses.
2019Q1 result was dragged down by the major market, but the gross margin improved
In 2019Q1, the company achieved a revenue of RMB2,270 million, a yoy decrease of 5.09%. Net profit attributable to the parent company reached RMB689 million, a yoy decrease of 12.12%. The decline in results is mainly due to a large reduction in investment income. Investment income from joint-stock companies fell 17.7% yoy to RMB410 million, dragged down by the decline of the overall domestic automotive market in the first quarter. However, the company's overall gross margin improved 1.2 ppts yoy to 22.1% due to a higher percentage of intake system products that generate higher gross margin. The expense ratio remained stable overall, slightly increasing by 0.2 ppt.
National VI Emission will sharpen its advantage edge
In order to promote environmental protection, more than a dozen of Chinese provinces and cities have launched policies to implement the National VI Emission Standard from July 2019, among which Beijing, Shanghai, Guangzhou, Shenzhen and Tianjin have implemented the stricter National VI-B. With the upgrading of emission standards, the company's competitive advantages in core power system components, advanced exhaust treatment technology and abundant product reserves will become increasingly prominent.
Presence in new fields of fuel cell components and automotive chips
The company holds RMB7.5 billion of cash and wealth management plans, with the asset-liability ratio staying as low as 23%. Its abundant cash flow and stable operation style provides a foundation for the future merger and acquisition transformation and high dividend. The company recently announced the purchase of 66% of equity in IRDFuelCellsA/S for EUR7.26 million, and the joint investment of RMB200 million to set up a semiconductor device and integrated circuit enterprise. The former has a number of patents in the field of fuel cells, involving membrane electrodes and bipolar plates, and its products in Europe, the United States, China and other regions have stable technical partners and customers. The latter is in line with the "New Four" (electric, networking, intelligent, sharing), which is an upgrade trend in the automotive industry. We believe that these two extensive mergers and acquisitions are helpful for the company to cultivate new business growth points and achieve strategic transformation and upgrading of product lines.
Valuation
As analyzed above, we expected diluted EPS of the Company to RMB 2.23 and 2.3 for 2019/2020. And we accordingly gave the target price to 24.5, respectively 11/10.7x P/E for2019/2020. "Buy" rating.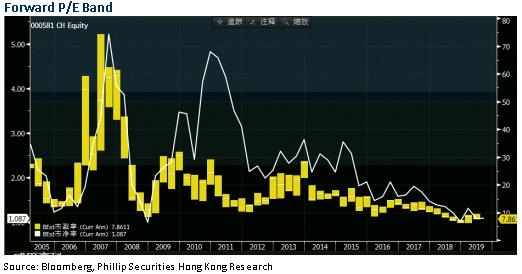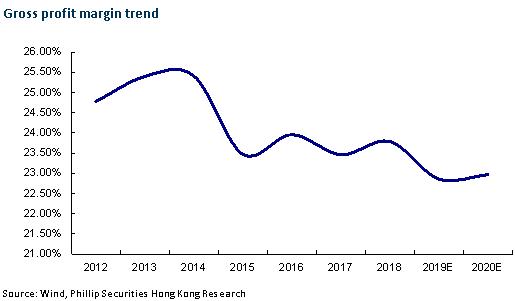 Financials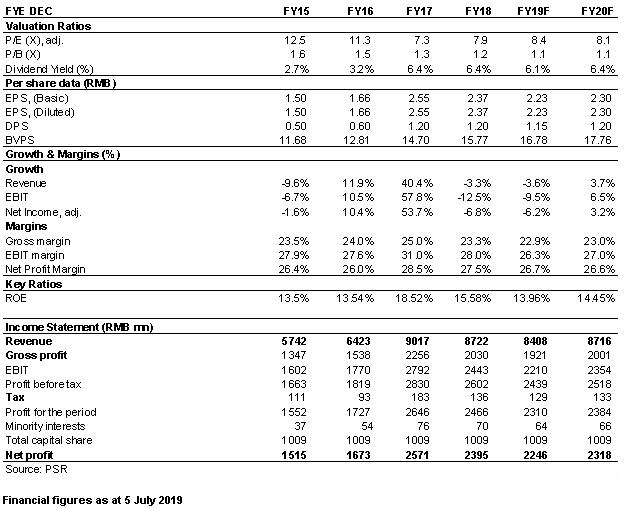 Recommendation on 9-7-2019
Recommendation
Buy
Price on Recommendation Date
$ 18.720
Suggested purchase price
N/A
Target Price
$ 24.500