TAI HING GROUP(6811)
Analysis¡G
It is a multi-brand casual dining restaurant group originated in HK. It owns brand names including Tai Hing, TeaWood, Trust Congee King, Trusty Congee King, Men Wah Bing Teng, Tokyo Tskiji, Fisher & Farmer, Rice Rule and Hot Pot Couple. It ranked the first in terms of revenue in the self-operated casual dining restaurant market with a market share of 4%, and second in terms of revenue in self-operated casual dining restaurant market in Mainland China with a market share of 0.1%, each in 2017.For FY2016, FY2017 and FY2018, its revenue was HK$2513million, HK$2771.3million and 3126.1million. And its profit for the yea was HK$196.9million, HK$209.6million and HK$304.9million respectively. The revenue of casual dining market increased at a CAGR of 3.8%, ad is expected to grow at a CAGR of 3.6% until 2022.
Strategy¡G
Buy-in Price: $2.70, Target Price: $3.20, Cut Loss Price: $2.00




Sumitomo Mitsui Trust Holdings, Inc. (8309.JT)
Sumitomo Mitsui Trust Holdings, Inc. was established in 2002 following The Chuo Mitsui Trust and Banking Company becoming a holding company. In 2011, company merged with Sumitomo Trust Bank. They are the only dedicated trust bank group in Japan, and expands business models which combine the banking business, asset utilisation/management business, and the real estate business. Has Sumitomo Mitsui Trust Bank and Sumitomo Mitsui Trust/Asset Management, etc. as their subsidiaries. For FY2019/3 results announced on 15/5, ordinary revenue increased by 8.7% to 1.4679 trillion yen compared to the previous period, ordinary profit increased by 10.2% to 256.411 billion yen, and net income increased by 12.9% to 173.889 billion yen. Net business profits have grown due to a contribution of profits from asset management subsidiaries, the revision to income and expenditure in loan and deposits in their international divisions and the securities agency-related. Profit from the sale of cross-held stocks have also contributed to profit growth. For its FY2020/3 plan, net income is expected to increase by 3.5% to 180 billion yen compared to the previous year. On 7/6, company announced a tie-up with UBS group involving a wealth management business aimed at the wealthy. Combining the company's wide range of products and services, such as the inheritance/succession of assets and real estate, etc. Along with UBS, which is strong in overseas markets, the company aims to offer optimal solutions. Recommend to buy at ¥3880, target price ¥4200, cut loss if drop below ¥3680.

CAERI (601965.CH) - The switch of China VI emission standards brings chances
Profitability Has Picked up since 18H2, and FY2018 Net Profit Increased by More than 20%
CAERI recorded a revenue of RMB2.758 billion in 2018, increasing by 14.9% yoy. The net profit attributable to the parent company was RMB403 million, up by 7.47% yoy, and the net profit attributable to the parent company excluding non-recurring items reached RMB372 million, up by 22.35% yoy. The result met the previous result forecast of the Company. EPS was RMB0.42, and dividend was RMB0.25 per share, with dividend rate reaching 60%.
Gross margin of CAERI recorded 24.25%, 17.29%, 27.29% and 35.61%, respectively in each quarter of 2018, which was -7.75 ppts, -1.95 ppts, +0.92 ppts and +9.71 ppts yoy, respectively. The profitability has improved quarter by quarter, led by double-digit revenue growth in the automotive technology testing services business with high gross margins, and a decline in the percentage of SPV (Special vehicle) manufacturing business with low gross margins. In addition, the Company chose to accrue the performance bonus of employees in the fourth quarter, which was earlier than previous years. If this factor is deducted, the net profit attributable to the parent company excluding non-recurring items increased by nearly 30% yoy in 2018.
Profit in 2019Q1 Fluctuated Slightly, and Gross Margin Continued Increasing
In 2019Q1, the Company recorded a revenue of RMB500 million, representing a yoy decrease of 22.33%. The net profit attributable to the parent company stood at RMB94 million, representing a yoy increase of 8.43%; the net profit attributable to the parent company excluding non-recurring items recorded a yoy growth of 4.73%; EPS was RMB0.1. The decrease of revenue of the first quarter is mainly due to the decrease of 30% in the income of SPV segment. On the other hand, due to the extended testing period, the recognition of income was postponed to the second quarter. Therefore, the revenue of the automotive technical testing service business in the first quarter was basically flat yoy. However, the improved sales structure resulted in an increase of 6 ppts in overall gross margin to 30.2%.
The switch of China VI emission standards brings chances, and automotive wind tunnel Lab and intelligent network connection program is expected for the future
China is currently in the process of switching from V to VI emission standards. In 2019, the Ministry of Industry and Information Technology (MIIT) reviewed and issued an announcement on new vehicle catalogue in which the number of commercial vehicle increased by 153% and 87%, respectively in the first and second quarter, and passenger vehicle increased by 40% and decreased by 7%, respectively. The testing of VI emission standards is much stricter than V emission standards. From the fourth quarter of 2018, the switch to the national VI emission standards has resulted in significant growth of the engine testing business in the Company's automotive technical services, which is expected to last at least until 2020.
As the new energy vehicle market becomes more and more mature, the relevant testing demand is expected to increase. Compared to fuel vehicles, new energy vehicles have more complex testing items, including energy consumption/battery/E-motor, which is expected to significantly lift the average vehicle charge. (Closing price as at 28 June 2019)
The Company's Automotive wind tunnel laboratory is being debugged and will put into use in 2019H2, which including a full-size aerodynamic-acoustic wind tunnel and a vehicle environmental wind tunnel, can help automobile companies reduce wind resistance and noise inside the car. According to its feasibility study report, it is estimated that annual income will reach RMB116 million, and average annual profit will record RMB52.6 million. It is expected to enhance the Company's profitability.
China MIIT issued the Work Points of 2019 Intelligent Connected Vehicles Standardization on May 16, requiring to accelerate the formulation of industry standards. The first phase of the Company's intelligent network connection project is located in Chongqing, and the second phase of the project is expected to settle in Anhui. By virtue of domestic leading hardware advantages and plenty of experience, the Company is expected to lead the future automotive intelligent network connection industry, and occupy the dominant position in the industry chain.
Investment Thesis
We forecast for EPS in 2019 and 2020 to RMB 0.50 and RMB 0.59 respectively. However, considering the Company's higher profitability in automotive technology testing services and its huge potential for new business in the future, as well as the stock bottoms out, the operation of its new capacity is likely to bring about the turning point, we give target price of RMB 8.98 yuan, respectively 18/15.3x P/E of our expected EPS and an "Buy" rating.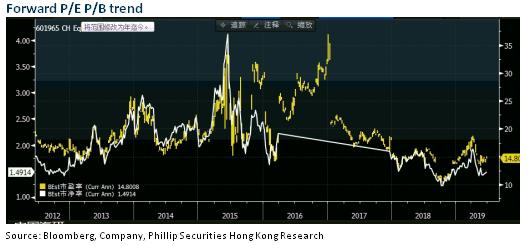 Financials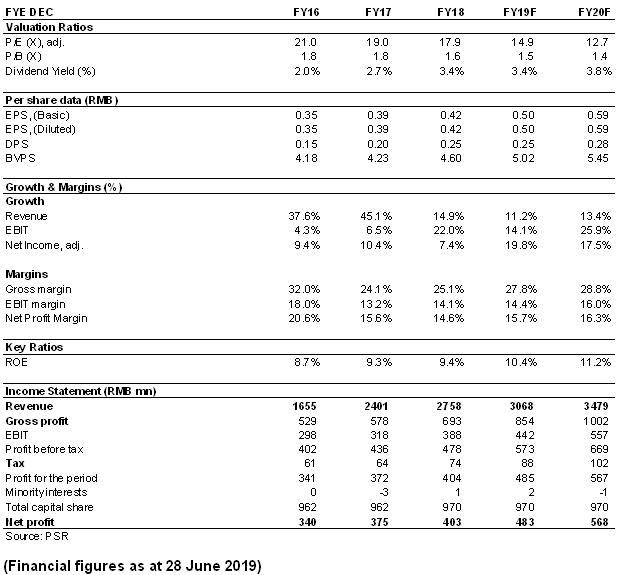 Recommendation on 3-7-2019
Recommendation
BUY
Price on Recommendation Date
$ 7.430
Suggested purchase price
N/A
Target Price
$ 8.980