Hengan (1044.HK) - GPM is expected to improve with price of wood pulp stabling
Investment Summary
Revenue in FY2018 recorded a 13.5% increase, in line with our expectations. The management's overall revenue and paper towel business growth guidelines for FY2019 are high single digits¡Aand the sanitary napkin business in line with the industry level. We expect it can achieve the target and maintain the expectation of a 10% growth rate, mainly driven by the tissue and sanitary napkin business.Due to high wood pulp price and the depreciation of RMB, gross profit margin fell by 3.6 ppt y.o.y. to 38.2%. The price of wood pulp has declined since the fourth quarter of last year. We expect the adjustment to continue. In addition, Hengan will continue to optimize its product mix and increase the proportion of sales of high-margin products. We expect he gross profit margin will improve in FY2019.
During FY2018, Hengan strengthened its brand promotion efforts, resulting in an increase in selling and distribution costs and administrative expenses, but in terms of the percentage of total revenue fell by 2 ppt y.o.y. to 16.9%. The decrease was mainly attributable to the implementation of ¡§small sales team operation model¡¨ which enhanced the sales efficiency. We expect that this percentage will further improve this year as the effectiveness of this model further strengthened.
Hengan's annual revenue increased by 13.5% y.o.y. to RMB 20.51 billion. Profit attributable to shareholders was 0.2% to RMB 3.79 billion, and the final dividend was 1.2 per share, together with interim dividend, payout ratio was 69.8%.
The increase in revenue in 2018 was mainly driven by the 18.8% increase in the largest tissue business. It was mainly benefited from the small sales team operation model strategy that improved sales of tissue paper from traditional and modern channels, rapid growth of sales from e-commerce channels, and the increased market share. In the second half of the year, the tissue business achieved a market share of 22%, which was higher than last year's 19 to 20%, and it was still the market leader. As of the end of last year, the production capacity was 1.42 million tons. The management team states that it will consider the pace of adding production capacity according to the market conditions and sales performance.
For the sanitary napkin business, it grew by 6.1%. Due to the relatively saturated market, Hengan intends to position the business as female personal care product. Hengan originally intended to launch new product categories such as cosmetics, makeup remover and masks last year. As R&D and registration still needs to take time, it is expected to be launched as soon as this year. If it can be successfully launched, we believe it will add another driver for revenue growth.
The e-commerce business maintained rapid growth, up by 50% over the previous year. E-commerce's contribution to total sales revenue rose 3.8ppt to 14.4% in which the sales of tissue paper segment continued to benefit from the rapid growth of e-commerce channel. According to the management team, it will continue to expand the coverage of e-commerce channels, launch online exclusive products, such as online combination products, and engage in online promotions. With the improvement in sales, supply and logistics and distribution, we expect that e-commerce sales and profit will continue to increase in 2019. We maintain Hengan's Buy rating with a target P/E of 20.2x and a target price of 84.3. (current price as of June 19, 2019)
Investment Thesis, Valuation & Risk
Our valuation model suggests a target price of HK$84.3: We maintain Hengan's Buy rating with a target P/E of 20.2x and a target price of 84.3.The risks that need to be watched include top-line growth rate missing from expectation, wood pulp prices fluctuating sharply, industry competition increasing significantly, and Ameba units missing sales target. (current price as of 19th June, 2019)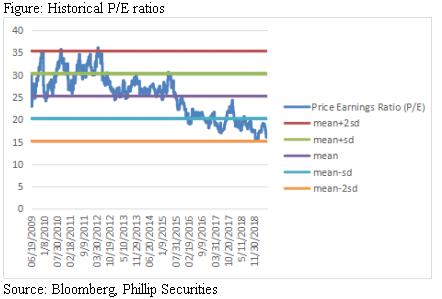 Financials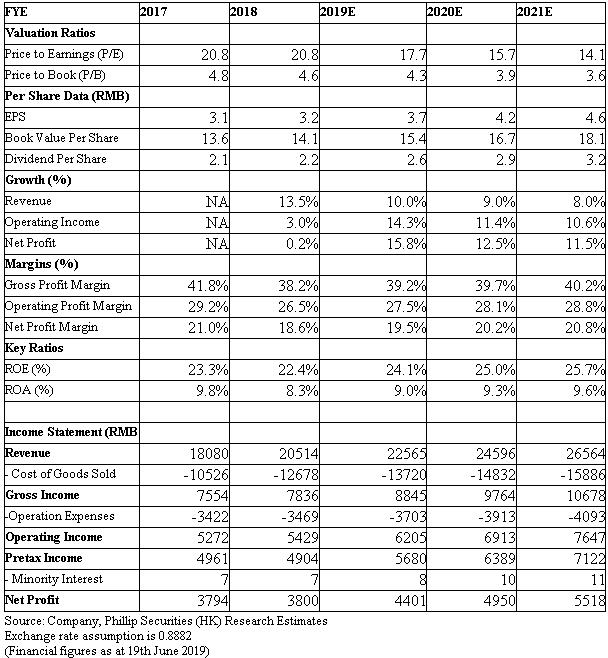 Recommendation on 21-6-2019
Recommendation
Buy
Price on Recommendation Date
$ 58.250
Suggested purchase price
N/A
Target Price
$ 84.300