Bosideng(3998.HK) - high-end fashion transformation helping GPM expansion¡Ae-commerce business with fast growing
Investment Summary
Bosideng's annual revenue for FY 2018 increased by 16.9% y.o.y., slightly higher than our expectation. The revenue of the largest business branded down apparel increased by 35.5% y.o.y., mainly due to the increase of the proportion of medium and high-end products in the product mix, which led to the increase in ASP. There is not much growth in sales volume. The management team's goal this year is to make both sales volume and ASP to be the drivers of revenue growth. Medium to high-end products with a price exceeding $1800 accounted for 25% of the branded down apparel business last year, and this proportion is expected to increase further this year.
The OEM business grew by 46.1%y.o.y. last year, and the management team's earlier guidance was over 20%. Facing the Sino-US trade wars, it says that the impact is limited and customers are more concerned about the global business. Revenue of ladieswear business increased by 4.19%, which is lower than the medium to high single digits of the guidelines. This year is expected to maintain steady growth and achieve low single-digit growth.
GPM of FY2018 improved by 6.7 ppt y.o.y. to 53.1%, reflecting the increase in the proportion of medium to high-end products. Distribution and administration increased by 35.3% y.o.y., and the percentage share to revenue also increased by 5.4 ppt to 40.1%, mainly due to the company's efforts in brand building and channel optimization for the branded down apparel business and strategic transformation.
For the e-commerce business, the revenue of brand down apparel and ladieswaer business increased by 55.6% and 11.8% y.o.y. respectively, accounting for 23.1% and 5.6% of the revenue from the branded down apparel business and ladieswear business. The company plans to introduce more products which are exclusively offered online, gradually diversify the features of online goods and expand the product portfolio, while increase the sales proportion of the age group of 25-35. We expect the e-commerce business will maintain rapid growth, and the percentage share of brand down apparel online business is expected to rise to one-third.
As at March 31, 2019, the total number of selling points of the company's down apparel business (net) increased by 162 to 4,628 compared to that of last year. Last year, 40% of the shops were remodeled, and the rest are expected to be rebuilt in the next two years. This year the company plans to open about 1,000 stores, but it will also shut down 600 to 700 inefficient stores.
Short-selling agency Bonitas Research has recently released reports. Alleging Bosideng that insiders conducted fake inter-company transactions through a maze of direct and indirect subsidiaries, overpayment for multiple aquisitions to undisclosed insiders, and disposal of assts without receipt of payment.
Bosideng has issued clarification announcements, and the share price has since rebounded. During the annual result announcement conference, the management team also states that the chairman owns a number of asset businesses outside the listed company and will consider selling these off-balance sheet assets, including factories, to the listed company. It will also continue to pay attention to M&A opportunities, and the targeted items will contain outdoor functional, fashionable and technological elements.We give target price-earnings ratio 21 times, with target price HKD2.7. (current price as of July 11, 2019)
Investment Thesis & Valuation
We give accumulate rating, target price-earnings ratio 21 times, with target price HKD2.7. Potential investment risks include revenue growth or channel expansion missing expectation, raw material cost with huge volatility. (current price as of July 11, 2019)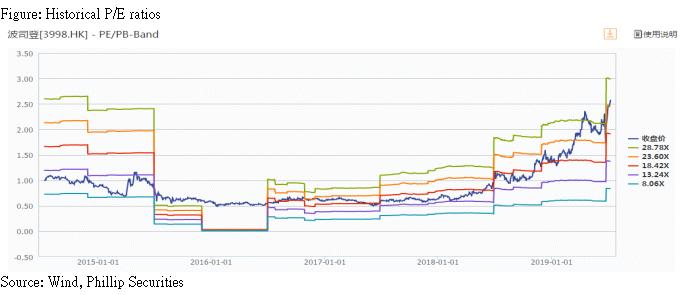 Financials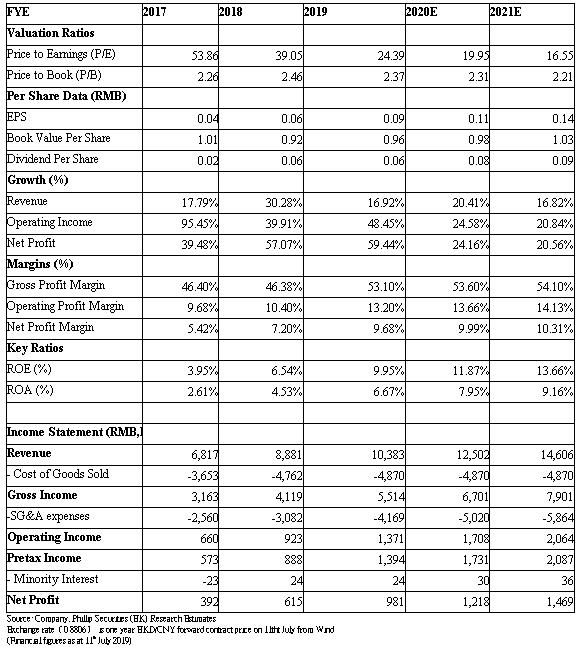 Recommendation on 15-7-2019
Recommendation
Accumulate
Price on Recommendation Date
$ 2.580
Suggested purchase price
N/A
Target Price
$ 2.700